Cork fans who want to watch both their football and hurling teams in action this weekend face two long days of travelling or an expensive overnight stay.
The GAA have fixed the Rebels for separate days at Croke Park this weekend, which has left Cork fans annoyed.
Their footballers play Dublin in their first Super 8s All-Ireland quarter-final on Saturday at 7pm and then on Sunday the hurlers take on Kilkenny in a quarter-final at 2pm.
If fans want to attend both they face a late night on Saturday and an early morning on Sunday if they choose to travel home between the games.
And should they decide to stay in Dublin, they will be hit in the pocket with prices for a hotel room for two adults and two children in the city centre currently averaging at €250 on online books sites.
"It's a pity, it was an opportunity for the GAA to accommodate both sets of fans," said Cork legend Tomás Mulcahy, who was hurling captain in 1990 when the Rebels won the All-Ireland double.
"These sorts of things don't happen very often and it should have been facilitated. It's very unfair.
"This isn't up to Thurles or Limerick, this is a long journey and you can't expect people to travel up and down on both days so you're looking at staying over and that's not cheap," he said, speaking to RTÉ Sport
GAA President John Horan admits it would have been better had they been able to put the games on together.
He said this wasn't possible due to logistical difficulties, though his comments that there isn't much crossover between hurling and football fans in Cork haven't gone down well.
"It would have been more desirable if you could put them together," said Horan.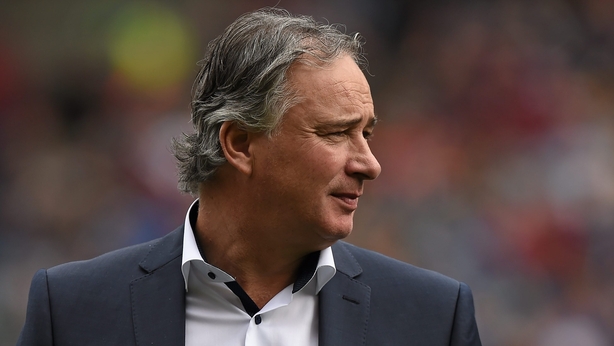 "But when you talk about the Cork supporters, the Cork football supporter will be a different cohort to the Cork hurling supporter. The guy that bridges both, these things are unfortunate.
"If you were trying to put three fixtures on a Sunday, where would you put a Dublin-Cork game? Are you going to put it on at 12pm to get them all in? That's the unfortunate thing.
"There will always be an appetite to have a game on a Saturday night and a Dublin game is generally on a Saturday night. And for the hurling supporter, the double-header of the hurling on a Sunday does fit in well together. Just to split it would have been a lot more difficult."
To this, Mulcahy countered: "The reason there hasn't been much of a cross-over is because the momentum wasn't there for Cork footballers the past few years. They have a bit of momentum now and it would have been a great opportunity for people to see them.
"Also, Dublin have been the best football team of the last number of years and hurling fans would love the chance to get a look at them."
Win or lose on Saturday, Cork's footballers will return to Croke Park the following week for their second Super 8s game against Tyrone and if the Rebels beat the Cats on Sunday they will be up in Dublin again the weekend after the footballers, taking on Limerick in an All-Ireland semi-final on Saturday, 27 July.