Dublin manager Mick Bohan has called on the LGFA to scrap the provincial championships.
The Jackies beat Westmeath last month to claim their eighth successive Leinster crown. But, after a nine week gap between that win, and their defeat to Cork in the Lidl National League semi-final back in April, the Blues have faced another three week break to their All-Ireland Group 2 opener with Waterford this weekend.
One game in 12 weeks simply isn't enough according to the All-Ireland winning manager.
"I had hoped that the LGFA would come forward as a leading light and abandon the provincial series," Bohan told RTÉ Sport as it was confirmed that this year's TG4 All-Ireland semi-finals will be held at Croke Park.
"Because certainly in Leinster and in Connacht, it's not working. I don't think anyone can argue with that."
The western province, like its eastern counterpart, only saw two teams competing at senior level. That final between Galway and Mayo did go to a replay before the Tribeswomen got over the line.
But for Bohan, the success of the game depends on the top teams competing regularly during the summer months, rather than playing games off quickly between mid-July and mid-September.
"One game in a province; it hardly feels like a provincial final.
"When you talk about the game itself, and how to promote it, we need games.
"In our Leinster provincial situation, we should have a home game and an away game. Then your kids can come and watch it. Whichever other counties take part, be it Westmeath or whoever, should be in the same boat.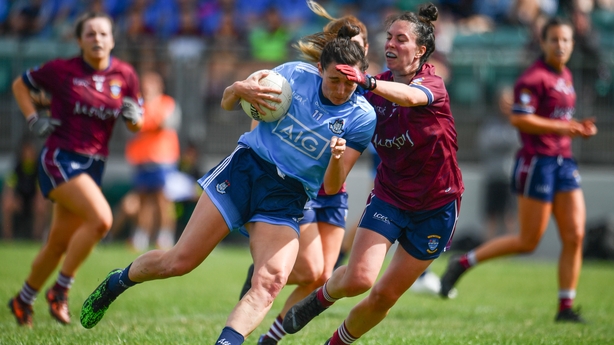 "It's not that people will decide to go in a see a game on the 25th of August in Croke Park. They have to be sold the game, little by little before that."
The All-Ireland final has consistently broken attendances records over the last couple of seasons, with last year's decider seeing over 50,000 punters head to Jones' Road to see Dublin beat Cork.
The semi-finals had been played as a double header to a crowd of fewer than 5,000 people at Dr Hyde Park, but Bohan says playing the games at the biggest stadium in the country should be a boost to the sport.
"It's a huge carrot for whatever four counties are going to play that day.
"That's part of seeing where it's growing; are people going to come on those days?
"It's a bigger thing to put it at Croke Park than it is to put it in any other ground in the country. I think everybody would be aware of that fact.
"It's a bigger deal, so you'd certainly expect a reaction to that.
"I know in national league games we've played at Croke Park as double headers with the men. I know the lads are playing after us, but the crowds that come in earlier are making a big effort.
"When we played in Mayo, there were something like 10,000 people there by half-time.
"It was fantastic.
"Let's see if people are willing to act on the talk."