As first days out in Croke Park go, it's hard to see how things could have gone much better for Laois sharp shooter Mark Kavanagh than they did last Sunday afternoon.
In the opening 15 minutes of the Joe McDonagh cup final, the young forward felt the weight of the sliotar in his hand on four occasions. Each possession ended with him prompting the umpire under Hill 16 end to raise the white flag.
What was he thinking as his fourth point from play sailed over the bar?
"Quick, take me off before I do something wrong here", he jokes. "Ah no, it was dream sure. You were nearly getting giddy at that stage. You feel like you can't miss. And then I got my fifth possession and Oh Lord, a terrible shot. That brought me back down to earth with a bang!"
In truth, it was a rare misstep in what was an outstanding performance from the young man from the Rathdowney/Errill club. By the final whistle Laois were convincing winners, with Kavanagh amassing a 13-point tally. He decided to mark the occasion with a memento.
"(Paddy) Purcell ended up with the ball but as I was walking towards their keeper to shake hands it somehow landed at my feet. He must have pucked it away in the excitement. I wasn't going to miss the opportunity so I grabbed it and hid it in my shorts.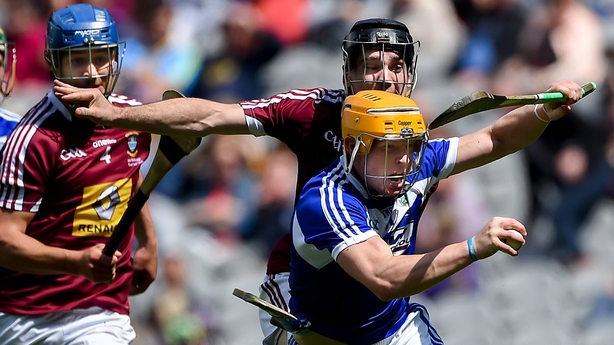 "When I got as far as mam and dad at the steps of the Hogan I said I better off load it. She was balling crying of course but I managed to slip it into her hand as I was hugging her."
Kavanagh admits to growing particularly close to his parents in recent years, something he puts down their unrelenting support during a prolonged battle with injuries.
At 19 years of age, he suffered a freak knee injury in a league game with his club. A testing period in the young hurler's life followed.
"I tore the ACL, MCL and LCL. Everything in my knee was gone basically."
It took him 11 months to battle his way back but just two months after his return, it all went again.
"Everyone is great for the first few days, texting you, ringing you, calling in. But then their lives move on and you're left to deal with it. You're there during the sh***y dark evenings just constantly thinking of what you're missing out on. That's when mam and dad were there for me most."
"It was tough time", admits Kavanagh. "To suffer two serious injuries like that at such a young age, it was hard for me to see how I was going to come through them. There were days when I was in tears over it but Dad was adamant that I could get back. He got me through it."
In the aftermath of last weekend's win, Laois boss Eddie Brennan made the decision to allow his players to enjoy the celebrations that came with such a momentous victory and Kavanagh believes it was the right call.
"Sunday evening and night were just brilliant. Our family, friends and supporters were all invited back to the Midlands Park Hotel and it was class driving in there on the bus. We had a couple of pints there then headed down the town for a few more".
A night like that is something that you'll talk about forever with the lads and definitely brings you all closer
"You are conscious that you have a game in seven days time so you know you can't go overboard but it was important to recognise what we have achieved this year.  It meant a lot to the Laois hurling public too and it was great to be able to share the occasion with them. A night like that is something that you'll talk about forever with the lads and definitely brings you all closer."
The short turnaround time that has been afforded to the Joe McDonagh champions has been a contentious talking point in the media this week and Kavanagh seems uncomfortable when pushed for his opinion on it. While he acknowledges that the demands being placed on his side hardly seem fair, he is cognisant not to create a crutch for he and his team mates to lean on.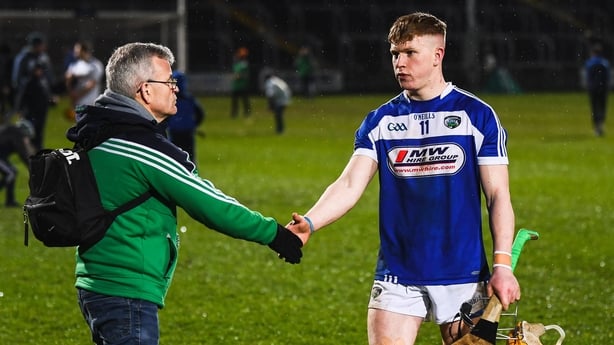 "Ah sure, as they say in Love Island, 'it is what it is'.
"It's not ideal, especially after a final. I think it does make little of the importance Joe McDonagh Cup but we're not going to use it as an excuse either. We're going out believing that we can win this game. If we do win it then everybody will say that the short turnaround was a great thing because it allowed us to carry our momentum in to the match. So we won't gripe about it, it's just something we have to get on with."
There is real belief in Kavanagh's tone when asked about his side's chances against Dublin today, and he points to their strength in depth as a source of confidence.
"Eanna (Lyons) came on last weekend and got three points and set up two more. (Neil) Foyle came on and got two points. Steven (Bergin) got the goal. And that's been happening all year."
"Against Offaly, Steven came on and got a goal in that one too.  Aaron Dunphy only came in from the bench in that one and look what he's been doing since. Eoin Gaughan came on and got four against Westmeath in the group stage. I don't know if Laois have had that sort of strength in depth in a long time."
In winning the Joe McDonagh Cup, Laois have already achieved their main aim for the season. But with their tails up and confidence sky high, Kavanagh and co may not be finished just yet.
Follow the All-Ireland SSHC provisional quarter-finals via our live blogs on RTE.ie/sport and the News Now app, listen to updates on RTE Radio 1's Saturday Sport and watch highlights on RTÉ2 from 9.30pm.
 Listen to the RTÉ GAA Podcast at Apple Podcasts, Soundcloud, Spotify, or wherever you get your podcasts.