Liam Óg McGovern dropped to the floor and did 50 press-ups when the news broke that Davy Fitzgerald was taking over the Wexford hurlers.
That was in the autumn of 2016. McGovern had suffered a cruciate ligament in a club game a couple of months before and was ready to take a lengthy break from the game.
In the time it took him to read a text message, everything changed.
"I got a text, I got straight on to the ground and I did 50 press-ups, I was that pumped," McGovern told RTÉ 2fm's Game On when recalling how he first heard the Clare man was taking the reins.
"I was injured at the time and I was going to take a year off. At that moment I said, 'Jesus I'm going to try and get back for the following year' because Davy was in charge.
"The buzz around the county was massive. He'd won so much with Waterford and Clare and the colleges, we thought maybe this was our turn to be successful.
"From the first day he came in you could hear a pin drop. Guys believed in what he was trying to do. It's been a bit of rollercoaster ride over the last three years."
That rollercoaster peaked on Sunday when Wexford beat Kilkenny to lift their first Leinster title in 15 years.
It was an emotional moment for everyone involved, not least McGovern, who tore his cruciate again less than a year after the initial injury and had to go through that lonely road to full recovery all over again.
This was a sweet redemption.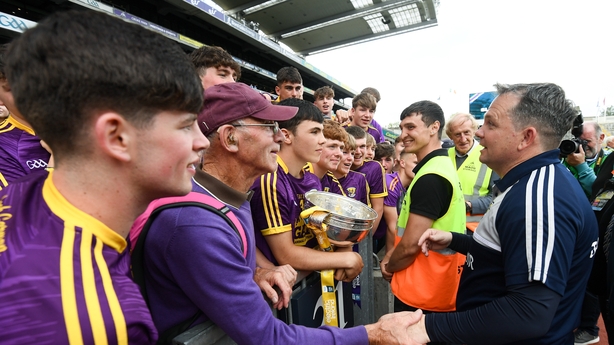 "Sunday was a fantastic day for the players and management and indeed the supporters of Wexford," he said.
"We're just back to reality today. It's been a very enjoyable few days down in Wexford. It was a special few days.
"You have to enjoy it. A lot of work goes into it, it's not just this year. It's been many years coming. If you're not enjoying days like Sunday it would make you wonder why you do it at all.
"When the final whistle went, it was a nice personal achievement for myself. I allowed myself to enjoy it. I'm not going to lie, there were times over the winter months with the rehab and stuff when it was difficult. When the whistle went I felt kind of justified a small bit in my own personal journey.
"All the players and management have their own journey that they went through. Mine has been documented a bit over the last few days years but winning a Leinster final takes many years in terms of individual contributions from your own club and county.
"Each player has their own journey they've gone through and they deserve to be celebrated in their own way."
McGovern revealed he sought out some kindred spirits after his second cruciate blow. 
"The first time I was going into uncharted territory so I didn't know too much about it the second time was a bit more difficult I have to say. I never doubted that I'd get back. Initially there was one or two dark days but once you get the surgery and get on the road, the time quickly passes.
"I researched any players who suffered two cruciate injuries and got back to a high level if not better. Emlyn Mulligan in Leitrim, Colm O'Neill in Cork, David Moran in Kerry, I got in touch with them all just for a bit of emotional support, a gee-up to keep me going.
"Even David Pocock, the Australian rugby player, I reached out to him. Unfortunately he hasn't got back to me. David, if you're listening now, you can give me a shout!
"When the cruciate goes it's like a popping sensation. It's quite sore for the first minute or so. For some players it's more painful than others. Mine was pretty sore without being agonising but you know something is seriously amiss.
"The pain tends to ease off then and the knee will typically swell up almost instantaneously. You can't repair it. You need to get a new graft of ligament.
"That takes a long time to knit back in and grow. You have to go through the steps of walking, turning, twisting again. That's why it's a difficult one to rehab."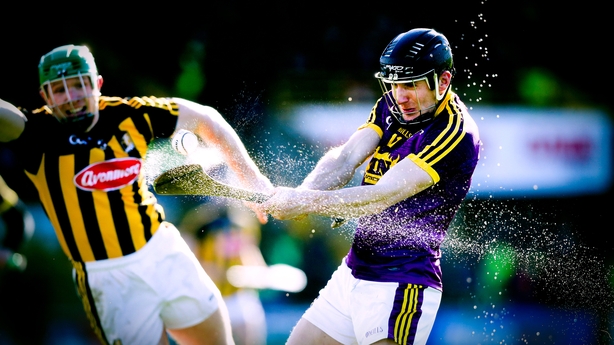 Having Fitzgerald in his corner was, McGovern says, a major lift.
"Davy has that human nature, that empathetic side that he knows on a individual level what makes people think. He was very supportive of me. He knew that I didn't want too much sympathy. 
"Now we're looking forward to a semi-final in a couple of weeks' time. Now is the time, you have to be greedy. Probably the performance we gave on Sunday won't be good enough to win an All-Ireland semi-final.
"Teams are further down the road. Their systems are evolved. We're going to have to really take our chances. 
"We're really looking forward to it and we hope the Wexford fans will get up the road again and support us just like they did on Sunday. They were amazing."
A model of spirit and determination, McGovern is not done yet.
Listen to the RTÉ GAA Podcast at Apple Podcasts, Soundcloud, Spotify, or wherever you get your podcasts.
We need your consent to load this SoundCloud contentWe use SoundCloud to manage extra content that can set cookies on your device and collect data about your activity. Please review their details and accept them to load the content.Manage Preferences