In the aftermath of Roscommon's Connacht final victory over Galway and the joyous scenes that followed, there was a fair bit said in relation to how important the provincial championships are.
Equating such importance to another day in the summer for the Rossies is perhaps missing the point.
Roscommon are a proud footballing county and on 16 June they took home a 24th Connacht crown, their third this decade.
On the back of league silverware in recent times and stays in Division 1, the Primrose and Blue have not exactly being picking scraps up off the ground.
If Roscommon were to win the next 10 Connacht titles, I have no doubt each success would bring about scenes we witnessed recently at Pearse Stadium.
As I will say again, the Rossies Faithful love their football. There are variations as to how that love comes across, as shown by Shane 'Cake' Curran or a Paddy Joe Burke, or indeed by the late Jimmy Murray, the man who starred for Roscommon when they won their only All-Irelands back in 1943 and '44.
Murray once told The Irish Times: "People here were stone-cracked mad on the football then and they are today too."
Of course, Murray's line was in praise of those who cheered on, from near and far.
Captain Enda Smith summed up the present day Roscommon fan by saying: "They are great, they really get a grip on your back."
Smith was speaking to RTÉ GAA correspondent Brian Carthy at the launch of this year's All-Ireland championship.
He continued: "After games I have no problem talking to fans in the street. You can see the joy in their faces, they are taking the time to come and support you. It's only nice to give them a bit of time.
"Coming back into Roscommon after the Connacht final underlined how much it meant to everybody. I saw it for myself when Roscommon won Connacht in 2001.
"It gives people a pep in their step. We definitely get energy off that and players will take confidence from that."
As things stand, Roscommon know for certain they will be playing Dublin in the Super 8s, with either Cavan/Tyrone and Cork/Laois making up their group.
Smith feels that entering the next phase of the championship as Connacht champions is a plus.
"It's great for us to be heading into the next round of games as provincial winners. It gives us the incentive to do better than last year.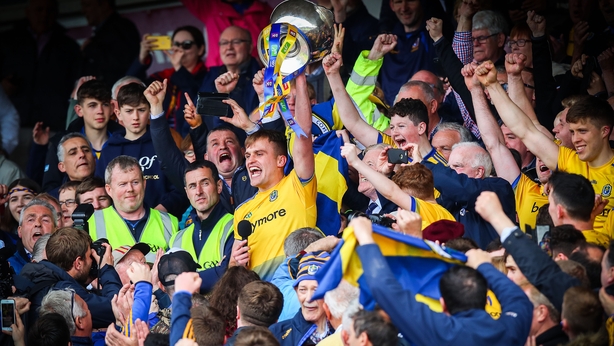 "Traditionally, we would have struggled against Galway and Mayo in years past. We might have one big performance against one of them in one year. To beat the two of them in one year had not been done for a long, long time.
"It shows that we can compete against the best.
"Having four weeks to prepare is no bad thing. Other teams will have games under their belt, but we have been working very hard in training and have been keeping an eye on our likely opponents."