The physical conditioning of the Limerick hurlers is proving to be the difference against opponents, according to former player Seanie Tobin.
The reigning All-Ireland and league champions produced clinched their first Munster SHC crown since 2013 with a 12-point win over Tipperary on Sunday.
John Kiely's side produced a powerful second-half display to overwhelm the Premier County, hitting 1-07 without reply over the remaining 20 minutes to seal the win in style.
Tobin credits Limerick's strength and conditioning coach Joe O'Connor, along with coach Paul Kinnerk, for putting the Shannonsiders in the right shape for these challenges.
"It's a massive aspect for Limerick these days," said Tobin of Limerick's physical superiority on RTÉ 2FM's Game On.
"John [Kiely] came in and made sure he brought Paul and Joe with him. Paul is a fantastic guy, he won the All-Ireland with Clare in 2013, as well as Joe. They brought fantastic experience with them.
"Paul's training is 10/10, it's top class. Everything is match-related, very physical and tough sessions. You can see all the rewards of his work in every game Limerick play. They're an absolutely fantastic combination.
"And then with John steering the ship in terms of hurling and game management, it's shown massive improvement for Limerick for the last three years. Even at the end of games, for the last 10 or 15 minutes, that's when they start pulling away from teams. It's great to see."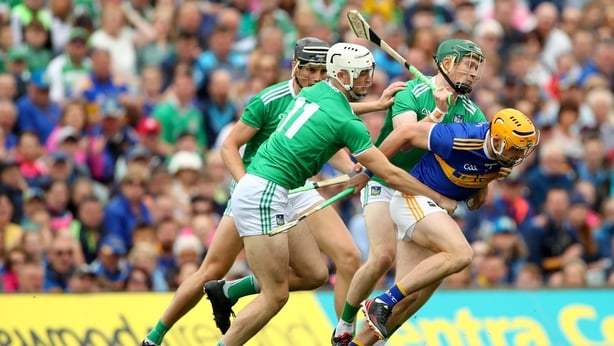 Along with picking up provincial silverware, Limerick have also earned a four-week break before facing into the All-Ireland semi-finals in the hope of continuing their Liam MacCarthy defence.
Having journeyed to the All-Ireland final through the preliminary quarter-final route last year, Tobin believes that his county will benefit from taking the direct path this time around.
"It's big for Limerick because I know last year, they lost to Clare in Ennis in the Munster championship. It was the third game on the bounce.
"I think that's why John made a few changes this year, I'd say it was in his head all year to make the changes.
"I think it freshened Limerick up for the Munster final, giving Graeme [Mulcahy], Gearoid [Hegarty], Declan [Hannon] a rest and Cian [Lynch] as well. Those boys came in and gave a massive boost to Limerick yesterday.
"I think four weeks is good for Limerick, training will be so good it won't really affect them. They've a massive panel inside and the A versus B games will be pretty intense I'd say for the next couple of weeks."