When Muhammad Ali was finally given the opportunity to challenge again for the world heavyweight title in 1974, the fighting community had generally accepted that the fading former king was too far past his best to make it count.
Ali had been exiled from the sport through his prime years and had lost an initial challenge to regain his title against the ferocious Joe Frazier before his lustre was completely removed after a subsequent loss to the worthy, but lesser Ken Norton.
Muhammad Ali was still trying to fight in the manner that Cassius Clay had done.
The new and seemingly invincible champion was George Foreman. Foreman had destroyed all comers on his way to the summit and waited for Ali with a perfect 40-0 record. Although Ali had managed to avenge both of his losses with subsequent wars of attrition, the old swagger was gone and the wins were feats of endurance driven more by spirit than ability.
Time, lost opportunities and some brutal battles had seemingly taken the great man's speed and footwork. But the man who would be king again was more aware of his changing abilities than anyone and had developed new strategies to overcome the odds. The warrior heart continued to beat, but a strategic mind was unveiled as he reached towards his greatest accomplishments.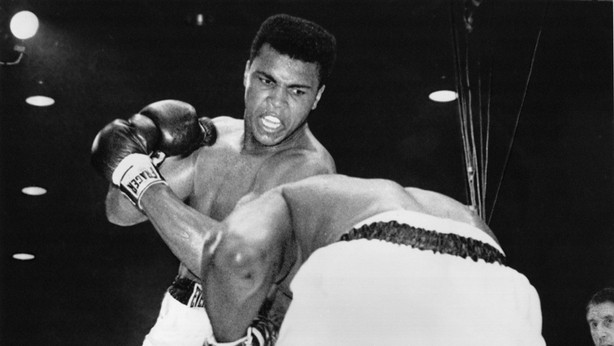 Ali had to constantly find new ways to stay standing and win after the brash kid from Louisville and his ability to overwhelm opponents with skill and speed had left him.
Adapt or Die.
The Great Entertainers
This generation of Mayo players have, for some time, been everyone else's favourite second team. Everything about how they apply themselves, try to play on the front foot and, of course, the heart-breaking failures, have endeared them to the neutral supporter.
They represent everything we would wish for our own team in terms of attitude and character and many of the Mayo stars feature on any list of favourite players nationally.
Anticipating championship clashes with a Mayo team featuring Higgins, Keegan, Boyle, O'Shea and Moran conjures up some great memories of epic endeavours over the last decade. Heroic performances from mighty men in green and red are easily recalled and are always represented by powerful running, courageous decision making and ridiculously contrived losses.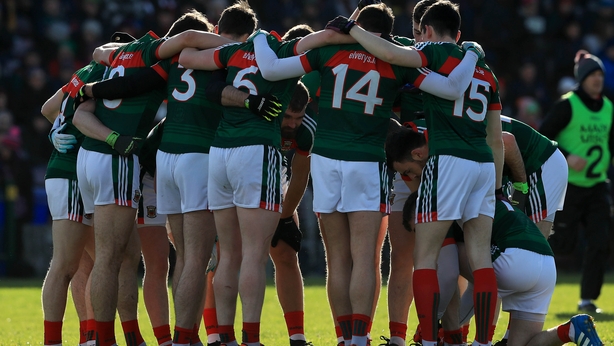 Their characteristic football has always had the potential to drown opponents under its sheer relentlessness, but it has required huge reservoirs of energy and willpower. The evidence is that at least their minds are still willing.
Blunt Instrument
On Saturday evening in Castlebar, as the storm clouds gathered, the hosts trailed Armagh by a solitary point with five minutes of playing time left before the break. Having struggled to contain the Orchard County at the back and laboured noticeably in possession, a lack of urgency and pace in attack had produced a host of poor shots under pressure and the signs were ominous.
A 15-minute search for a score was ended as the Mayo intensity of old resurfaced and Jason Doherty drove through Armagh's best tackler and fired over from a difficult angle. From here until half time suddenly Mayo forwards were running off their markers, they attacked kick outs and their support play had some power and snap. A one-point deficit became a lead by the same margin and it was produced through a window into the Mayo of old.
The power running that has been Mayo's trademark has largely become a blunt instrument
Sustaining their trademark intensity would prove impossible for the remainder of the evening and, in truth, they didn't conjure what should have been enough opportunities to win a game of this quality. Instead, Mayo endured because they produced what they could with supreme efficiency and Armagh didn't have enough composure to put them away despite ample possession.
Yet, they still found a way.
The power running that has been Mayo's trademark has largely become a blunt instrument, but the solution they found to creating scores could become even more effective and allow them to reinforce the weaknesses they now have further back.
No Country for Old Men
That yard of pace that age and wear has deprived some of the key Mayo players of their traditional style as a realistic approach if they are to challenge the best teams in the country this season. Only Lee Keegan retains the athletic qualities to cope with a quality forward at close quarters without help and still be able to rampage upfield. And his fitness is now a concern.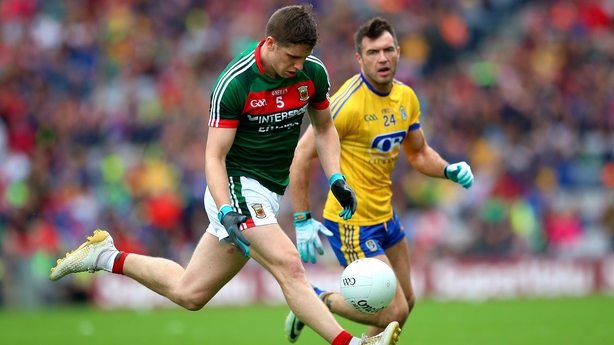 They simply can no longer produce the same high intensity football for 75/80 minutes.
This was evidenced plainly in the opening 15 minutes on Saturday evening as early ball into Rian O'Neill was causing havoc. In fairness, James Horan identified and fixed the problem quickly. Keegan went to full-back and Colm Boyle sat in as deeper cover to protect his markers. All of a sudden, they were solid and taking ball off Armagh consistently.
At the other end, Mayo's route to scores changed also out of necessity. Rather than overwhelming Armagh with runners from deep, they kicked with quality inside to Kevin McLoughlin and Darren Coen. This became plan A and it brought out the best in Coen especially. He is emerging as a quality target man and potentially the focal point of a renewed Mayo approach.
Athrú nó Bás
Some of Mayo's athletic capabilities have naturally dissipated but their warrior heart still beats strongly. If they continue to lean on their traditional instincts of playing with pace and power running then their lifespan in the 2019 championship will be short.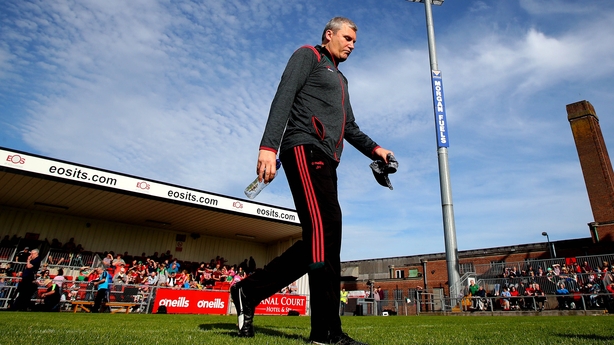 Like Ali, new strategies are needed to accentuate their new strengths and to give their spirit the opportunity to influence games against the best teams. James Horan already recognises the two shifts of focus necessary – he went to them after 15 minutes on Saturday when the boat was taking in water;
Permanently deploy Boyle in a deep cover role to protect their weakened ability to defend one-on-one
Kick long and early to an inside forward line that is led by Darren Coen
The second facet will lessen the constant support running burden on middle third player. Instead, it requires some additional strategic thinking because evidently the Mayo half forwards don't appreciate how to create space to allow ball to be kicked to inside forwards.
They cannot be the Mayo of old but with new heroes emerging now is their time to adapt and think strategically
If they can stay out of the way of Coen/O'Connor to win ball initially, Fionn McDonagh, McLoughlin and Jason Doherty could inflict serious damage on most teams supporting off early ball inside.
With the injury count mounting in the short term and some of the intoxicating swagger gone, you would be forgiven for writing Mayo off. They cannot be the Mayo of old, but with new heroes emerging now is their time to adapt and think strategically.
On Saturday they began with the normal gameplan, but immediately went to their more pragmatic and effective approach when they recognised they were in trouble. There is no more room for hesitancy if Mayo are to challenge seriously.
Some of the speed and footwork is gone, but the opportunity to think strategically remains for James Horan. Mayo may not be their old self, but they can be a more efficient and ruthless version.