Brian Cody has just lost a Leinster final to Wexford for the first time in his 21-year reign as Kilkenny manager.
It feels like a landmark moment but when you already have 15 provincial wins to your name you can be forgiven for having bigger priorities.
"It's a Leinster final and we'd love to win a Leinster final, but we leave today in the quarter-final of the championship. That's the most important thing really," he told RTÉ Sport.
Wexford's won an extremely tight encounter at Croke Park, 1-23 to 0-23, thanks to a 63rd-minute penalty from goalkeeper Mark Fanning.
"The game that it was, it was very finely balanced," said Cody. "A goal was going to be a huge score.
"I think we got a very good point just before that, and they went up and got a goal. But overall, the game could have gone either way. It went their way, so that's it."
The penalty might not have been so crucial had Kilkenny not shot four times as many wides as their opponents.
"12 wides to three. It tells a certain story at least," admitted Cody.
"We probably had a few chances for points, and a point was a huge score today really. It was a one-score game at the end of the day.
"But look, the players worked very very hard, played with determination right through, played some great hurling.
 "They never stopped giving it everything. They kept going, kept going."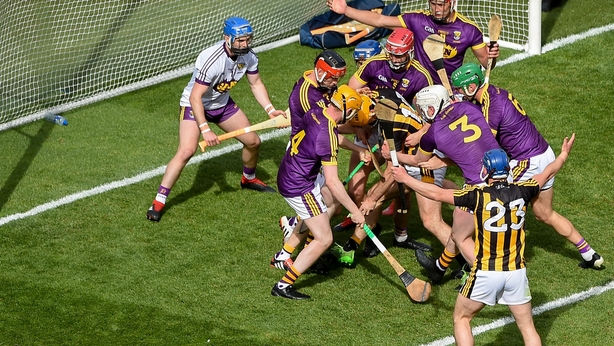 Colin Fennelly will be assessed after sustaining an injury while trying to kick a late equaliser. Cillian Buckley didn't make an appearance after his comeback two weeks ago and Cody said it was "very doutbful" anyone who missed out today would be back for the quarter-final.
Wexford's victory makes Davy Fitzgerald the first manager to win all four national top-level inter-county titles: Leinster, Munster, National League and All-Ireland.
It's the first time Fitzgerald has gotten the better of Cody in a Championship final and said afterwards that the Kilkenny boss is "100% the best manager I've ever seen and I love going up against him." 
However, the 11-time All-Ireland winner insists the personalities on the sideline are irrelevant.
"It's never a question of me against someone else because when match day comes it's our team against whatever team we're playing against," said Cody.
"I would never have had any focus of me against any particular manager or any particular manager against me.
"It's Kilkenny against Wexford and that's all it is. The next day it's Kilkenny against Cork or Westmeath and that's the nature of it. I don't ever think about individualising those type of things at all."