In 2003, when Donal Óg Cusack and Cork first began experimenting with short puckouts, the hurling public, including their own people, were horrified and bewildered during that year's All-Ireland final against Kilkenny when Cusack pucked the ball just 20 metres to Cork full-back Diarmuid O'Sullivan. 
And yet, if they had only known what else Cusack and Cork had up their sleeves, they would have been apoplectic.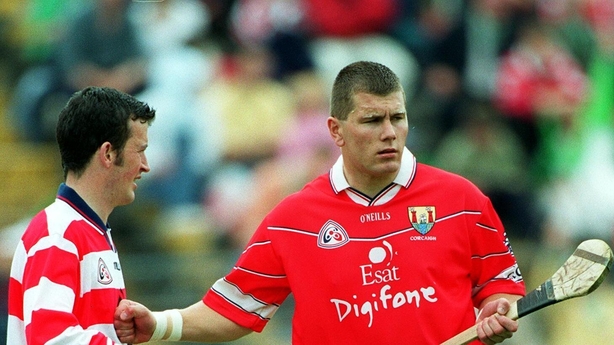 Before that game, Cusack had practised giving the ball to O'Sullivan, who in turn would pass it back to the goalkeeper, who had moved laterally out the field with the intention of setting up an attack. 
Cork didn't follow through with the tactic but 16 years on, that play has become a common practice in hurling. 
The Cork hurling public saw that first hand in 2016 with Cusack's successor Anthony Nash.
When the Rebels played Dublin in a qualifier in Páirc Uí Rinn, Nash pucked the ball to Damien Cahalane on six occasions before advancing to take the return pass from the full-back, and then trying to launch it over the Dublin defensive cover. 
In their two qualifier matches that summer against Dublin and Wexford, Nash made a combined 21 plays, which was more combined plays than 11 of the 22 players Cork used in those games. 
Some of those possessions were from back-passes given to Nash from his defenders. That 2016 season was the first time that the tactic of involving the goalkeeper in open play became so prominent, but the hurling public still couldn't get their heads around it.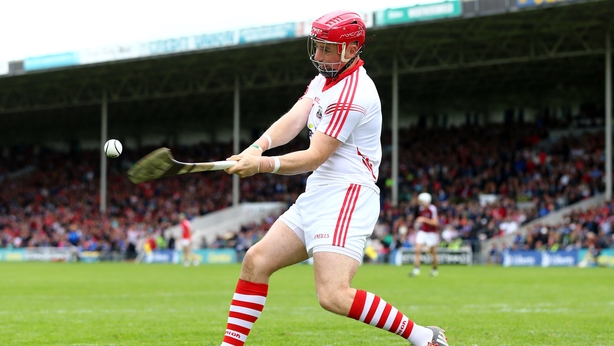 Many still couldn't – and still can't - get their heads around short puckouts, full-stop. Clare defender Patrick O'Connor was hammered in the replayed league final against Waterford that May when he took a short puckout from 'keeper Pa Kelly before then playing the ball diagonally across the pitch. O'Connor got picked off by Patrick Curran who set up Jake Dillon for a goal. 
Clare supporters were exasperated but the play was designed to try and suck the Waterford defence in on that flank before switching the play to create sufficient space on the other side of the field for a long delivery or shot. O'Connor scored a brilliant point from the same move in the second half of the same match. 
Those kind of short-ball tactics are swift and clinical because teams often don't want the ball to be contested in the air or on the ground. That process is cold. It doesn't engage the crowd as much but, when its ultra-radical, it certainly can. 
What an EPIC point from @DubGAAOfficial goalkeeper Alan Nolan! GAANOW Rewind bring you the best of the action as Mattie Kenny's men defeated @Galway_GAA in the @gaaleinster SHC! pic.twitter.com/DIlY3drxml

— The GAA (@officialgaa) June 18, 2019
In the Dublin-Galway final round robin game in Leinster two weeks ago, Dublin goalkeeper Alan Nolan scored a sensational point in the second half. 
Under pressure from two Galway players 50 metres from his own goal, defender Seán Moran played the ball backwards to Nolan, who had advanced forward into a huge vacated tract of space. Nolan was inside his own 45-metre line but, knowing the tight Parnell pitch so well, and with the wind at his back, Nolan computed the percentages; it was worth a go. And he nailed it. 
The score was massive because the extreme nature of such an equalising point in such a tight and important match rallied a passionate home crowd into a frenzy.  
Nolan's point was just the second scored by a goalkeeper from open play in championship history. Waterford's Stephen O'Keeffe broke through that threshold last June when nailing a brilliant point against Limerick in the Gaelic Grounds.  
It was radical but the construction of the score also made complete sense. With 13 players condensed in a small radius inside the 20-metre line close to the Waterford goal, defender Philip Mahony played a diagonal ball across to O'Keeffe. 
The goalkeeper had moved 15 metres to the right of the goal to make himself available for the pass and, as soon as he received the ball, O'Keeffe took off into open country.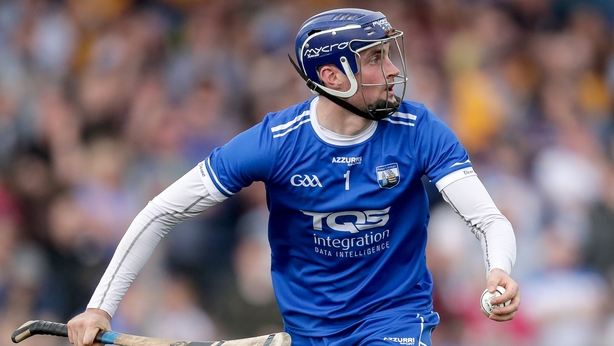 With all the players having been sucked over to the opposite flank, O'Keeffe soloed unimpeded as far as his own 65-metre line before Cian Lynch began closing in. O'Keeffe was well within scoring range by then, and he slotted the score. 
With forwards playing so deep now, the environment has been created for the goalkeeper to become even more of a quarter-back than they already are. 
The days of goalkeepers staying on their line are long over. The spectacle has changed because the game has changed. A hurler was always programmed to drive the ball in just one direction – towards the other goal. Yet now, every player must have 360-degree awareness. And passing the ball back to the goalkeeper is a very modern and common practice.  
In last year's Ballygunner-Na Piarsaigh Munster club final, Na Piarsaigh defenders played the ball from the corner flanks of their defence over to goalkeeper Podge Kennedy on seven occasions. 
Delivering the ball straight down the line would have always been the logical play for a defender in that scenario but hurlers apply a different logic to the game now. It was also a clearly defined strategy from Na Piarsaigh because Kennedy was consistently moving out the field to make himself available for those passes.
"Despite the scope for hurling 'keepers to launch shots at the target from far greater distances, the trend has been more common in football because teams pull so many bodies so deep behind the ball" 
Although the ball can travel much further in hurling than in football, the tactic of the sweeper-keeper still become a much more ingrained part of football now. 
Back in April, Tyrone sub goalkeeper Benny Gallen scored a goal from play with Aghyaran St Davogs. Gallen began the move inside his own 20-metre line before continuing his run, playing a couple of return passes, before getting on the end of the move and finishing to the net. 
It's unknown if Gallen was the first goalkeeper to score a goal from play before in football but if a record was to be broken, it was no surprise that Gallen managed it; in 2017, he kicked 28 league points for Aghyaran. 
The goalkeeper's remit has certainly changed in recent years. Goalkeepers are far more than just shot-stoppers now but the role of the 'sweeper keeper' has been advanced by Laois goalkeeper Graham Brody and Monaghan stopper Rory Beggan.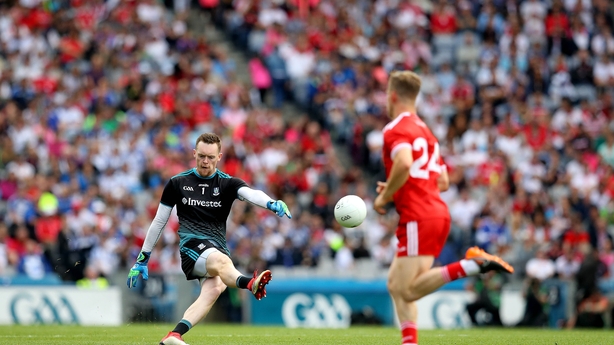 Goalkeepers can always become an extra attacker when they have the ball. In last year's Leinster Under-20 football championship, Wexford's Ivan Meegan scored a brilliant point from play against Dublin. Meegan picked up possession near his own goal and played just one return pass before pointing from around 55 metres. 
Despite the scope for hurling 'keepers to launch shots at the target from far greater distances, the trend has been more common in football because teams pull so many bodies so deep behind the ball. 
Tyrone goalkeeper Niall Morgan kicked points from play in two league games this spring. When Laois played Wexford in May 2018, Laois' first attack saw Brody make one of his routine forays up the field. And if Alan Farrell's pass had managed to get through to him, Brody would have been in on goal.
It hasn't always been about scoring either because a roving goalkeeper can create the opportunity for somebody else to take the scoring chance. 
That tactic was a turning point in Corofin winning this year's All-Ireland club football title. In the drawn Galway final last October, Corofin were trailing Moutbellew-Moylough by one point deep in injury-time when Corofin goalkeeper Bernie Power joined the attack.
Moutbellew had everyone inside their own 45-metre line when Power got ahead of the ball as Corofin launched one final raid to try and save the game. Power engaged two Mountbellew players inside the 20-metre line, which thinned their defensive cover as Micheál Lundy landed the equaliser in the 64th minute. 
Power's sublime kicking game is a serious weapon in Corofin's arsenal but his relaxed personality also reflects his free spirit as a goalkeeper. That mindset also neatly fits into the Corofin style because, for a team which have patented attacking and flair football, Corofin have tapped into Power's adventure and willingness to try something different.
Hurling goalkeepers would never be able to engage defenders in the way that football 'keepers can, primarily because of the different scoring ranges in both games, but nobody can deny how far Cusack's legacy has spread across both games.
Short kickouts have become the norm now in football but the first time the short restart appeared in the GAA was through Cusack's puckouts. Back then, his own supporters were aghast at the tactic, but he had the courage and conviction to see it through.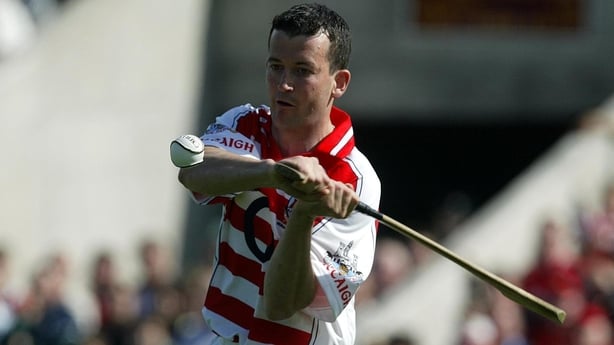 In the book 'Last Man Standing', Cusack described the surreal atmosphere early in Cork's crucial 2004 qualifier against Tipperary when Cusack hit a couple of short puckouts to corner-back Wayne Sherlock. It stirred the Cork crowd into a craze against their own goalkeeper. 
"I knew they were going off their game over it," recalled Cusack.
"I could have started to play politics and hit the ball long but I didn't care what the crowd were thinking. We were doing what we thought was best for the team."  
Fifteen years on, goalkeepers now – in both codes – continue to evolve the position. And continue to do what they think is best for their team.