Westmeath's Dessie Dolan recalls the early years of the All-Ireland Senior Football Championship qualifiers when the football world was a very different place.
The backdoor was first introduced in 2001, with provincial losers going into a straight knock-out competition for four places in the quarter-finals.
It was the first time that beaten teams were allowed back into the championship and Dolan's Westmeath earned a reputation as a qualifier team.
In that first year, '01, they recovered from a heartbreaking Leinster defeat to Meath, came through four qualifier rounds, including a replay against Wexford, to make the last eight, where they lost to the Royals again.
"You'd win your match in the qualifiers, you'd be mad keen for the next game, you'd be out celebrating," recalled Dolan, speaking on the RTÉ GAA Podcast.
"Next thing, someone would come up to you in the pub and say 'you've Cavan away, you're playing them next Saturday and because there's a festival on the game is at 6pm' and you'd be wondering.
"This is the way it was going on. The information was leaking down the country and a fellah would tell you you were playing Meath and you wouldn't be playing Meath, but you wouldn't know."
Speaking about the team's post-match ritual, Dolan said: "If you can think back to 2001, the first thing you took out of your gear bag after a match was the good shirt and a pair of jeans!"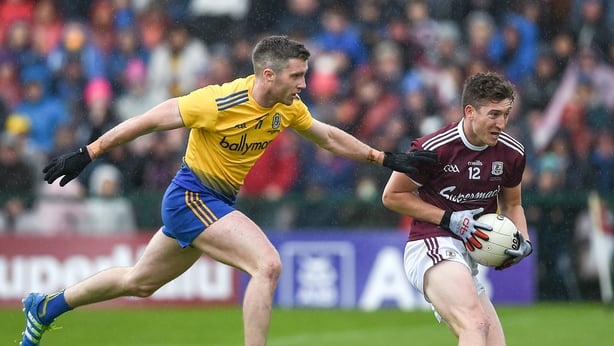 The qualifiers have evolved a long way since then, though they still offer early losers a chance to make Croke Park again.
Galway were one of the favourites to make this year's Super 8s, but now they must win one game to make the All-Ireland quarter-finals following their disappointing Connacht final defeat to Roscommon last weekend.
Dolan believes that the Tribesmen are vulnerable as they will be coming in against a backdoor team on a roll.
"If you look at Kevin Walsh now, his problem isn't that he hasn't talented players because he has loads of talented players," explained the former All Star.
Listen to the RTÉ GAA Podcast at iTunes, Spotify, or wherever you get your podcasts.
"It's how those Galway boys are going to feel about getting beaten by Roscommon in their own patch after being five up at half-time and trying to get their heads right to perform against any team.
"I remember once we went down to Pearse Stadium, full house, game delayed 15 minutes, playing Galway and no one gave us a chance. They had Padraic Joyce and Ja Fallon playing and we beat them down there.
"That was all to do with Galway having no interest in playing in the qualifiers, not the fact that Westmeath were a fantastic team to beat them. Kevin Walsh has a job of work mentally; not fitness, and the talent is there, but do the players have the enthusiasm to put the effort in to get back to the Super 8s?
"That was a bitterly disappointing performance and they'll start questioning each other, the manager, the coaching, their preparations – all of these things will be flying around the air – and then you'll have supporters giving their opinion.
"As someone who has played a lot in the qualifiers, I know if you can't get your head right in the first ten or 15 minutes of the next game, you could be in bother.
"You'll have a team who has won a few games in the qualifiers, riding high, crest of a wave, against a Galway team that could be mentally broken."
Follow all the big GAA action this weekend via our live blogs on RTÉ.ie/sport and the News Now app, listen to live national commentary on RTÉ Radio 1 and watch live TV coverage on RTÉ2 and the RTÉ Player on Saturday and Sunday.