Tipperary boss Liam Sheedy said Patrick 'Bonner' Maher will be an "integral" part of the camp all summer despite being sidelined with a serious knee injury. 
Maher has been ruled out for the remainder of the season after rupturing the anterior cruciate ligament (ACL) in his right knee against Limerick in last Sunday's round-robin clash.
He'd been in fantastic form for Tipp, helping them set up a rematch with the Treaty in the provincial decider, but Sheedy has backed the 29-year-old forward to come back even stronger.
"We were probably expecting that news," Sheedy told RTÉ Sport's Brian Carthy after a scan confirmed the extent of the problem on Tuesday afternoon.
"The medics know their stuff and had the diagnosis spot on. I'm just gutted for the chap. He's a wonderful, committed player in terms of what he's brought to me.
"He was in superb form, he'd lit up the Munster Championship and had put in some outstanding performances throughout the year.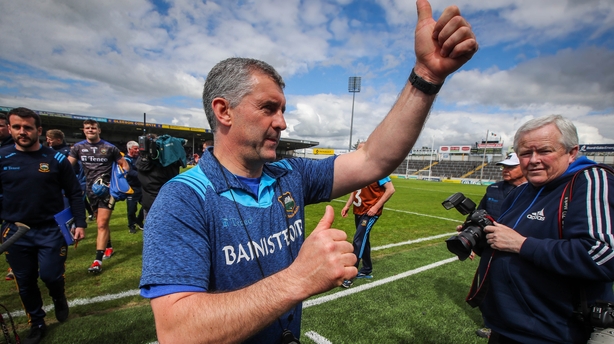 "From his perspective it's very, very disappointing and it's a tough time. But I know Bonner Maher, I know what's in him and he will come back stronger. He will be an integral part of my set-up for the rest of 2019 that's for sure. 
"First and foremost we have to make sure he gets the best possible treatment, that he's given every opportunity to come back in the quickest possible time. The one thing I know about Patrick Maher is he's meticulous in everything he does. He'll do his rehab to a really, really high standard.
"As I said it's really tough, but from our point of view all we can do is make sure that anyone who steps into his jersey for the rest of the year wears it with pride and distinction."
Tipp also lost Cathal Barrett during Sunday's win, the defender going off off with a hamstring injury that Sheedy admitted will almost definitely keep him out of the Munster final on Sunday week.
"It's a hamstring strain," he said.
"No matter what grade it is it's highly unlikely you're going to be ready in two weeks. At his stage we'd be saying it's most unlikely he'll be ready.
"He'll be off his feet all week. We're probably looking at the next phase more so than the Munster final. That will probably come too quick for him."