When Diarmuid Murtagh slotted coolly past Ruairí Lavelle early in the second half of the Connacht final on Sunday, it capped a momentum swing that had gathered pace immediately from the second throw-in.
Murtagh was at the end of a flowing move from behind midfield that Roscommon will rightly be delighted with in terms of use of space and execution. However, it is a goal that Galway would not have contemplated conceding 12 months ago.
That movement and crucial score is a snapshot of the loss of direction tactically that has crept into Galway's approach and which fundamentally has left the team without a structure or an identity as they try to bridge the gap from top six to the All-Ireland champions.
Evolution of a Tribe
When Kevin Walsh was appointed Galway manager facing into the 2015 season, the Western aristocrats were coming off a scramble for survival in Division 2 of the Allianz League by virtue of winning their final two league games and conceding 3-14 in their first Connacht final for five years to allow their great rivals Mayo to secure the fourth of what would be five provincial titles in a row.
The teams and players since their last All-Ireland winning generation had all been very much in the style that you would expect from Galway – loads of flair and ability on the ball. But there was something missing to make them competitive at the top tier.
At that point, had you offered Galway supporters a first Connacht title in eight years within eighteen months and an end to Mayo's dominance they'd have taken hand and all. Now, with significant progress achieved under Kevin Walsh, expectations have increased exponentially.
The journey of this Galway team has been intriguing. In Walsh's first three years there was an attempt to remain true to the traditional values of their playing style while trying to evolve towards a more modern system of play that makes them harder to beat.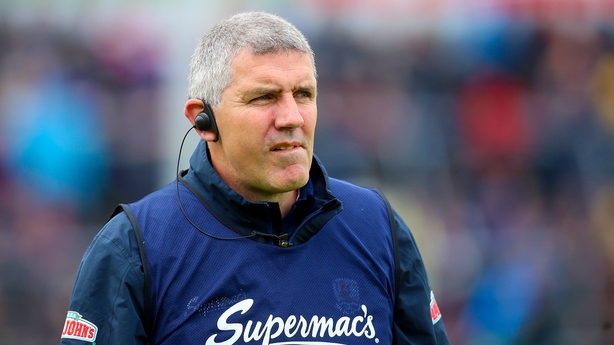 The team made progress but despite promotion to Division 1 in 2017, a nine-point loss to Roscommon in the Connacht final sounded the alarm that it was not going to be enough against the better attacks in the country. This had been Kevin Walsh's Galway 1.0.
As with most sports, sustained development is built on the capacity to defend effectively and to be able to do so consistently. That target was evident from early on but was elevated to a priority with Paddy Tally assuming a primary influence on their tactical set up for the 2018 season.
The end result was self evident in terms of performance. Despite the propaganda, Galway's undoubted attacking ability shone through on footings of a team that knew how to defend together. Another Connacht title and an All-Ireland assault that ended against Dublin in the semi-final was ample evidence of continued progress. This had been Kevin Walsh's Galway 2.0.
The conundrum at that point for the Galway management, and he's not on their own, was that the defensive approach was not good enough to hold the All-Ireland champions. Kevin Walsh's Galway 3.0 was going to need some serious thought for 2019.
Kevin Walsh's Galway 3.0
Fundamentally, the question for everyone chasing Dublin is what's the best tactical approach to a) contain them, and b) impose your strengths to exploit their defensive weaknesses.
The commonly preached consensus is that to take the champions on with an ambition to beat them you have to mirror their gameplan and go at them at every opportunity that reasonably presents itself.
Exhibit A in this discussion is always the Mayo team that have pushed the Dubs closest in recent years. Dynamic and front foot focused, they have hurt Dublin consistently in big games.
It is rarely mentioned that the last team to beat Dublin in championship football did not "open up" and go at them. Rather, they held their ground, frustrated them and picked them off on the break.
Tyrone too have bought this theory. First adjusting their defensive approach to go at Dublin in last year's All-Ireland Final and now rebuilding their gameplan around that more open approach.
You will note that Tyrone's All-Ireland final beating in 2018 was roundly praised for the glorious failure that "opening up" generated.
Common parlance amongst pundits has now created an assumption that teams who build success on a platform of sound defence must "evolve" to a more open brand of football to truly reach their potential. The evidence supporting this theory is not clear.
Good Defence can be the best form of attack
What often gets lost in the analysis of a structured defensive plan is that, as well as giving players clarity, purpose and a defined role without the ball, it creates opportunity when you win the ball back.
Patterns to build out of deep positions, outlet balls and how their supported, the positioning of attackers remaining higher up all set a template for how a team can initiate attacking movements.
Players become intuitive when coming onto the ball and picking lines of running going at goal but it's often at the expensive of the same level of cohesion when ahead of the ball in natural forward positions. The assumption of flair and instinct taking control in these scenarios is misguided.
In Salthill at the weekend there was ample evidence that Galway's better attackers were struggling to create any semblance of joined up play.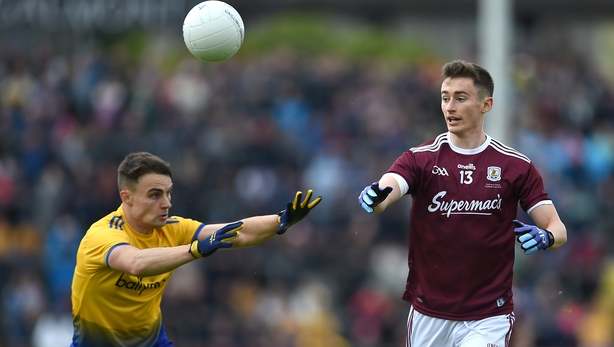 Roscommon played predominantly with a cover player in front of their full-back line and a middle third dropping deep to engage Galway's (slow) attack build.
None of that is an unfamiliar proposition and the Tribesmen had the tools to unlock their neighbours when they were able to build any type of passing movements in the final third.
The winning of the game was evidenced in Galway's purple patch before half time when they created five unanswered points, simply by maintaining possession and working it through Roscommon's cover with patience and angled support running. That winning formula was not repeated at any other period in the game.
Galway created 32 attacks across the Connacht final resulting in 12 scores. Beyond that they gave the ball away in the final third 15 times. That summarises their attacking play perfectly.
Theory and practice
The nuts and bolts of Galway's new defensive frailties are essentially down to an attempt to give their middle third players more licence to read the game and press together where they felt appropriate to allow (mostly) Eoghan Kerin or Gareth Bradshaw to work back into a cover position.
The theory is that this gives them an opportunity to work collectively to win the ball back further up, gives middle third players and attackers licence to opt out of the defensive shield where they see fit and ultimately create a better attacking platform when the ball is won back.
The practice was something entirely different.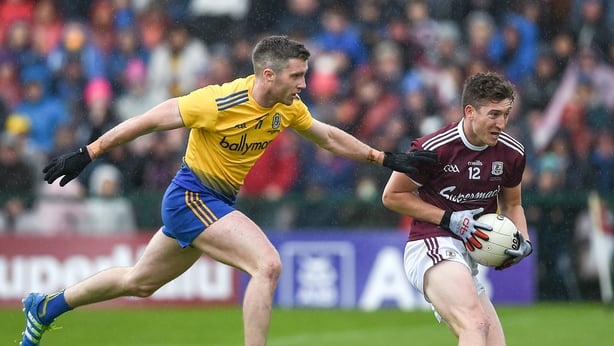 Kevin Walsh's Galway 2.0 began with half-backs who knew and played their positions without the ball. When Hubert Darcy stepped out of a centre back area to make the kick pass towards the left wing that would initiate the game's defining score, the space that Cathal Cregg won the outlet ball and turned in should not have been available.
There was no urgency from the middle third to scramble help, nor had a cover player dropped. Suddenly, the Galway defence were open and goal opportunity knocked.
Of course, there were still several individual opportunities make a difference but the customary support layer was absent.
This collective malaise existed throughout for Galway and, outside of the period before half time, the same loose attitude prevailed in attack also. That is sometimes characterised as work rate, fire, aggression or desire.
Reboot Required
In the grand scheme of things, Galway were not going to measure the success of their season against a Connacht title. Pushing on from an All-Ireland semi-final last year has only one tangible destination to represent progress and ultimately the changes they have tinkered with are designed to better equip an assault on Dublin.
Roscommon were superb on Sunday and more than earned their provincial crown and place in the Super 8s by right.
Leaving aside the task of restoring belief and confidence to the group while negotiating an inevitably tricky final qualifier, the Galway management team will be examining their own belief in what they have tried to build since January.
Kevin Walsh's Galway 3.0 needs urgent repairs. The solution ahead of a potential All-Ireland series assault may actually be 2.0.