Roscommon captain Enda Smith feels that a spot in the All-Ireland semi-final shouldn't be beyond his team in 2019.
The Rossies made the Super 8s last year via the qualifier route and lost all three games in a strong group featuring Dublin, Tyrone and Donegal.
This year though they are coming through the front door having beaten Galway with a brilliant second half performance in Sunday's Connacht final at Pearse Stadium in Salthill.
When asked after lifting the Nestor Cup did he think making the final four later this summer was realistic, Smith responded: "I think it has to be.
"The Super 8s is a brand new competition for us. It's in four weeks, that's a lot of time, so we're going to enjoy the next few days then give it a good crack and hopefully represent ourselves a lot better than we did last year."
Roscommon never got going in the 2018 Super 8s. Their opening round defeat to Tyrone set the tone and it was followed by a hammering from Dublin at Croke Park and a loss against Donegal in a dead-rubber game.
The Rossies were related from Division 1 in the league back in March, though they have showed definite signs of improvement under first-year boss Anthony Cunningham.
"We said it a few weeks ago, even after the league, that if we were going to the Super 8s I'd feel a lot more confident than last year," said Smith.
"I just think there's a different edge about us. We were five points down there against Galway and we came back; in previous years that wouldn't happen. I really think there's confidence in the lads, belief in our training, and the system that we're trying to implement."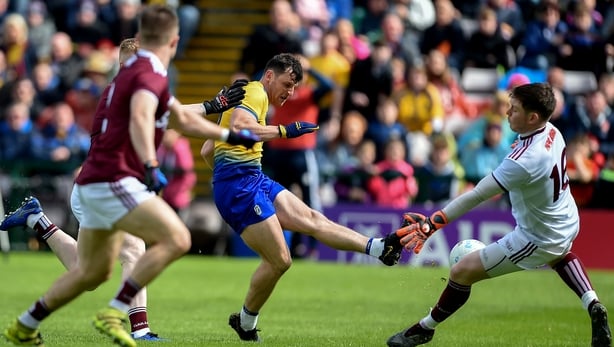 The manner of Roscommon's comeback, to turn a 0-10 to 0-05 half-time deficit into a 1-13 to 0-12 win, was particularly impressive considering it came in Galway's own back yard.
"In the history of Connacht finals, we're normally the ones coming out of the blocks quick, we set the tone but we were really flat until half-time," said Smith.
"We went back to basics, we weren't roaring and shouting at half time. Anthony (Cunningham) was very calm, a few lads said a few words, and that was what spurred us on.
"We knew we had a game plan, but we were forcing the kick-pass in that first half and it was bouncing away from us because of the conditions. We went back to a running game, more of a patient running game, rather than trying to force it and it paid off."
Roscommon's Super 8 group will be made up of the Leinster champions and the beaten Munster and Ulster finalists, or the qualifier teams that beat them.
Their first game is against one of the qualifier teams on the weekend of 13/14 July and then the following week it will be most likely Dublin, should they beat Meath in the Leinster decider. There's then a weekend off before the final round of games on 3/4 August.