In the wake of a proposed two-match ban for Tyrone's Tiernan McCann following an incident in the Ulster semi-final, Kevin McStay believes the GAA rule book needs amending in dealing with a variety of disciplinary matters.
McCann is in hot water after he appeared to reach into the mouth of Donegal defender Stephen McMenamin during the last-four clash at Kingspan Breffni Park. He also appeared to stand on McMenamin's neck.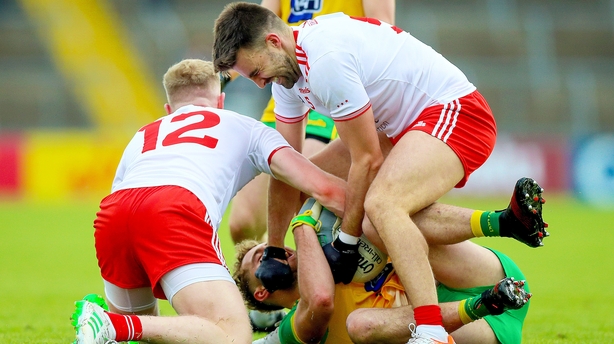 After reviewing the incident, the Central Competitions Control Committee are proposing a two-match ban for the Red Hand defender. 
Kevin McStay was on co-commentary duty for RTÉ television on Saturday last and saw that contact was made with McMenamin's mouth rather than an eye-gouge. Indeed, reviewing the footage has led to a strong response from the former Roscommon boss on a lack of consistency in how transgressions are dealt with by the GAA.
McStay told RTÉ Radio's Saturday Sport: "These incidents - stamping, gouging, fish-hooking, whatever you want to call it - are not new to the GAA. It's been going on for the last two years or so.
"The point I would like to make is that the various committees are bound by the sanctions in the rule book, but the rule book is never amended.
"I'm reading that the two charges he (McCann) has accepted are going to run concurrently - so the player may end up only missing one game - and that's the qualifier with Longford. 
"I don't want to overly zoom in on Tiernan McCann but all reasonably minded GAA followers would say that (proposed sanction) is just inappropriate. There is never a sense that a maximum ban is given out.
"If you gave a maximum ban to anybody now it would be grounds for an appeal immediately because nobody ever gets a maximum."
"There are motions about every other bloody thing at Congress except things like this that matter to the spectator"
And then the Mayo native drew on his own experiences by adding: "I have a little bit of skin in this game from last year.
"I got a three-month ban last year and rightly so (after an incident involving linesman Niall Cullen at half-time in the Super 8s against Donegal). I had to suck it up and get on with it.
"A more pertinent case is the one involving Clare's Gordon Kelly who also got three months for squirting a water bottle in the direction of an official.  
"And then you had Colm Geaney, the Dingle selector who walked onto the pitch and struck Dara Moynihan. He got eight weeks. Okay, I accept that ban was handed down by Kerry GAA, that's a different committee.
"The point I'm making is nobody can look in over the fence and say that is an appropriate dishing out of sanction in relation to the McCann incident.
"The rules must be changed, but they never are. There are motions about every other bloody thing at Congress except things like this that matter to the spectator.
'It's totally unacceptable' - The panel examine the controversial incident involving Tiernan McCann in Tyrone's loss to Donegal pic.twitter.com/kiGxJ6o2xV

— The Sunday Game (@TheSundayGame) June 9, 2019
"The video looked bad for Tyrone and bad for Tiernan McCann.
"The good news is I hear he has apologised but the level of sanction is hugely inappropriate."
What McStay would like to see is a citing official that would make a definite call on sanctions.
"This idea of a citing official to tidy things up on a Monday morning is the way to go. This official should have some flexibility in terms of the sanction. Heavier sanctions should be dished out depending on the force used."