Cork footballer Orlagh Farmer was in her car one day when an Ed Sheeran song came on the radio that planted an idea in her head.
The six-time All-Ireland winner is currently working on a PhD that focuses on encouraging more girls to play Gaelic football. It's a topic that ties in with the worrying drop-off rates among teenage girls across all sports.
It's a major concern in Ireland, and as Farmer discovered, there's international interest in this area too. She's already presented her research at four or five different conferences around the world. More recently, she was in Canada at a conference which coincided with Cork's Division 1 league final against Galway.
Farmer managed to get home for the decider at Parnell Park where she helped Cork to a 12th National League crown. She celebrated the win "for a few hours" catching a flight from Cork to Winnipeg the following morning.
"It was a bit manic alright," Farmer explains to RTÉ Sport about the long round-trip that she was more than happy to undertake.
"People are probably thinking 'what is this girl up to?' It was a great opportunity to present my research on an international scale as well and I couldn't say no.
"There were two conferences over in Canada so the timing probably wasn't ideal but the fact that I had that weekend off between the two conferences, I decided to come back. These opportunities don't come along too often. In a few years' time, I probably won't get this opportunity to play in a league final."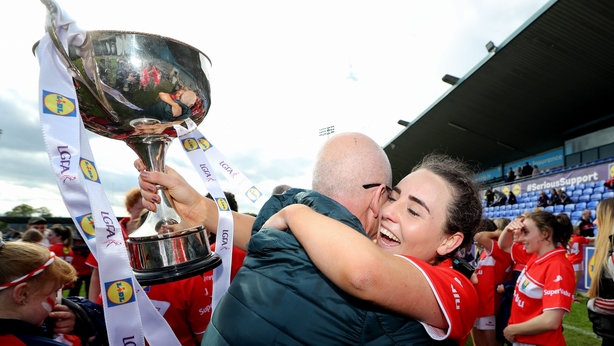 Looking specifically at Ladies Football, Farmer's research aims to uncover the reasons why players withdraw from the sport, and develop ideas that coaches can adopt to ensure that girls continue playing beyond their adolescent years.
Through her engagement with young players, Farmer encountered a number of interesting findings. There's a huge demand for more female role models in Ladies Football to come to training sessions and schools and demonstrate the skills. It's also important for young girls to have idols they can look up to in the sport.
Farmer also discovered there was a huge appetite to make football more enjoyable and take away some of the pressure that competition often brings.
So when a Ed Sheeran tune came on the car radio one day, Farmer was struck with an epiphany that led to a Ladies Football dance.
"Ed Sheeran's song 'Galway Girl' came on the radio and thought 'why not incorporate the skills of Ladies Football and basic fundamental skills into a dance routine they can relate to?' says Farmer who is completing her PhD studies in the Department of Sports Studies and Physical Education in UCC.
"So I decided to implement it and try it out in my research and it was really positive.
"It was such a fun aspect but they were still improving their skills, they were with the friends in a social environment and they wanted to come back playing.
"Girls like that fun, social element. Ironically, on the other side of it, I found that the biggest barrier was lack of enjoyment and coaches being too strict, and training being too competitive."
On the role that coaches can play in making football more enjoyable for young girls, Farmer said:
📹Video: @OrlaghFarmer came home from Canada to play in the @lidl_ireland NFL Division 1 Final and the @CorkLGFA star returns to Winnipeg early tomorrow morning! #SeriousSupport

pic.twitter.com/TJrz1jxTj0

— Ladies Football (@LadiesFootball) May 5, 2019
"Coach education is a massive part of my research. If coaches realise that girls want to be with their friends and they want that fun. Some girls are going to want to go and represent their county at a higher level and that's ok too.
"But in terms of general participation at club level, that's what they want at the end of the day. There's a bit of a mismatch there because GAA and LGFA is an amateur sport. A lot of the time, parents are volunteering their time and sometimes parents or coaches lack the education in how to go about coaching girls.
"If there's more development in that area, I actually think more girls will stay involved."
According to Farmer, Canada is one of the leading countries when it comes to "sport participation, research and policy." Farmer has been to Vancouver, Montreal and Winnipeg to present her work and build connections with other people working in this area.
Her research proved to be major hit with the Canadian audience and her commitment to getting home for the league final triggered a reaction as well.
"Going back to the conference after the league final, they were all saying 'the Gaelic girl has returned.'
"My Gaelic4Girls research really took attention over there and a journalist over there is in the process of writing up an article on my research. It's working so well here and they want to get some ideas to implement in sporting organisations over there."
Farmer's journey into researching this area started three years ago when she was approached by the LGFA. They wanted an evidence base to put behind their Gaelic4Girls programme, which has been running since 2008.
The 26-year-old is coming into the final few months of this important project with the end in sight. There's a few more small conferences around Europe to get to in the next few weeks before hopefully submitting it in September with a doctorate to follow.
We need your consent to load this YouTube contentWe use YouTube to manage extra content that can set cookies on your device and collect data about your activity. Please review their details and accept them to load the content.Manage Preferences
"I'll be a teacher, a doctor and a farmer with no land," she laughs. "I'll have to marry a farmer to put my name to good use.
"I need to get on track with my 80,000 words for my thesis. But I love it. I suppose when I'm playing football and I have such a passion for it, and I just want to make a difference really for Ladies Football and give something back to the organisation."
Farmer isn't sure about what her future plans are just yet. Lecturing is an option that she can see herself exploring at some point and she's also hoping to go travelling next year and do more work that relates to her research.
Regardless of what route she takes, she's confident that she's found her vocation.
"I'm kind of working on a creative project based on my research and I'm going to trial it out in different countries on a multi-cultural scale," says Farmer.
"I just feel like it's my calling and I have to do this. There's just such a need for girls at the moment because momentum is picking up, especially with the 20x20 campaign. Somebody has to push it really and because I have research behind it as well, I'm eager to make a difference for girls."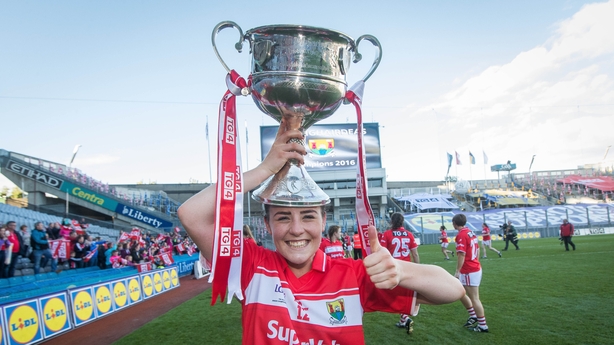 Amidst Farmer's fascinating work, playing for Cork is still a major priority for her after first coming onto the senior panel in 2010. There was some uncertainty around whether she would be able to get home for the league final earlier this year, but her desire to represent her county ultimately swayed her decision to book the flights home.
Manager Ephie Ftizgerald left her to make the final call, and she's grateful for the compassion he showed when she was trying to think through her dilemma.
Later this evening, she'll line out at midfield for her side's Munster final against Waterford where Cork will be putting their provincial title on the line. They've already met in this competition, with Fitzgerald's side sealing an emphatic 24-point win.
They come into the decider as Division 1 champions, an achievement which Farmer says has been crucial in their development this year.
"We're such a young team. Girls who were part and parcel of the team have moved on now and there's a bunch of players coming in.
"It gives the younger players a chance to play and gives everyone a chance to compete for places. Even the semi-final against Dublin was nearly at championship pace. Those league games really stand to you, it's the framework behind the championship.
"We're going really well and there's a bit of a bite."
Throw-in for the Munster final is at 6.30pm today and the game will be shown live on the LGFA's Facebook Page from 6.15pm.