Last weekend in Madison Square Garden Anthony Joshua endured one of the bigger boxing upsets of recent years, losing to Andy Ruiz Jr to relinquish his world titles.
A month out from the bout renowned fight trainer Freddie Roach sounded a warning for the champion.
Ruiz has fast hands and can box – a simple element of the game often overlooked in the modern era. More than any other sport, in boxing, styles make fights.
On Saturday past, there was no ambiguity about how Donegal would approach the Ulster semi-final with Tyrone, but they needed their opponents to bring their own new style to suit their game plan.
Styles Make Fights
Tyrone have been working for some time on a tactical transition from an approach built on suffocating numbers in defence and power running counter attacks to a more expansive attack.
That variation has at its heart more direct kicking to the inside line and – crucially – a desire to kick the ball out of defence.
The latter requires outlets or 'link men' in the middle third. Therefore, numbers in defence must be sacrificed to retain the capacity to attack quickly.
In preparation, Donegal will have been praying for the new Tyrone attacking system to function well in the earlier – and virtually irrelevant – games against Derry and Antrim.
Tyrone maintaining their belief in the new approach was central to Donegal's plans to expose their opponent's most glaring weakness. The second element was to take away the Red Hands' kicking attack.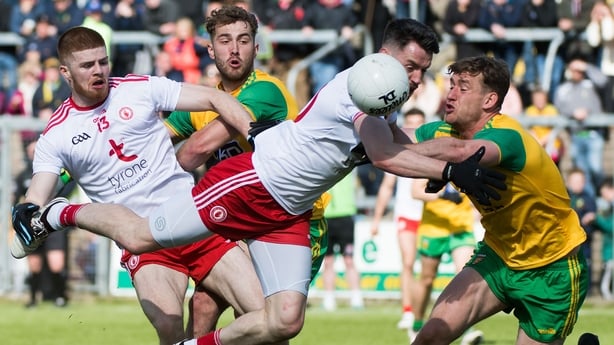 Tyrone's Journey
With any group of players, it is important to factor in the individual strengths and weaknesses the players carry when designing the team's overall game plan.
In July 2012 the golden generation of Tyrone met their natural journey's end in a ten-point beating to Kerry in Killarney.
The glaring lesson from that game for Mickey Harte was that with the passing of some of their greats, Tyrone no longer had the defenders to deal with top class forwards in head-to-head battles. Going forward they had to produce quality replacements or find another way to cope.
This realisation was dawning against a backdrop of Donegal's changing of the landscape with a revolutionary All-Ireland-winning formula focused on collective defending.
Since the disappearance of McMenamin and Gormley in particular, Tyrone have not produced a single man marker on a par with the national benchmarks of their time.
These are now the rarest of players who, first and foremost, take pride in stopping quality opponents with a mixture of skill, aggression and force of will.
After that, there might still be a game of football. On Saturday, Stephen McMenamin and Paddy McGrath epitomised the profession.
Beautiful point from @paddymcbrearty at the end of a slick team move. @officialdonegal looking good. Watch the highlights on @rte2 from 9.30pm tomorrow #rtegaahttps://t.co/DsuMN9AvSi pic.twitter.com/JSHsugXRJz

— The Sunday Game (@TheSundayGame) June 8, 2019
Tyrone continue to churn out quality footballers: Good forwards and very good middle third attackers and the list of names in both categories are extensive.
In defence, however, they have consistently had to make do with good footballers who have shown some aptitude to defending previously and can do a job.
Michael McKernan is a good example – a swashbuckling attacking half-back for club, county underage and college but now a man marker for the Tyrone Senior team and struggling in the role.
Knowing the practical consequences for the team of all of this better than anyone and analysing the players coming though their conveyor belt, Mickey Harte meticulously built a game plan around his squad's strengths in the years following Killarney.
Until the recent evolution of Cathal McShane, they lacked both man-markers and target men but boasted athleticism and skill in abundance within their middle third sector.
The natural settlement for effective style of play over recent seasons became Tyrone's familiar double sweeper and packed middle third with virtually every player required to contribute before counter attacking with hard running.
Over the last four years in particular the revised, rigid, approach has put Tyrone back on a footing to compete with the best.
'It's totally unacceptable' - The panel examine the controversial incident involving Tiernan McCann in Tyrone's loss to Donegal pic.twitter.com/kiGxJ6o2xV

— The Sunday Game (@TheSundayGame) June 9, 2019
They have challenged for provincial titles consistently and remained capable of beating anyone in Division 1.
But there was been a ceiling to the upward trajectory. Straight-jacketed by the system, they haven't been able to create enough in high intensity games to beat the best.
Whether this year's revised approach was as a result of natural evolution and a belief in the team's ability or because of internal pressure to produce a more aesthetic brand of football is unclear.
Donegal's Plan
There were two clear elements to Donegal's dismantling of Tyrone's game plan on Saturday evening.
1. Remove the diagonal kick passing across the square to Cathal McShane as an attacking weapon.
2. Use Tyrone's more expansive set-up to create one-on-one scenarios in the final third.
Step One
Holding midfielder Hugh McFadden was the key man in Donegal's set up defensively.
When possession was lost, McFadden tracked back in front of McShane and positioned himself on the far side of the origin of Tyrone's attack.
That covered off the now customary diagonal delivery across the front of the full-back into the path of McShane peeling away.
The job of the full-back marking McShane became simple then – mark in front for a straight ball popped in.
Donegal still struggled with this task but the primary effect held – winning the ball in front and going away from goal is much less dangerous than their preferred diagonal option where McShane is half turned as he wins it.
Tyrone still found McShane in front in the early stages but as the game wore on, both the realisation of its relative ineffectiveness and the deterrent of McFadden's positioning meant that they tried to kick less and less.
The rest of the Donegal team in front also defended deeply – within their 45 – to enable them to swarm and press possession when Tyrone reverted to their running game.
Step Two
Donegal will have identified from a long way out that the pace and flair they have in their forward division is the perfect medicine for a Tyrone defence who struggle to make tackles and stay with runners in one-on-one situations.
They will have watched the Derry and Antrim games and noted no sign of Cavanagh in the deep sweeper role nor Burns in the secondary cover role and hoped for a continuation.
Tyrone's confidence in their own ability to cope without the additional layers of support their defenders have always enjoyed was reinforced by wins against Derry and Antrim – but the warning signs were glaringly there.
The trap was set.
When Donegal named a team with a likely forward pairing of McBrearty and Brennan high up, Mickey Harte was probably uncomfortable with his match-ups.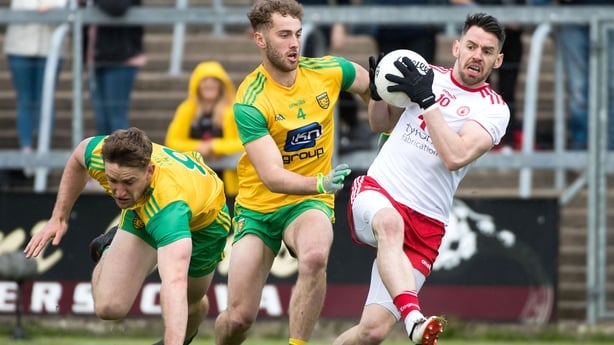 But when Eoghan McHugh and Niall O'Donnell were added as late changes the trap was well and truly sprung.
No doubt there was due diligence in place but settling on appropriate marking assignments in the final half hour must have generated a realisation of trouble ahead.
The final and most effective aspect of the Donegal set up was withdrawing Jamie Brennan to a deeper starting position on the left-hand side.
Instead of what may have been expected – Brennan close to McBrearty inside and winning ball coming away from goal, his influence became much more nuanced.
He held his position wide on the left as Donegal patiently built attacks through the middle third.
When play drifted from right to left Brennan hit the gas – with acceleration very few players can match – going for goal and burned initially McKernan and then McGeary consistently as they tried to curtail him.
The opening goal should have come earlier than it eventually did from the same pattern and its effectiveness was maintained through the first half.
This was just the most impactful example of Donegal's superiority in movement and pace in attack as many of Tyrone's customary attacking energy had to be redeployed in chasing opponents all over Breffni.
Harte's Conundrum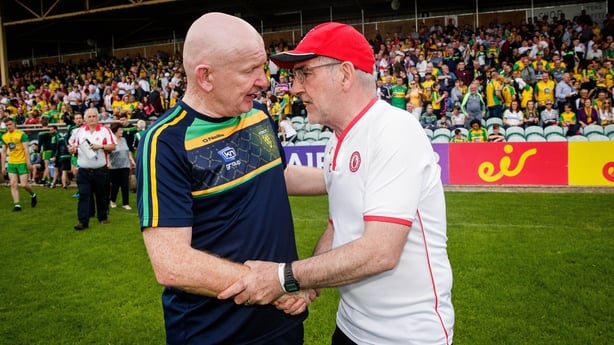 The obvious question for Harte and his coaching team is what to do next and how to reshape their set up for the qualifiers.
The issues are clear: when they face Super 8-level opponents they do not have the defenders to cope in space against a quality forward line.
The harsh reality is that their game plan over the last four years would possibly have beaten Donegal with the same personnel.
Do Tyrone stay focused on the brilliant football they produced in the latter stages of the league and early rounds of this year's championship or does Harte's pragmatic nature prevail?
Time is very short now to try to find a middle ground.