The draw for the second round of All-Ireland Senior Football Championship qualifiers will be live on RTÉ Radio 1 this morning at 8.35am.
There will be 16 teams in the draw which is on Morning Ireland and televised on RTÉ News Now.
This second round draw involves the eight winners from Round 1 (Bowl 1), who will be drawn against the eight teams that lost provincial Semi-Finals (Bowl 2).
A separate draw will be made for home advantage - exception: A Division 3 or 4 team from the current year's Allianz league drawn against a Division 1 or 2 team will have home advantage.
Home vcenues will be subject to approval by the CCCC and must meet the criteria set down by the National Facilities/Health and Safety Committee.
The fixture details will be confirmed by the CCCC on Tuesday afternoon.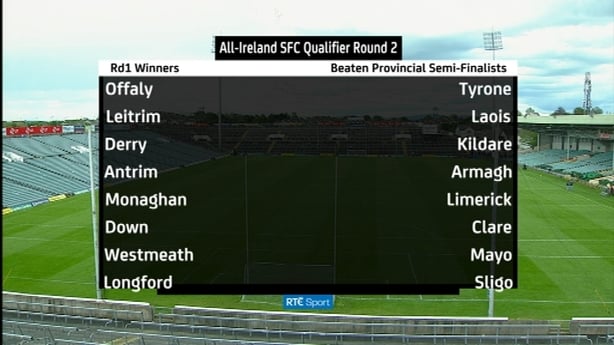 Bowl 1
Leitrim, Down, Derry, Antrim, Longford, Westmeath, Offaly, Monaghan
Bowl 2
Sligo, Mayo, Armagh, Tyrone, Clare, Limerick, Kildare, Laois