Cork legend Valerie Mulcahy has praised the GAA for its decision to take part in Dublin's Pride Parade and says that the reaction to the news has been "very positive".
Speaking on the Late Late Show, GAA referee David Gough first revealed that the association had accepted an invitation to march in the parade later this month for the the first time in the 36-year history of Pride.
While speaking on the programme, Gough also mentioned the contribution of 10-time All-Ireland winner Mulcahy who joined him in a meeting with GAA president John Horan.
The former Cork forward says there's still work to be done in sorting the "finer details" ahead of the parade, but they're thrilled with the response to the news of this historic alliance.
"It's been very positive," said Mulcahy at the SuperValu GAA Sponsorship Launch 2019.
"The GAA are on board and have their full-time employees working on it.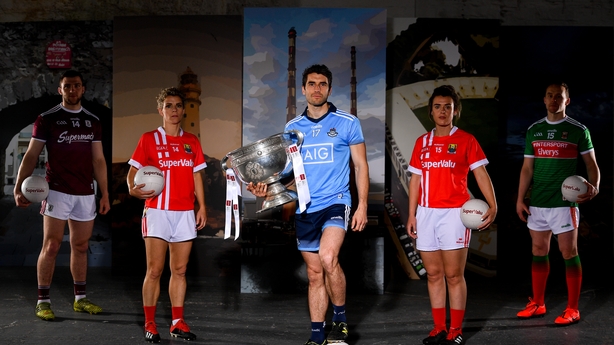 "It's great that there's representation and the whole point of why we went to John [Horan] was just that we wanted a bit more visibility.
"We know the GAA is a great environment and a huge pillar of the community and just to have a bit more visibility to say that 'we're a hugely inclusive society and the GAA is an inclusive organisation.'
"The GAA community and the family of the LGFA, the Camogie and the GAA is a place to belong and it's where we belong. It's open arms for everyone so I think we just wanted kids and adults to see that it is and put that into action.
"What better way than walking in the Pride parade. Actions speak volumes. Actions speak louder than words. It's wonderful."
The Union Cup, Europe's biggest LGBT+ and inclusive rugby tournament, will be held in Dublin this year. As part of the event, the famous gates of the Guinness Storehouse have been painted in the pride colours.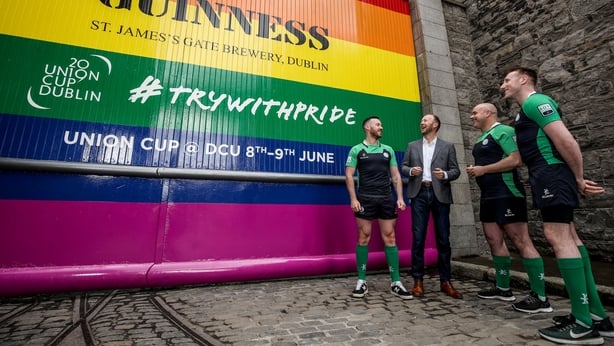 "It's just really encouraging," says Mulcahy, "and lovely to see the pride flag colours, even on the main gates of the Guinness [Storehouse]. There is huge support. I think it's powerful, that imagery is wonderful and sometimes it needs those structures and more public campaigns.
Mulcahy spoke publicly about her sexuality in 2015, and became the first high-profile female footballer to come out publicly on the documentary 'Coming Out of the Curve' by fellow Cork GAA legend Donal Óg Cusack.
Cusack previously opened up about his sexuality in 2009, while Gough is the first openly gay GAA match official.
Following her own experience of coming out, Mulcahy says that many people reached out to her to offer support and seek advice.
We need your consent to load this YouTube contentWe use YouTube to manage extra content that can set cookies on your device and collect data about your activity. Please review their details and accept them to load the content.Manage Preferences
"When I did my national coming out, so to speak, there was huge support. And even when I was playing everyone was very supportive. I was just living my life, it was encouraging.
"The feedback was massive. People still do come up to me. Actually, it was lovely one day when I went to one of the double-header Championship matches and a young girl came up to me and said thanks, because it really helped her. She was there with her father.
"I think just the importance of just seeing people getting on with their lives and knowing that it's okay, it'll all be fine. I think that's the biggest message. Just be yourself and be accepted because it doesn't have to define you and change your whole life.
"I think it was a taboo subject for so long. An Irish thing to do is just not speak about anything and not address anything and thankfully that has changed and we've definitely progressed as a society in many elements. Just opening up conversations about many different things. It's important to keep that going forward."