Interim Offaly manager Joachim Kelly admits his team are short on fitness and confidence as they hope for other teams to do them a favour in the Joe McDonagh relegation scrap.
The double All-Ireland winner and hero of the great Offaly teams of the eighties was given the job on a short-term basis following Kevin Martin's dismissal after a dismal start to 2019.
The Faithful County have only one competitive win, a dead rubber in the League against Carlow, from 12 games this season across Walsh Cup, Division 1B and the McDonagh Cup.
Defeat to Antrim at home in Kelly's first match in charge leaves them hoping that Laois beat Kerry next weekend, which means Offaly can stay up if they beat the Kingdom themselves. Their survival though is no longer in their own hands.
"This team are down because they're after losing so many games and it was hard to rise them," said Kelly, who was part of the Offaly team that won the county's first ever senior hurling All-Ireland in 1981.
"They were nervous out there - they were afraid making mistakes in the first half. We'll try and resurrect it for the next day."
When asked were his team struggling for fitness even though they had an extra man against Antrim for 45 minutes in Bord na Mona O'Connor Park he responded: "You hit it right on the nail; Antrim were flying all over the field.
"We're training since last October, but our fitness level is not where it should be and you can't turn that around in a fortnight. Antrim were flying around, reading the breaks, coming on to the breaks, driving out of defence with it and we weren't."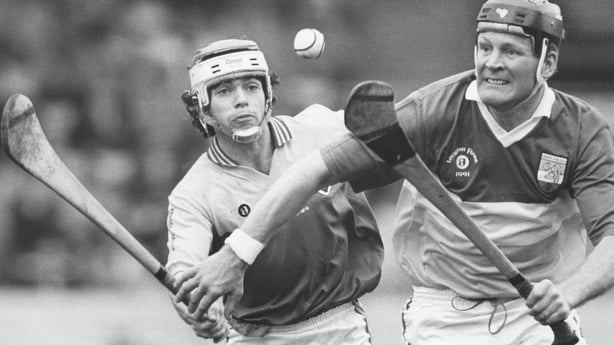 Kelly revealed that he knew he was going to take the Offaly job on a short-term basis - he will vacate the role at the end of the current campaign however it ends - even before it was offered to him.
When he saw the county board delegation walking towards his door, he knew.
"I wasn't expecting the call at all; it was last Monday week when the lads turned up at my back door," he explained.
"I got two hours to think about it and that was it, but I had my mind made up when I saw them coming. I said, 'look, I love Offaly hurling, I'm an Offaly man and I'll do what I can, even if it's only for a month. If it doesn't work out, put a new structure in place'.
"I'm gutted. I'm an Offaly man. I came in there two weeks ago for a month to try to turn this around.
"We came to get the result against Antrim and we didn't get it. There were good performances out there from lads, we gave crowd a bit of a lift when we came back from eight points down with six minutes to go to get it to a puck-of-the-ball game.
"We got our chances to win the game, they got their chances and they won it - best team won on the day, no doubt about that.
"It's a work in progress. We have another two weeks to prepare now for Kerry, which is going to be another dogfight in Tralee and our aim is to avoid going down to the Christy Ring."