Mayo's Andy Moran says he's not concerned by the negative remarks made about his team, after their shock exit from the Connacht SFC prompted a fresh wave of criticism. 
James Horan's side, who went into the semi-final clash with Roscommon as Division 1 champions, were stunned in a one-point defeat where Moran scored a point from play after he was introduced as a substitute.
Mayo's inconsistent results has often drawn a critical reaction in the past and their latest disappointing defeat triggered RTÉ pundit Joe Brolly to zone in on their performance once again.
"It is more enthralling watching Mayo losing, than watching any other team winning, including the Dubs," he said on The Sunday Game.
Moran concedes that he was more exposed to the criticism that was directed at Mayo footballers when he was younger, but due to a hectic home and work life balance, he sees less of the comments now.
He's happy to avoid the negative press that Mayo tend to attract, but he's confident that the younger players in the panel are better equipped to engage with the media.
"I think the younger guys are way smarter than we were 10/15 years ago and they're way more savvy in terms of what's happening on social media and telly and stuff like that so I think they are probably a bit smarter than we were 10/15 years ago," Moran said at the launch of the SuperValu GAA Sponsorship Launch 2019.
"The nation's favourite tragic comedy unfolding again. It is more enthralling watching Mayo losing, than watching any other team winning, including the Dubs..." - Joe Brolly on Mayo's defeat to Roscommon pic.twitter.com/99L6ubF9G0

— The Sunday Game (@TheSundayGame) May 26, 2019
"The more pundits make noise, the more they get heard. I suppose it's different for me. I'm 35, I've probably seen a lot of it in the past. It might be different for a 23 or 24-year-old. But for me it genuinely doesn't make any difference.
"They say their piece. When we were young we used to watch Match of the Day, you had [Alan] Hansen...it's the same thing. It's the exact same thing. You can either take it and use it to benefit yourself or you just don't listen to it. If you can convince yourself the stuff you're doing is right, you don't really have to listen to it.
"It's more supporters' analysis if I'm being honest. But if I was mid-20s I might take it a bit different, you know?"
Commenting on the colour that Mayo's unpredictable displays bring to the championship, Moran added:
"I think we're good for the game in terms of our supporters. Wherever we go in the qualifiers they'll be coming with us. We do attract a lot of attention but isn't that some of the craic of it too? If you weren't getting the attention you'd be giving out as well. It is what it is.
"You've to take the good with the bad. They're going to see us plenty over the next couple of weeks so we better be ready for it."
Mayo didn't spend long nursing the wounds of their loss to Roscommon and returned to training on Wednesday night, according to Moran.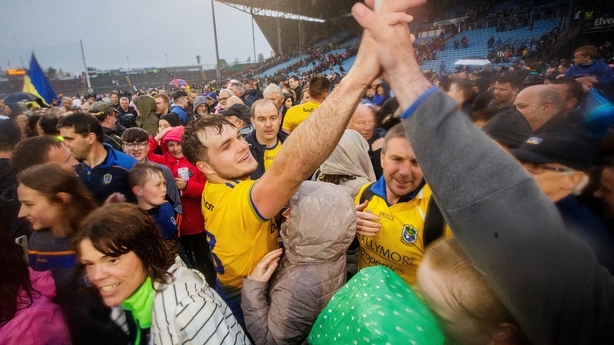 Reflecting on the result, the Ballaghaderreen man pointed to the efficiency in Roscommon's attacks which yielded two goals while Mayo failed to hit the back of the net.
They now find themselves facing down the familiar path of the qualifiers, and they'll be using some important lessons to prepare for that journey.
"Once you get yourself to the Super 8s, you're back to square one," said Moran.
"The championship and the format has gotten a lot of stick over the weeks. For us, there's two separate championships. You play the Connacht championship and try your best to win it. Now you're just in the All-Ireland series and we've two more games to get to where we need.
"If you look at it like that I think you'll be fine. But as we showed two years ago, you have to treat every game with respect. We got brought to extra-time by Cork and Derry and we really had to try hard to win those games. We'll have to do the same again and try to work our way back."