Former Limerick hurler Ollie Moran said Offaly's hurling malaise is "a major concern" and aired his belief that the Faithful County needs to hit absolute rock bottom before they can begin to build themselves back up.
Last week Kevin Martin stepped down from leading the senior side, with Joachim Kelly taking over as Offaly on an interim basis.
Martin had come under pressure following a string of bad results which saw his team relegated from Division 1 in the Allianz League and teetering on the brink of the drop to hurling's third tier.
They have lost both of their games in the tier-two Joe McDonagh Cup, the first against Laois and Westmeath. Offaly are in danger of dropping into the Christy Ring Cup, which would be another major blow to morale in the county
"Sad is maybe the wrong word," Moran told 2fm's Game On when reflecting on their plight.
"It's almost patronising Offaly to an extent. But they are a very, very proud hurling county. In our formative years everyone loved watching Offaly in the 80s and up to the late 90s.
"Hurling needs the Westmeaths, the Kildares, the Carlows of this world but you can't afford to have what I would say is one of the traditional hurling counties in Offaly being demoted to that status.
"It would be very unfortunate but maybe they've got to go right back to the very start. It would appear the current panel of payers they have is just not up to that level. It's a major concern.
"They probably need to internalise the whole thing, look at their club structure, start developing their nursery. You're probably looking at a ten or 20-year plan there. That's the reality.
"They need to go back to the primary schools now and start developing there, incentivise clubs to start bringing players through and build their own development structure. I'm sure there are moves afoot to try and do a lot of that but it needs to be fast-tracked to a fair extent."
Looking back on the weekend's Leinster SHC round-robin draw between Galway and Wexford, Moran added that the Tribesmen could "count themselves lucky" to escape with a point.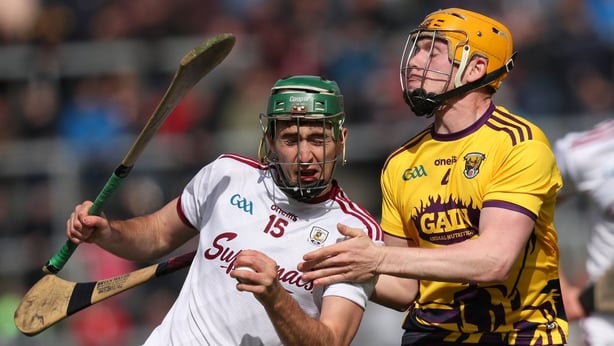 "Galway can count themselves lucky to a degree. They're certainly not firing on all cylinders at the moment. You're waiting for the real Galway to come out.
"The overriding thought is, how big a factor is Joe Canning's loss? The talk of not having Joe available at the moment is nearly worse than the actual fact of not having him available. It definitely seems to be handicapping the Galway performances to date.
"There seemed to be a lot of shadow boxing early doors. Both the teams racked up 20 wides in total which was a considerable enough sum.
"For anybody who's played in Pearse Stadium there can be a fairly substantial breeze blowing in from the Atlantic and yesterday was one such day. It does impede shooting in a big way, especially with frees. It's very hard to get your angles right. It was the veritable game of two halves."
Davy Fitzgerald was sent from the line during the contest.
"You can't argue with the man's passion," Moran said of the Clare man.
"He's without a shadow of a doubt the most passionate ever in GAA! The red mist seems to come down. What you want on the sideline is a rational thinker. Passion is one thing... sometimes you just have to keep it in check.
"Wexford will seek motivation from any source they can and they are a very passionate team. He's a lot of time and mileage put into them. Davy obviously felt, and he was probably right, that it was a challenge that went unnoticed. It brings up the argument again, should you have two referees?"