In its own right, the Allianz National Football League Final in March capped a pulsating series of division one tussles but more intriguingly, it signposted a Mayo summer renaissance and potentially another assault on Dublin's crown.
The familiar power running and "Devil may care" panache in going after Kerry was at the forefront of the westerners' impressive victory and that created an expectation for what was possible.
What would have been particularly encouraging for Mayo supporters in the Spring was how they went about defending Kerry. Their rear-guard was earmarked by aggression, purpose and a collective will to resist that demonstrated the familiar warrior heart they undoubtedly possess as a group.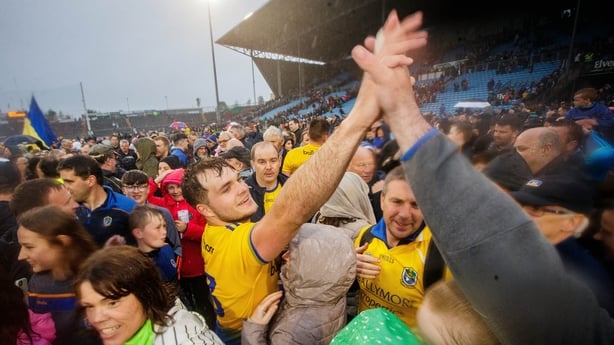 FORM LINES
Using the National League as a form line ahead of Connacht's first real contest in the province this year, the challenge ahead of Roscommon looked formidable.
With an attack that ranked twentieth in the country and a defence that ranked even lower, the puzzle looked almost unsolvable against the National League champions. Even if Roscommon could find a solution to curtail the impact of Mayo's attacking unit, it seemed unlikely that they could simultaneously retain a cutting edge to do enough damage on the scoreboard.
Mayo's commitment to defence had defined their evolution earlier in the season and created a platform to allow them to take on the better teams in the country.
ROSCOMMON
Before considering how Mayo stumbled, it is important first to acknowledge how their opponents created just the right environment with enough hurdles to give the favourites enough rope to conjure their own demise. Roscommon played with a drive and belief in their capacity to win that was particularly prevalent in their demeanour out of possession.
There wasn't a Mayo man that the eventual winners didn't think they could stop and they hunted every tackle. Despite being dominated on restarts, Roscommon worked themselves to a standstill to stay in Mayo's way. They exerted just enough pressure and interference on shooters to keep Mayo's finishing below 50% - which was ultimately the winning of the game.
Dropping a cover player off to condense the space reinforced their already fiercer tackling and ensured that most attacking movements were rushed.
No small part of the winning formula was Roscommon's "territorial effectiveness" – creating 26 shots from 30 attacks is an astonishing display of efficiency but it only tells half the story.
BACKWARD STEPS
As well as Roscommon playing to curtail the Mayo attack,17 points should still have been more than enough to win this game. During the league Roscommon averaged just over 13 points per game and a championship-prepared Mayo defence should have been capable of at least that outcome.
But this was not the same Mayo approach that we had been exposed to in the latter stages of the National League. There were two defensive issues that were fundamentally different from the Spring rejuvenation.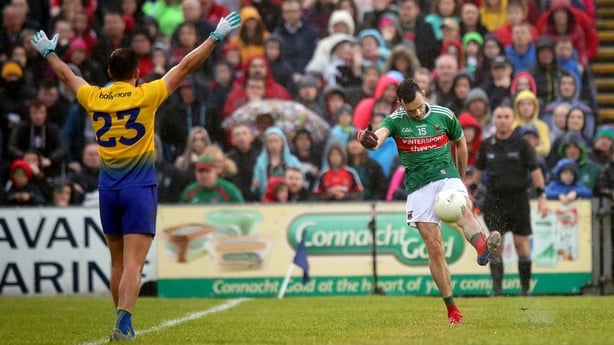 NO COLLECTIVE RESPONSIBILITY
Gone was the team mindset we had seen redevelop earlier in the year. There was no evidence of players sensing team mates in trouble or having the initiative or desire to cover each other. Every man had his own task and it went no further than that.
This was no more perfectly illustrated than by the three points landed from play by man of the match Conor Cox. As the marquee marksman, Cox was always going to be a key figure to be curtailed and Brendan Harrison is no weak link to deploy for the task.
Consider each of Cox's scores in isolation. He receives early ball in space with an initial opportunity to take Harrison on. Harrison holds him up as best he can, never beaten. Each shot is from distance and within reach of several other Mayo defenders but reinforcements never arrive for Harrison.
Contrast this with how Cavan identified the danger posed by marquee marksman Conor McManus last weekend. McManus rarely enjoyed any space from being double teamed when in possession. At all costs Cavan would deny McManus any reasonable shooting space and went about that task as a unit.
NO DEFENSIVE URGENCY
In a complete reversal of their last significant outing against Kerry, the home team coasted through the game in Castlebar without ever producing anything approaching what we might consider championship hunger to interfere with their opponent's intentions with the ball.
Instead of the expected rabid dog mindset to deny possession in the first place and to tackle with intent thereafter, Mayo reacted to everything and anticipated very little in defence.
To compound the lack of anticipation, neither was there any urgency to put out fires as they arose.
Highly functioning defensive units communicate through non-verbal means. They react to each other's decisions and read what the next man will do through experience and habit. On Saturday evening there was no longer any evidence of that understanding, no evidence of sensing danger and no scramble to recover when it was upon them.
The game's final score epitomised their lack of armour. When Fintan Cregg received the ball forty yards from goal, he had two defenders approaching from his right side and another coming straight at him as he turned towards goal. None of them were in a hurry. The only possible shot on for Cregg was off his left side.
In the dying moments of a tied championship match, none of these three defenders reacted quickly enough to the danger nor recognised the opportunity Cregg's only out presented, to block or at least squeeze the shot.
In the end, the desperation needed came from a fast retreating Matthew Ruane to dive in front of the shot. That Ruane made up twenty metres to nearly do enough to save the game only further magnifies the defensive indifference in this instance and the overall malaise in the Mayo team.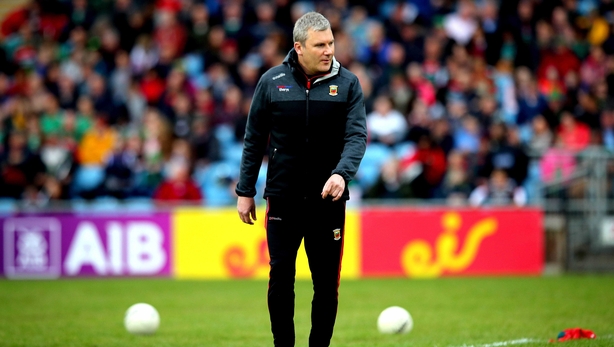 THE CLOCK IS TICKING
Unless there were alarms in the preparation, James Horan cannot have anticipated before the game that his players would so dramatically abdicate the defensive responsibilities they have often carried as a badge of honour.
However, when the evidence mounted in real time that several of his key markers – notably Harrison and Higgins – were not getting the job done individually and that the team's collective ethic had broken down, then cover should have been deployed to stem the hemorrhaging.
There is no doubt that Roscommon produced a phenomenal display of finishing in the circumstances but the stark reality is that, as a team, Mayo allowed 26 shots to be generated from 30 attacks.
The porousness that is implicit in those numbers and the lack of commitment to defensive duties are a far more urgent problem for James Horan than the inability to take chances at the other end.
Horan's teams have always been recognisable by their swashbuckling approach in attack and defence. They go at everyone with a belief that they can match and outplay you in a toe to toe contest. That approach has been built on defensive characters like Higgins, Harrison, Keegan and Boyle tearing into defensive duties in personal and collective battles.
If Mayo are to resurrect themselves, again, the glaring question for Horan and his coaching staff ahead of the qualifiers is whether they have the personnel to back themselves one on one in defence against quality attacks.
If they answer is no then something has to give in the short term. Either the personnel change and the manager's playing philosophy holds or the team's gameplan needs a fundamental overhaul.
The clock is ticking in more ways than one…