"Maybe getting the maor foirne sent off is the way forward," joked Kerry hurling manager Fintan O'Connor following his side's shock victory over Westmeath on Saturday.
The Kingdom reversed the result of this year's Allianz League Division 2A final as O'Connor's side enjoyed a 1-21 to 2-16 victory in the Joe McDonagh at Mullingar, while one of Kerry's maor foirnes was sent to the stand for a sideline cut infringement.
"Look, these things happen," explained O'Connor, speaking to RTE Sport after the game.
"The Westmeath player just handed him the flag and he was pointing at one of our lads to do something, and in fairness it looked like he was waving the flag in front of the fella taking the sideline, which he wasn't.
"The Westmeath maor foirne got sent off in the league final, which they won, so maybe getting the maor foirne sent off is the way forward."
Kerry bounced back from their opening defeat to Antrim to enjoy a two-point win in Mullingar and while O'Connor was delighted with the result, he was already looking ahead to the next game of the competition, which sees his side take on Laois at Austin Stack Park in two weeks' time.
Laois have enjoyed a fine start to the second-tier competition, having won their opening two games and O'Connor knows that his side will need to keep their focus despite the unexpected victory over Westmeath.
"After the defeat [to Antrim] you just need to know you can hang on in a game, and we did that and that made me very happy as we got scores to come back into the game against Westmeath," said O'Connor.
"We need to park this and get ready for Laois. If you take a couple of days off and celebrate, you slip up the next day and you cannot afford to slip up in this [competition].
"Laois are on the crest of a wave, they have won two games on the bounce and beat Antrim comfortably."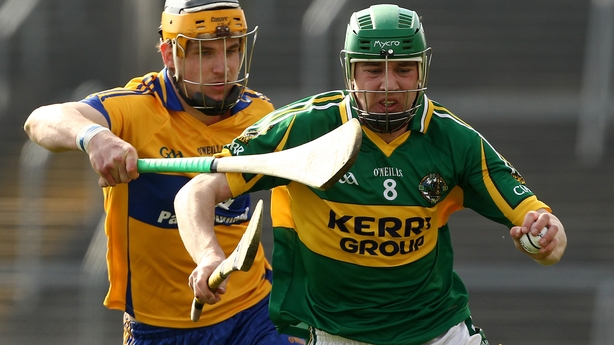 Daniel Collins returned to the Kerry line-up in Mullingar, having missed the Antrim match, and with other key players leaving the squad ahead of the summer competition, rumours were abound suggesting discontent within the squad.
Fionan Mackessey, Daithi Griffin and Brandon Barrett have left the squad, while O'Connor brought the formerly retired Pa Kelly back into the panel for the Joe McDonagh campaign.
"In fairness, Daniel Collins is one of the best hurlers in Kerry and his best friend got married two weeks' ago so he didn't travel to Antrim," explained O'Connor.
"We knew that since January so it was not a big surprise. It's when you are not inside the camp, then the rumours happen, especially when you lose.
"Pa helped us out in April when the football was on and he did really well in challenge games, so we asked him, if we were struggling injury wise or numbers wise...
"We are [struggling]. Paud Costello tweaked ligaments in his knee and should be back in a couple of weeks. Jason Diggins is out and Fionan Mackessy is gone to America, so that is our whole half-back line from the league final not available for the Antrim game or the Westmeath game.
"And you don't turn down players like Pa who has been a real servant. He is a leader and a real character and all the young fellas look up to him, so I'm delighted for him to come and be a part of it."
Kerry now complete their McDonagh Cup campaign with two home ties, having played away in their opening encounters and O'Connor admits that he is glad to have an extra week to prepare following the logistical headaches over recent weeks, most notably the marathon round-trip north to Antrim.
"It is good to have a week off next week as two away games put pressure on us logistically.
"It was seven and a half hours up to Antrim so lads had to take a day off work on Friday, and it was like a day's work just getting up there.
"So we have to park today's result and be prepared again to go to war 100% in Austin Stack Park in two weeks' time."