Louth manager Wayne Kierans reiterated his call for any change to the structure of the GAA's main competition to still include provincial championships after Saturday night's heavy defeat to Dublin at O'Moore Park.
The Wee County were beaten by 26 points in the latest big victory for Jim Gavin's team over their Leinster rivals. Their average winning margin in 2018 was 20 points in the province, while they also beat Westmeath by 31 points in 2017, and Longford by 27 points in 2015.
But Kierans says it's not a time to throw the baby out with the bathwater, with the local element of provincial championships being a crucial part of what the association is all about.
"I think it (reform) will happen at some stage, yeah" Kierans told RTÉ Sport. "There's no doubt about it. But my view is, don't take these days away from us. I know there's an imbalance there, but despite it being a difficult day for us, we'll still learn something.
"Ok, maybe now, split competitions, and see what way structurally you can do it. But I think it will happen at some stage, so we'll have to go along with it."
The game itself got away from Louth after Con O'Callaghan's goal on 22 minutes. There was no let up from the Dubs in the second-half, as they added another four goals to their tally.
"We always knew it was going to be a difficult task," said Kierans. "The calibre of the Dublin team is there for everybody to see. It's just a little bit disappointing that we didn't produce a better performance for ourselves.
"We're a little bit better than that, there's no doubt. We conceded eight scoreable frees in the first-half, so we never really got a foothold in the game even though we scored the first point. We made some bad decisions, and they really put us under pressure and turned us over.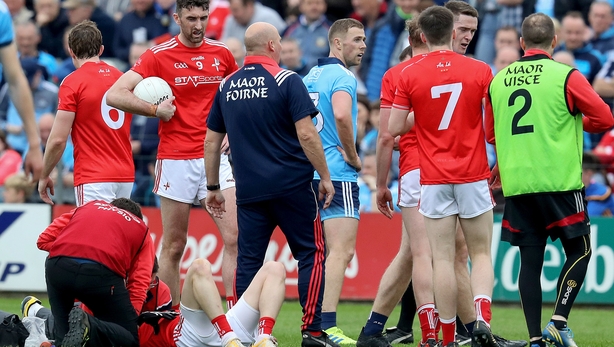 "We made so many mistakes. That's the area we can be a lot better in. We shouldn't be coughing up the ball so easily."
Paul Mannion was shown a straight red-card for a challenge on Conal McKeever shortly after the first goal, but Kierans says it didn't massively impact the game.
"It was always going to be difficult to keep with them, regardless of whether they had 14 or 15. I thought that we could have been better in our tackling, and worked a few chances a wee bit better.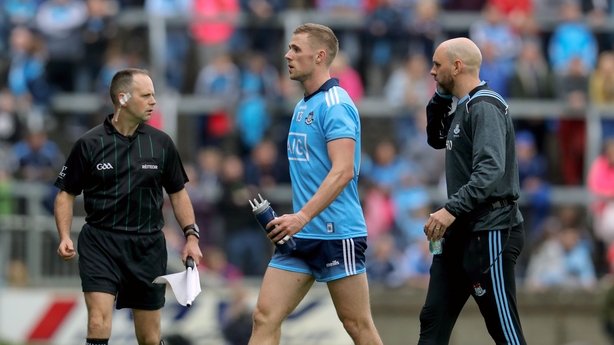 "But they're that good defensively, and they're good at transition up and down the pitch, that it didn't make that much difference that they're a man down."
The qualifiers now await for Louth, with the draw set to take tomorrow on Morning Ireland on RTÉ Radio 1 at 8.30. Kierans says his players will be ready for whoever they have to play.
"In fairness, I don't think the lads' heads did drop. I thought they kept going to the final whistle. They chalked up a couple of late points. But they're very ruthless... when they go for you, they go for the throat, and that's why they are where they are.
"We can't let that lack of performance define our year. We've been working well, and had a decent league. I don't think it will be as hard as people think to pick them up.
"They'll want to show that they're better than that."