RTÉ hurling analyst Michael Duignan has criticised the Offaly county board for its "short-term, reactionary" decision to dispense with the services of manager Kevin Martin mid-season as the county continues to struggle in the Joe McDonagh Cup.
Following losses to Laois and Westmeath in the opening two weekends, the Offaly county board met last night and announced that Martin and his management team were to be immediately replaced by Joachin Kelly, another two-time All-Ireland winner who led Coolderry to a Leinster club semi-final in 2018.
Duignan, who won two All-Ireland senior titles alongside Martin in 1994 and 1998, bemoaned the short-termist nature of the decision, saying that there needed to be an acceptance that Offaly's second tier rivals now had better players.
"To me, it's another short-term, reactionary move," he told RTÉ Sport.
"We have to have an acceptance here in Offaly that Westmeath, Laois and Carlow - counties like this - have better players than us now. They've moved ahead of us. They've been beating us at minor and senior for a number of years now.
"And why is that? I think the county board, our clubs, our coaching staff and our players have to take responsibility. Along with Kevin. He's been manager and of course, some of it rests at his feet.
Formula One legend Nikki Lauda passes away, @DuignanMichael on the latest managerial change in @Offaly_GAA and a significant boost for Irish hockey. @Darrenfrehill with the latest sports stories on @morningireland pic.twitter.com/NIo2L4FL92

— RTÉ Sport (@RTEsport) May 21, 2019
"Three years ago, Westmeath beat us by fourteen points. What has been done differently between then and now? Very little. Put in a different manager and expect different results.
"I know these people. In many cases, they're decent, well-meaning people. But we're not grasping it. Until we devise a plan that suits our demographics then we're not going to improve. The people in power need to listen to the people who are willing to do that.
"I feel personally very sorry for Kevin Martin. One of the greatest Offaly players. A great teammate, a great friend. When he played for Offaly, he prepared diligently, he took responsibility for his performances and he didn't look for scapegoats. And he has been treated badly in this instance."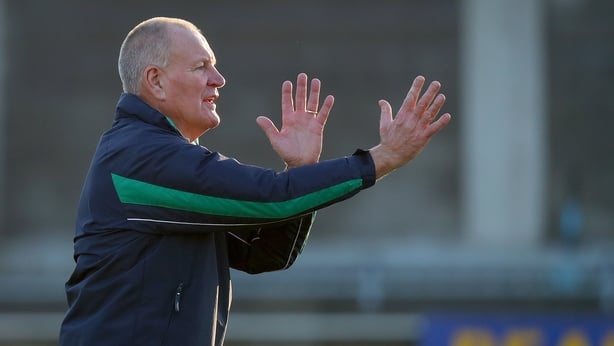 With the prospect of dropping into the Christy Ring Cup now a real possibility, Duignan urged the Offaly players to row in behind new manager Kelly.
But he stressed that once this season is over, the powerbrokers in Offaly hurling needed to engage in some serious introspection.
"Joachim Kelly, one of Offaly's greatest, played 171 league and championship games for Offaly. He's in his 60s now, he worked miracles with Coolderry last year, getting them to a Leinster club final. He has 10 days trying to save Offaly hurling from dropping another tier which would be disastrous.
"He's great charisma, he's great passion for the game. We keep going back 20 years looking for this Offaly pride but we have to do something. Every player - and we have some good young players - has to get behind Joachim Kelly for the future of Offaly hurling.
"When this season is over, the county board need to take a big, strong hard look at themselves."