Carlow manager Colm Bonnar was proud of his side's second half display against Kilkenny but admitted the team hadn't represented themselves well in the opening period of their Leinster championship meeting in Netwatch Cullen Park.
Hosting their first Leinster championship game under the new structure, Carlow arrived in relatively buoyant mood following their showing against Galway in Pearse Stadium.
However, any slim hopes of a shock victory were dismissed almost from the outset as Colin Fennelly rattled the net after a mere 18 seconds. Ger Aylward lashed home a three-pointer 12 minutes later and TJ Reid converted a penalty six minutes before half-time, the gap was a chasm.
Bonnar acknowledged that his team failed to do justice to themselves in that first half, but praised his side's resilience in outscoring Kilkenny in the second half as it finished 3-22 to 1-14.
"There is no doubt the occasion got to us. We couldn't get to the pace of the game. Kilkenny are just relaxed in terms of what they could do.
"They know their strengths and they attacked us for the word go. We kind of knew they would go hell for leather and try to put the game beyond us. That is Kilkenny and why Brian Cody has been there for the last 15 years.
"When a team like that dominate you, they can really hurt you. At 3-09, it wasn't a huge score they put up, but it was our score of 0-03 which was hugely deflating for us. We hit four or five into the goalies hand and three or four wides.
"Normally we're a bit more clinical than that. We needed to take those scores and it didn't happen for us.
"But lesser teams would have kept their head down. Normally when Kilkenny have a lead like that, they steamroll you and beat you by the double the score.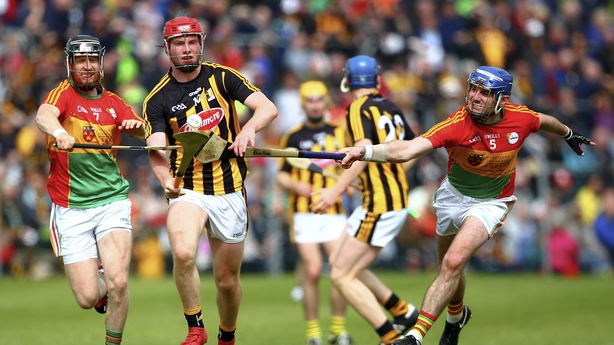 "But I think to be fair we came out with a bit more fight and bit more pride.
"What we did in the first half didn't represent what Carlow hurling is about. But I have to say, to score 1-11 to Kilkenny's 0-13 in the second half gives us something to build on going into the last two games."
Dublin visit Carlow in a fortnight's time and Bonnar says his team are still scrapping for third place and, beyond that, the retention of their place in the top tier.
"I just have to say we learn from it and when Dublin come to the park here in two weeks time, we have to be so much more competitive in the first 15 minutes and keep ourselves in the game because we have hurling. We saw it in the second half but unfortunately didn't show it in time.
"We're on no points. So we're fighting for that third spot but ultimately also fighting to stay in the Liam MacCarthy Cup. It's a huge pressure game for both teams.
For Brian Cody, the focus is on Kilkenny's remaining two games, at home to Galway on 9 June and away to Wexford six days later.
He said: "There is no doubt the start was very important. It gave us that kind of a impetus that rattled them a bit as well. It allowed us to build up a bit of a lead. They did come back strongly. If they had built on their goal it would have been a more precarious game for us but overall we did okay.
"There are two huge games to come. The next game is all we will focus on for now against Galway in Nowlan Park. We have to go to Wexford in our final game so there is a huge amount of hurling to be done yet.
"We have a few injuries for sure. We'd love to have everybody available to us but we don't have. The medical team will look after the lads and we focus on who we have."