This pulsating Ulster quarter-final clash between Armagh and Down needed something special to separate them.
Andrew Murnin's match-winning cameo from the bench in the second half of extra time proved to be just that.
Kieran McGeeney really had to earn his first Ulster win as manager in five seasons and the switch proved to be an inspiring one, as Murnin bagged a goal and point at the exhausting finish.
Down, to their credit, kept in touch and looked to win it when they went three ahead in extra time. Having played the second half with fourteen men after a Caolan Mooney red card.
The arm wrestle had everything. Armagh's Rian O'Neill made his national announcement, James Guinness thought he was going to be Down's hero however it wasn't until Murnin goalled you felt someone was going to claim victory, even then Paul Devlin found the net.
Newry, was a wash with tribal colour, Armagh began with a sublime effort from Rian O'Neill a sign of things that was to come, from the starlet on his Championship debutant. Tried and trusted Donal O'Hare opened Down's account soon after.
Armagh's scores were executed with a high level of skill and they had to be such was Down's mass bodies in defence, O'Neill again and Clarke clipped over excellent efforts. Down on the other had to craft their scores from angle after angled runs.
Being so fierce of a local rivals, the sides unsurprisingly found it hard to get a substantial margin between them. They were level on four occasions in the opening quarter Down never lead until another debutant Pat Havern found the net.
The more some things change the more they stay the same. Havern punched a direct ball to the net on the 23rd minute from a direct Gerard Collins ball. O'Hare added a free and Down got the lead the Paddy Tally game-plan so dearly craved.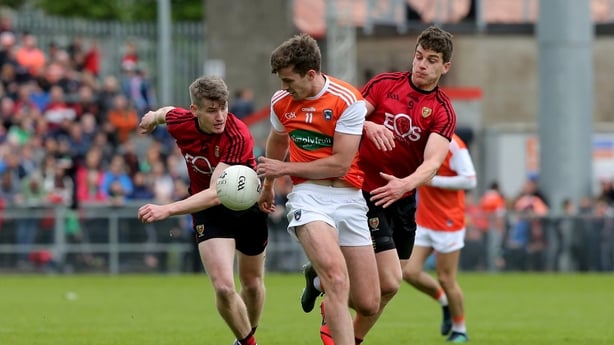 That made it a one point game at the break 1-5 to 7 with Crossmaglen Rangers players accounting for all of Armagh's first half scores and time for Down to plot their numerical disadvantage.
Nugent dusted himself down to curl over the first point of the second period to level. Yet it was still nip and tuck, neither side fully confident to press the accelerator pedal fully.
When Down goalkeeper Rory Burns received a black card, it proved to be the catalyst for a fifteen minute Armagh blitz. Mark Shields slipped in for a goal and another sub Stefan Campbell pushed the gap to a potentially match winning five point lead.
Despite being numerically disadvantaged, fatigue never set and the home side would not relent and got about their work. Conor Francis split the posts before O'Hare landed what looked like a consolation goal from the narrowest of angles.
James Guinness had other ideas with an instinctual effort to push the game to extra time. Level after full time summed up the encounter, neither neighbour wanting to free themselves completely of each other.
Down were back to the full compliment for extra time and with Ryan Mallon coming in for dismissed Caolan Mooney. The completed set propelled them into a three point lead and a place in the Ulster semi final until Murnin's dazzling introduction.
Down: Rory Burns; Ruairi Wells, Kevin McKernan, Gerard Collins; Conor Francis (0-01), Darren O'Hagan, Ryan McAleenan, Caolan Mooney, Conor Poland (0-01); Connaire Harrison (0-01), Conor Maginn, Daniel Guinness; Jerome Johnstone (0-02, 0-01f), Pat Havern (1-01), Donal O'Hare (1-02, 0-02f).
Subs: James Guinness (0-02) for Wells (26), Owen McCabe for Poland (45 blood), Barry O'Hagan (0-01) for Maginn (48), Mark Hynes for Burns (51 black), Paul Devlin (1-02, 2f) for Johnstone (61) Corey Quinn for Havern (61), Owen McCabe for Poland (68), Poland for J Guinness (81), Havern for Mallon (86), Johnstone for O'Hare (89).
Armagh: Blaine Hughes; Patrick Burns, Brendan Donaghy, Paul Hughes; Ryan Kennedy (0-02), Aaron McKay, Aidan Forker; Charlie Vernon, Jarlath Og Burns; Jemar Hall, Ethan Rafferty, Aidan Nugent (0-01); Rory Grugan, Rian O'Neill (0-08, 0-04f), Jamie Clarke(0-02).
Subs: James Morgan (0-01) for Burns (7), Mark Shields (1-00) for Vernon (31), Joe McIlroy for Hughes (45), Stefan Campbell (0-02) for Rafferty (46), Stephen Sheridan for Kennedy (65), Greg McCabe for Hall (68 black) Vernon for Forker (f-t), Kennedy for Nugent (f-t), Ben Crealey for Sheridan (77), Andrew Murnin (1-01) for McCabe (h-t et), Rafferty for Grugan (87).
Referee: Anthony Nolan (Wicklow)