RTÉ GAA pundit Joe Brolly believes Monaghan's Ulster championship defeat to Cavan in Breffni Park could herald the end of their spell at the top table.
Malachy O'Rourke's team are qualifier bound following their four-point loss, the conditions for which were created by an abject first half display which left them seven points in arrears.
They surged back into the game in the second half and trailed by only three points with eleven minutes remaining but the home side showed great composure to ride out the storm, late points from Gearóid McKiernan and Chris Conroy helping them over the line.
Speaking right after the game on RTÉ Saturday Sport, Brolly hailed Cavan's coolness in the finale, particularly their comfort in nursing possession for long periods.
"Cavan thoroughly deserved their win. They had a jittery period in the second half - which coincided with a problem for them all day which was their long kickouts.
"Three in a row were turned over which led to three Monaghan points. But it was back-breaking work for Monaghan to break through. Three of their scores came from full-backs.
"What Cavan were able to do, during that time when it looked like there might be a possibility for Monaghan, was hold possession for lengthy periods. And the killer point came in the 28th minute (of the second half) when Cavan held the ball for two full minutes and finished it with a great Gearóid McKiernan point.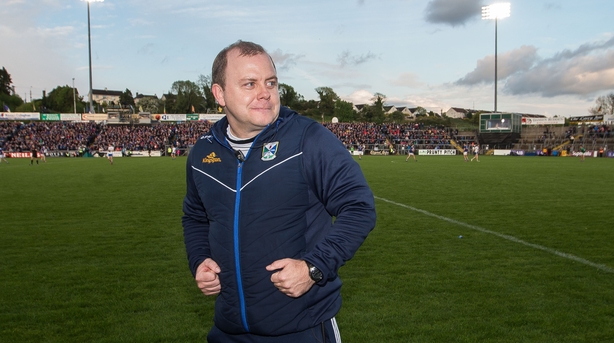 "And Cavan's confidence flooded back and the original pattern from the first half resumed.
"Seven points was a mountain to climb today. Conor McManus was tied up. Cavan were flooding back in numbers. Martin Reilly played very, very well. Very good positional sense at the heart of the blanket defence.
"And in the end it was just too much for Monaghan. And all Cavan needed in that second half was to knock off a couple of scores which was what they did."
Brolly was unimpressed by Monaghan's decision-making and speculated that the result could herald the end of the line for a team he described as "outstanding, vigorous" challengers over the past decade.
"In the first half, they were definitely lacklustre. They panicked very quickly. The number of potshots... in the first half, it was potshot, potshot, potshot. Conor McManus, how rare, had four potshots.
"It wasn't that they had no options but they lost their composure. They didn't continue to work for their score.
"For large periods of the game, their forwards were left isolated. And then what they did in the last five minutes, they put Kieran Hughes in on the edge of the square and kicked the ball into him when there were three Cavan men around him.
"I get the very strong feeling that that is the end of this outstanding, vigorous Monaghan run for eight or nine years now. I just think there is no more in them and that will really suck the life out of them today.
"I've always had great admiration for them but today they were up against a younger, more vigorous Cavan team. They were comprehensively beaten.