SATURDAY 18 MAY
Cavan v Monaghan, Kingpan Breffni Park, 7pm
SUNDAY 19 MAY
Down v Armagh, Páirc Esler, 4pm
Online
Live blogs on RTÉ.ie and the RTÉ News Now app from 6.30pm on Saturday and from 3.30pm on Sunday.
Radio
Live commentary from Brian Carthy and Aidan O'Rourke on Cavan v Down on RTÉ Radio 1 from 6.50pm. Live updates from Adrian Eames on Down v Armagh on Sunday Sport on RTÉ Radio 1.
TV
Live coverage of Cavan v Monaghan on Sky Sports Action from 6pm on Saturday. Deferred showing of Down v Armagh on BBC2 Northern Ireland from 7pm on Sunday. Highlights of all the weekend's action on The Sunday Game on RTÉ2 Television and the RTÉ Player from 9.30pm.
Live games also available on GAAGO.ie
Weather
Sunny spells on Saturday morning. A few showers will develop during the morning. They'll become heavier and especially over the midlands and eastern half of the country with a few possibly thundery. Highest temperatures of 13 to 17 degrees with light to moderate north to northwest breezes.
Sunday will be a day of bright or sunny spells and occasional showers, some heavy in the afternoon. Top temperatures of 13 to 17 C. Moderate northwesterly breezes will be fresh in some western coastal areas. For more go to met.ie
Wafer thin margins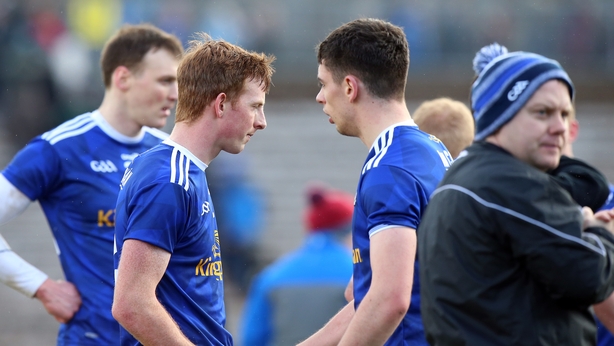 Cavan may again have suffered relegation from the league's top tier in the spring, but they were competitive in many of their games. As for Monaghan, they just survived in Division 1, so that would lead some to believe that the sides' latest coming together at Kingspan Breffni will be close. Okay, league form may not always be the best barometer to gauge summer fare, but you'll get short enough odds on it being tight again.
By the bare minimum, Monaghan came out on top against their neighbours in 2013 and '15, while two years ago, the Farney had three points to spare at this juncture. It's 2001 since Cavan last got one over Monaghan in championship combat, a year that the Breffni reached a provincial final.
Now with Mickey Graham at the helm and an attacking unit containing the likes of Gearóid McKiernan, Conor Madden, Cian Mackey, Martin Reilly and the explosive Caoímhín O'Reilly, if he starts, Cavan supporters should be dreaming of an Ulster final berth and place in the Super 8s.
At the other end of the field, the recent league campaign highlighted a worrying stat in that 40% of the scores that Cavan conceded were from frees.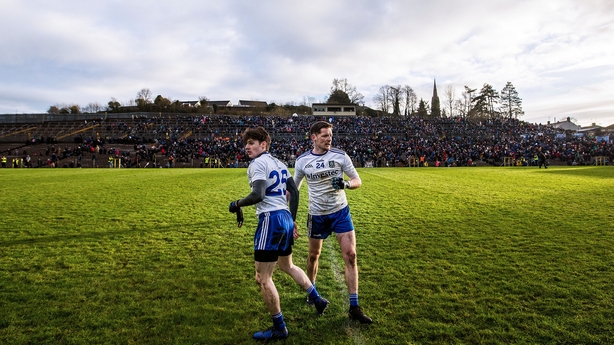 Monaghan's rise up the footballing ladder has been well documented and cooler heads at the death against Tyrone last August would have seen them reach an All-Ireland final.
The expectation is that their positioning on the 'easier side' of the draw in Ulster should see them reach another decider. After being caught against Down and Fermanagh in recent seasons, Malachy O'Rorurke's side will be wary. Also, the view that the Farney are now an ageing team is starting to gain more traction and the loss off Darren Hughes will be keenly felt this weekend.
Much focus will be on Stephen O'Hanlon after he showed flashes of his undoubted talent during the league.
Indeed, Monaghan's rise up the ranks is very much a source of inspiration for Mickey Graham when he spoke to RTÉ Sport earlier this week.
"Cavan have been envious of Monaghan over the last couple of years after seeing them win Ulster titles and last year they were a kick of a ball away from getting to an All-Ireland final," he said.
"And while we are envious of them we have to admire them as well considering the population they have and panel of players they have.
"They have set a standard and that's the standard we have to reach."
LAST 5 CHAMPIONSHIP MEETINGS
2017 Monaghan 1-15 Cavan 0-15 (Ulster quarter-final)
2015 Monaghan 0-16 Cavan 0-15 (Ulster quarter-final)
2013 Monaghan 1-10 Cavan 0-12 (Ulster semi-final)
2001 Cavan 0-13 Monaghan 0-11 (Ulster-semi-final)
1995 Cavan 1-09 Monaghan 0-10 (Ulster semi-final)
McGeeney seeks elusive first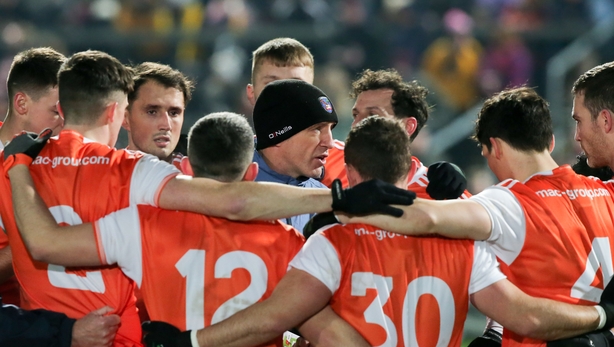 Páirc Esler, has given us games to savour down through the years. I'm not sure whether this coming together of Down and Armagh will follow suit, but for Kieran McGeeney it offers another opportunity to win a first Ulster championship match as Orchard County boss.
Geezer is now in his fifth year at the helm and while voices of discontent may not be too audible as of now, another summer campaign with nothing tangible to show may see some disgruntlement.
It's all about getting that level of consistency for Armagh. This time last year, the side made a tame Ulster exit at the hands of Fermanagh, yet their championship ended with a fine display against Roscommon in one of the games of the year.
Fast forward to this year's league where they mixed some good with a lot of average.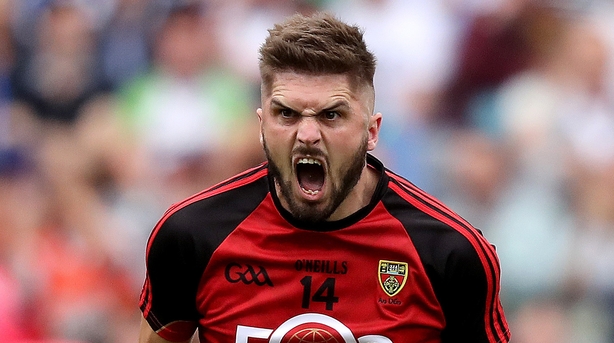 As for Down, well they threw away a great chance to escape from Division 3 when losing at home to Louth. With Paddy Tally now in charge, the team is much changed from that which got to an Ulster final in 2017.
Tally is well regarded as a coach, and his teams tend to sit deep and hit opponents on the counter.
Remaining defensively solid is a key part of winning games, according to Tally, though he rejects the idea his teams are overly defensive.
Ahead of Sunday's clash, he told RTÉ GAA correspondent Brian Carthy: "If you're looking at your team and you're saying right, if we play a certain way we'll be hard to beat and we'll make it difficult for the opposition, surely you'll do that.
"There are days when you just have to cut your cloth to suit. Over the years, teams I've worked with, we've always made a decision that we're going to work very, very hard.
"We've always have to have an attitude within the team whereby if you don't have the ball, you have to work very, very hard to get it back. There's nothing wrong with that. That's an honest thing you want in any player.
"I don't think I'm an overly defensive coach but I just think a big part of winning games is how tight you are at the back."
Paul Devlin, Kevin McKernan, Connaire Harrison and Donal O'Hehir are the key men in the Mourne attack, with Armagh boasted by the presence of Stefan Campbell, Rory Grugan, Rian O'Neill and Jamie Clarke in their forward division.
LAST 5 CHAMPIONSHIP MEETINGS
2017 Down 0-15 Armagh 2-07 (Ulster quarter-final)
2011 Armagh 1-15 Down 1-10 (Ulster quarter-final)
2008 Armagh 1-12 Down 0-11 (Ulster semi-final)
2001 Armagh 1-13 Down 2-04 (All Ireland qualifiers)
1999 Armagh 3-12 Down 0-10 (Ulster final)
Teams
Down: (TBA)
Armagh: Blaine Hughes; Patrick Burns, Aaron McKay, Paul Hughes; Ryan Kennedy, Brendan Donaghy, Aidan Forker; Charlie Vernon, Jarlath Og Burns; Aidan Nugent, Ethan Rafferty, Jemar Hall; Rory Grugan, Rian O'Neill, Jamie Clarke