Down manager Paddy Tally rejects the idea his teams are overly defensive but says that he places great importance on workrate and remaining tight at the back. 
The former Tyrone player has an exceptional coaching pedigree having been the trainer working under Mickey Harte for the 2003 All-Ireland success, later fulfilling the same role under James McCartan when Down unexpectedly reached the All-Ireland final in 2010. 
He subsequently managed St Mary's, Belfast to a Sigerson Cup title in 2017 and then joined Kevin Walsh's backroom team in Galway, helping the westerners reach the Division 1 final and then an All-Ireland semi-final, their best championship performance since they last won Sam Maguire in 2001. 
Partly due to his identification with the successful Northern sides of the noughties, Tally was widely pegged as the guru behind Galway's highly defensive gameplan in 2018. 
Speaking to RTÉ GAA correspondent Brian Carthy ahead of Down's championship opener against Armagh at the weekend, Tally plays down his reputation as a defensive mastermind but stresses that remaining defensively solid is a key part of winning games. 
"If you're looking at your team and you're saying right, if we play a certain way we'll be hard to beat and we'll make it difficult for the opposition, surely you'll do that.
"There are days when you just have to cut your cloth to suit. Over the years, teams I've worked with, we've always made a decision that we're going to work very, very hard.
"We've always have to have an attitude within the team whereby if you don't have the ball, you have to work very, very hard to get it back. There's nothing wrong with that. That's an honest thing you want in any player.
"I don't think I'm an overly defensive coach but I just think a big part of winning games is how tight you are at the back."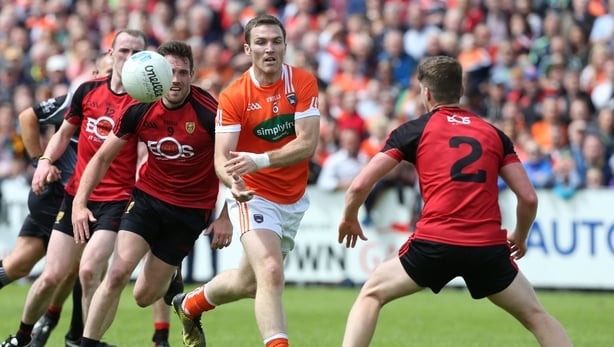 Down ultimately missed out on promotion to Division 2 of the Allianz Football League by an absurdly slim margin, finishing one point shy of Laois in the points difference stakes and only two points shy of table toppers Westmeath on the same metric. 
Tally's side bookended their campaign with two home losses but won five on the trot in between, frittering away their promotion chances with a one-point defeat to Louth in their last game. 
While they were sore to miss out on promotion by such a narrow margin, Tally said they hadn't fixated on the league for its sake, instead using it principally as a forum to blood and test out new players. 
"At the start of the league, we didn't talk about promotion. It was about blooding new players. 15 players got their debut over the seven games. We used 34 players over the seven matches. It was a process where we were exposing young players to this level of football and seeing how they got on.  
"Towards the end, we knew we had the opportunity of promotion. We didn't talk about it until the second last game. 
"Obviously then we went hell for leather for it. We came up that wee bit short. But we didn't lose the promotion on the last day. We lost it in the games earlier where two extra scores in any of the games would have gotten us up. That was how tight it was.
"When it comes to approaching the championship, you'll examine those defeats harder and you'll examine your performances more because you didn't achieve. And hopefully that be added motivation for the championship."
As for Sunday's meeting with Armagh, Tally is "hoping for a battle."
He added: "If it's a real battle and a tight game, I know we're doing something right. If the two teams are going hard at it and there's not much in it, we know we're in the right place, especially when you're going into it with a fresh new team."   
Follow all the football action this weekend via our live blogs on RTÉ.ie/sport and the News Now app, listen to live updates on RTÉ Radio 1 and watch highlights on The Sunday Game on RTÉ2 at 9.30pm