Armagh captain Rory Grugan has defended manager Kieran McGeeney and feels the reason the county is under-achieving is down to the players.
McGeeney has had four years in charge of his native county but has yet to taste any sort of success in the provincial championship.
They've maintained a Division 2 status and a run in the qualifiers last year showed signs of progress.
But this Sunday's meeting with Down is a crunch one for his future.
Grugan feels the Orchard County players are lucky to have McGeeney in charge.
"As young players when Armagh won the All-Ireland, we looked up to Kieran. He was the face of the '02 team. To be lucky enough to work with him as a player has been special.
"Even more so as captain, I've got to know him over the years and I just would have a lot of time for him. I have so much respect or what he has done as a player," he told RTÉ GAA correspondent Brian Carthy.
"He has improved me, individually as well, so we are lucky enough to work with him.
"As a manager, he is a brilliant man to get the best out of you, not only as a footballer but as a person. He is the type to make you want to get the best out of yourself. He is the type of character who has high standards and will always try to push you to your best.
"In terms of why it hasn't translated, I suppose we would like to take more responsibility as players ourselves. We feel would have a lot of good work done in terms of preparing for certain games but we just didn't perform on the day and in particular the Ulster Championship.
"The big goal this year is to try to rectify that."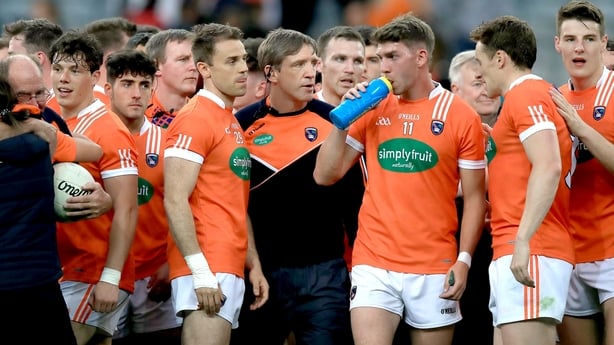 The Ballymacnab clubman believes the victories over Westmeath, Sligo and Clare last summer showed that they have talent in their squad, and talented young players who are gaining experience all the time.
He sees the McGeeney era heading towards something worthwhile.
"We like to hope so. Success is relative, probably. There are only so many trophies given out each year. You like to feel you are building something.
"We do feel within the squad the relationships developed and the quality of player that is being brought through the academy systems; we do believe Kieran has built something and something we can be proud of.
"We just hope that translates to some success on the field."
The clash with their closest rival has brought huge interest and with it the chance to finally make inroads in Ulster. There is undoubtedly extra bit when the two sides meet. 
Grugan concluded: "It's really exciting, and to be going back to the Marshes which is just on the border of Newry and Armagh. What I have heard is part of the pitch is mostly Armagh, (rather) than Down itself.
"That's one that you hear. It's brilliant. Any day in Ulster Championship is brilliant to be going out against your near neighbours as well as exciting for both sets of supporters.
"In previous years we haven't got ourselves going enough in that first round so that's our first big step and hopefully we can go on a big run after that."
Follow all the football action this weekend via our live blogs on RTÉ.ie/sport and the News Now app, listen to live updates on RTÉ Radio 1 and watch highlights on The Sunday Game on RTÉ2 at 9.30pm