As Brian Hogan was about to puck out the ball in the second minute of Sunday's match in Páirc Uí Chaoimh, Seamus Callanan drifted from the centre forward position into midfield, taking Tim O'Mahony with him. 
Hogan took a short puckout to Noel McGrath and as the ball was switched across the field before being driven down the centre, Callanan drifted along the right flank of the Tipperary attack. 
When the ball broke, O'Mahony picked it up but his intended clearance came off the boot of Jason Forde and into the hand of Niall O'Meara.
As three Cork defenders got sucked in to tackling O'Meara, including O'Mahony, Callanan was standing on his own in acres of space. 
After O'Meara got off the pass, Callanan still had over 35 metres between him and the goal but he only had one outcome on his mind.
With Seán O'Donoghue the only defender between Callanan and Anthony Nash, O'Donoghue had to drift back to cover off John McGrath.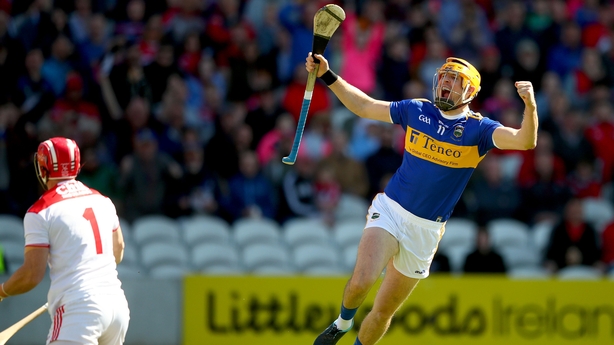 With McGrath beckoning at Callanan to keep coming, O'Donoghue eventually had to go towards Callanan, which meant he was in Nash's eyeline as Callanan got off the shot. And the end-result was inevitable. 
Callanan's goal provided the perfect example of the slickness and intelligence of Tipperary's movement and space creation all afternoon.
Tipp only scored two goals but they could have raised six green flags. Their second goal may have also been largely down to naive Cork defending but its execution still underlined the assassin goal mentality that Tipperary have long had over most teams. 
John 'Bubbles' O'Dwyer had drifted in behind the Cork defence, so much so that he was standing on his own, no distance from Nash, for 21 seconds, before moving to the corner to take a stick pass from Noel McGrath.
O'Dwyer instantly lasered a pass across to John McGrath, who moved back in towards goal and, using Damien Cahalane and O'Mahony as a screen, drove the ball past Nash. 
It was almost fitting that Tipp's goals were scored by Callanan and McGrath.
Callanan's strike has now moved him one ahead of Joe Canning as the highest goalscorer currently still playing.
With 28 green flags, only Eddie Keher, Christy Ring, Nicky Rackard, Tony Doran and DJ Carey have scored more goals than Callanan (Henry Shefflin also has 28).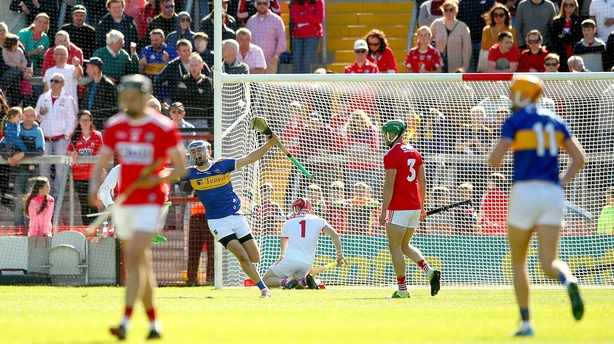 With 11 goals in 15 championship matches, McGrath is Callanan's successor as Tipp's next great goalscorer.
Tipperary have always had that lust for green flags but their goalscoring rate had slowed down in the last two seasons because they had become so predictable to play against. 
Their scoring-rate, full-stop, was well below the top teams last year because Tipperary's use of the ball, especially from defence, was too one-dimensional. 
At the end of last summer, the 'Hurling Talk' Twitter account produced some revealing statistics on Tipperary's style; of 113 clearances hit past their opponents 65-yard line during play in four championship games, Tipp only had a 29.2% retention rate; they had just a 41.9% retention rate on their own puckout.
Tipp had just above a 50% retention rate on their own puckout on Sunday but the statistic for clearances hit past their opponents 65-yard line revealed just how far Tipp have come since last season – on Sunday, that number was as high as 62%, which was more than double Tipp's average retention rate from 2018. 
Tipp's success rate of 72% on their stick-passing is also more impressive considering that figure includes short, medium and long stick-passing.
That is down to the quality of the delivery and the precision of striking but much of it is still governed by the level of movement up front. 
Kilkenny will always be regarded as founders of the modern game, not just because they brought a new claustrophobic intensity and a higher standard to hurling, but because every team had to evolve and look for new ways to try and beat them.
Yet the Tipperary squad which Liam Sheedy, Eamon O'Shea and Michael Ryan guided between 2008-2010 were also key architects of hurling's modern style.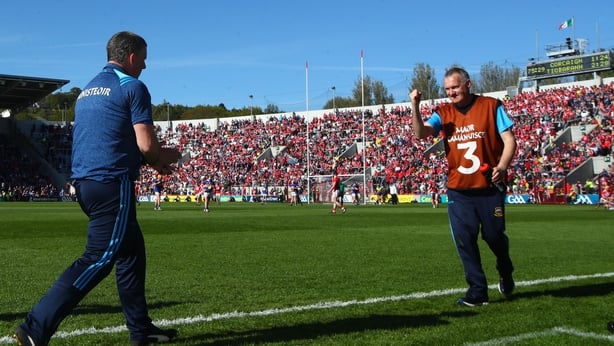 Tipp's forward play back then was all about movement and interchanging and they took the game to another level with their attacking fluidity. Much of the credit was down to O'Shea because the swagger and panache of Tipperary's hurling was reflected through his imaginative personality and philosophy. 
It also largely hinged on the style of Tipp's precise game, which demanded an incredibly high success rate with short stick passes, but the execution was made easier when their inside forwards were vacating space before the ball was delivered in there. Even if that space was covered, Tipp could pick teams apart by getting the ball into the hands of drifting strikers all over the forward line. 
That style largely forms the basis of the modern game now but the difference between hurling ten years ago and hurling now is the increased levels of tactics, creative thinking, strength and conditioning levels and pace, all of which makes possession harder to secure, and precision hurling harder to execute. 
Fatigue and injuries played a part in their struggles but, tactically, and in terms of forward-thinking coaching, Tipperary had been left behind over the last two years. 
Tipp were getting older as a team but what has always set this group of players apart is their immense skill levels, vision and class, especially up front. Sheedy knew full well when he returned that Tipp had more firepower than most teams but the big question focussed on whether many of those players had the pace and legs anymore for the modern game.
Sheedy clearly believed they had. Tipp trained savagely hard over the winter. Their conditioning improved. Their work-rate on Sunday was superior to anything they produced last year. They were also better defensively set up but the key to Tipp moving forward was always going to hinge on tweaking their style, and giving their strike forwards more of an opportunity to cut loose. 
Nothing underlined that change more than the performance of 'Bubbles' O'Dwyer against Cork. He is in far better shape now but O'Dwyer has been given a greater licence out the field than in previous years when he was played closer to goal, which made it easier to tie him down.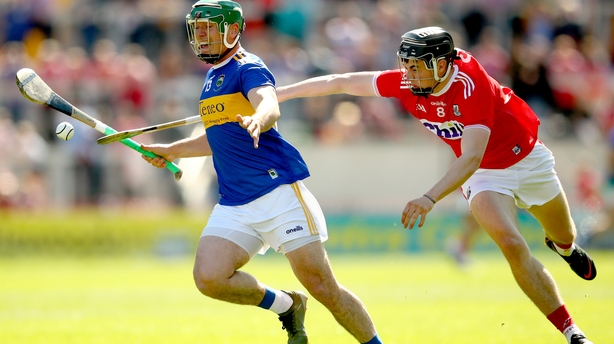 From 15 plays on Sunday, O'Dwyer scored seven points, he set up two more while he also engineered McGrath's goal. His workrate off the ball was far higher than in previous seasons but the quality of his performance was reflected in his seven points being scored in six different attacking zones of the pitch. 
Apart from Patrick Horgan, Tipp were on a different level to Cork in their attacking play but O'Dwyer's performance also reflected the difference in creative thinking between the sides. Tipp came with something different. Cork didn't. 
Apart from Niall O'Leary and Eoin Cadogan (who improved on Callanan in the second half), Cork's defence was torn apart. Cork were slack in much of their defensive approach but they were flat all over the field, apart from one devastating scoring burst midway through the first half. 
Their touch was poor. Cork coughed up a host of scores from unforced errors. And when Tipp got on top of Nash's puckouts in the second half, they mined 1-04 off that possession.
Horgan's eight pointed frees had kept Cork in touch in the first half but once Tipp were more disciplined in their tackling after the break, Cork were restricted to just 14 scoring chances, numbers way below their average from last year. 
It's still early in this championship. Tipp's legs and mettle will be tested much more sternly in their upcoming games but the emergence of Jake Morris and Mark Kehoe – who will see more significant game-time as the summer progresses – should make Tipp's attack even more threatening. 
The sparkle is back and it's easy to see why. Sheedy is a brilliant manager. Tommy Dunne is one of the best hurling coaches in the game.
Darragh Egan has also made a name for himself in coaching circles while Tipp's strength and conditioning coach Cairbre Ó Caireallan was highly valued in the Limerick underage academy. 
And Eamon O'Shea, who was on the line as Maor Uisce on Sunday, is back involved too. 
The impact overall is clear.