"You can discover more about a person in an hour of play than in a year of conversation." - Plato
The 2019 championship may not have broken into much of a frenzy yet but with each passing week coaches are learning fundamental lessons about players that cannot necessarily be seen earlier in the season.
If they are paying attention, these lessons should inform decision making and will help define their team's journey in 2019.
In sport and society, "character" has become one of the most celebrated and discussed attributes a competitor can be tagged with.
Often, the celebrant can't quite define why the player they are looking at is so effective or successful and "character" covers the undefined. Mostly they are correct.
Players with character are loosely cited as "stepping up when needed", "never hide", "ever dependable", etc. and many will marvel at the wonder of how or why.
Of course, everyone has "character" but those who exhibit less desirable traits are more frequently and erroneously considered to be lacking. In truth, the traits coaches want to see can be emphasised and brought to the fore to a greater or lesser extent in everyone.
While there are innate aspects to character borne of environment and attitude, our character is never finally defined. Sometimes it is difficult but – like anything – it can be moulded through habit.
Practicalities
Over the weekend – and increasingly as the summer progresses – championship games invariably arrive at sliding door moments.
The expectation is that the associated defining plays will be dramatic and memorable. Very rarely will that be the case.
In Omagh, after hanging tough for 55 minutes, Derry worked Tyrone open for the goal their supporters were hoping for to draw the sides level.
With 15 minutes left, and having controlled possession, Tyrone were suddenly feeling the walls closing in. Lesser prepared teams could easily have panicked.
Instead, Tyrone worked a familiar short kickout and built purposefully out of defence to find Richie Donnelly breaking forward in space down the left before he found brother Mattie with a perfectly weighted diagonal ball across the front of goal.
The ball was won, a free drawn and on to the next thing. Nothing in this was new or exceptional – these are patterns that they worked many times through the game, simply executed with a steely focus because of the circumstances.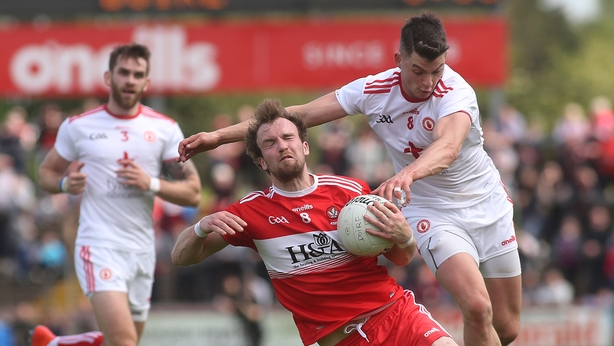 Each man simply did his job cleanly and efficiently when it mattered. An exhibition of character you might say.
Derry fought on and in the 62nd-minute hit the front for the first time to turn the pressure screw on Tyrone. Again, the Red Hands worked a familiar long kickout towards Richie Donnelly breaking to the left wing.
In an instant, Derry wing-back Niall Keenan makes a decision to do something he hadn't done throughout the game. Emboldened by the adrenaline and belief of taking the lead with less than eight minutes on the clock and sensing blood, Keenan leaves his man in the half-forward line to attack the dropping ball with Donnelly.
When Donnelly helps the ball onto the unmarked Frank Burns to drive down the left wing, the rest was inevitable; he found Darren McCurry with a perfectly weighted diagonal ball across the front of goal and McCurry applied the killer touch.
The Derry wing-back diverted from his script at a crucial moment for the best of intentions while Tyrone never missed a beat.
Academics
One academic definition of the character is "an attempt to continually improve; a willingness to give all up for a cause; and sacrificing without expectation".
Implicit in this for a dynamic field sport are high work rate, resilience under duress, the capacity to operate at a high intensity, decision making that puts the collective ahead of self and a determined execution of the game plan when it is simple to and when it is not.
When a coach identifies the raw ingredients in a young player, the reward for perseverance and patience while that player builds confidence and decision making around their natural instincts will be rewarded ten-fold in the long run.
If Mickey Harte has exhibited a particular skill outstandingly over his managerial career it is his ability to recognise the raw materials of character at an early stage.
Club football in Tyrone is littered with talented players who regularly light up matches but that doesn't guarantee passage to a county jersey.
Mickey is a master at identifying the qualities he needs in less obvious players and moulding them into the collective consciousness in a Tyrone jersey.
Moulding the Materials
Cathal McShane epitomises the approach. As a younger player McShane appeared from the Under-21 ranks into the senior squad with a big frame and a penchant for the theatrical.
For a couple of seasons he frustrated and bemused Tyrone supporters with inconsistent or anonymous displays interspersed with glimpses of what they knew he was capable of.
Harte initially reduced and then steadily increased his game time as he demonstrated a greater understanding of what the team consistently expected from him in whatever role he was given.
While many were losing patience, Mickey saw they character beneath McShane's glossy facade and chipped away at exposing what he wanted.
Cathal McShane was selected as man of the match after Sunday's win over Derry and deservedly so. His journey from a National League and bit part championship player to team pillar is complete.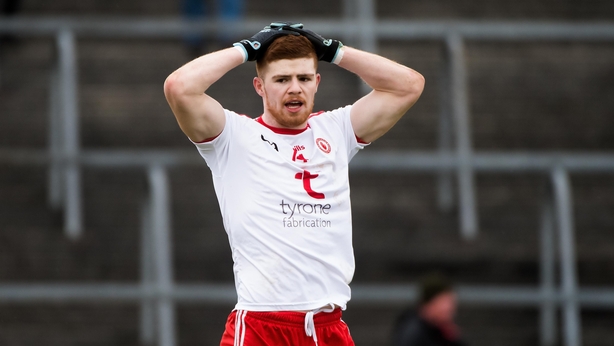 McShane has been moulded into the very definition of a team player. His unselfish and ceaseless movement to provide a fulcrum for Tyrone's evolving kicking attack is the result of many hours of repetition and refinement. Hours that any player who puts self before team will not invest.
In addition, the mobility and strength he has built are essential to his effectiveness in the role he has now made his own.
The hard-yards running and unselfish decision making that now defines Cathal McShane as Tyrone's most valuable player were not part of his skillset as a brash new kid on the block after collecting an All-Ireland under-21 medal in 2015.
Besides the natural ball playing ability, Mickey Harte saw work ethic and a mind that was open to learning.
Ability is a wonderful attribute but work ethic and openness to learn and evolve are more powerful.
Combine it all and the result is what some might call character.