Tipperary were under pressure to deliver against Cork - make no mistake about it.
The Premier County likes to bill itself as the home of hurling, but the game looked like it was packing up and getting ready to leave town.
Tipp were without a win in the Munster Senior Hurling Championship since the 2016 final and they'd won just two of their last nine games in all competitions. Their summer last year was over on 10 June.
Another defeat would have left awkward questions hanging over the heads of a gifted bunch of hurlers.
The backbone of this team won an All-Ireland title in 2010, stopping Kilkenny's drive-for-five and adding an Under-21 title less than a week later.
'A real complete performance' –@MrJackieTee @DaloAnto and @ursulajacob discuss clinical Tipperary, man-of-the-match John O'Dwyer and Cork's defensive issues #rtegaa pic.twitter.com/KNe03PjHlx

— The Sunday Game (@TheSundayGame) May 12, 2019
It took them until 2016 to lift Liam MacCarthy again, though this time things felt different. More mature, they seemed ready to go back-to-back. That didn't happen and the seasons since haven't been kind.
Too young to be written off, this team were still running out of road. The Tipperary County Board turned to Liam Sheedy, the man who masterminded 2010's success, in the hope of kickstarting the engine again.
That happened at Páirc Uí Chaoimh on Sunday as they blew Cork, the winners of the last two Munster crowns, out of the water. The 2-28 to 1-24 final scoreline flatters only the Rebels.
Sheedy is a man who has been around the block once or twice so is too experienced to get carried away, but it was certainly a clear message to the rest of the chasing pack. Tipperary are not to be taken lightly.
"There's more than one day for redemption, but it is what it is," he said, speaking to RTÉ Sport. "It's a good start, a good performance and we are very happy to have got over the line."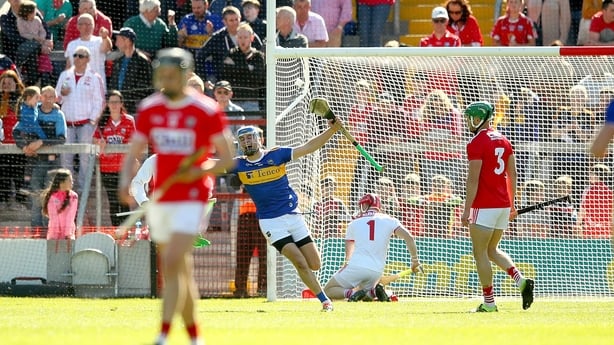 Any team with a half-back line made up of the Mahers, Brendan, Paudie and Ronan, with Noel McGrath in the middle of the field and forwards like Niall O'Meara, Seamie Callanan, John O'Dwyer, Patrick Maher, Jason Forde and John McGrath should be a force to be reckoned with.
It's just that they weren't for the past two seasons. It's hard to pinpoint where it was going wrong, but going wrong it was.
Winning in Cork is always a big thing for Tipp - doing so to banish some of the doubts that were expressed about this team could prove priceless.
Next weekend they welcome Waterford to Semple Stadium knowing that another win would leave them with one foot in the knock-out stages. The Deise are the team under pressure having lost at home to Clare.
Six of the team that won the 2010 All-Ireland Under-21 crown on that fevered night in Thurles were on the field against the Rebels and Sheedy says he never lost faith in them.
"I'm going on what I see in training, I've seen them up close for months now and I've seen the condition they have got themselves in," he explained.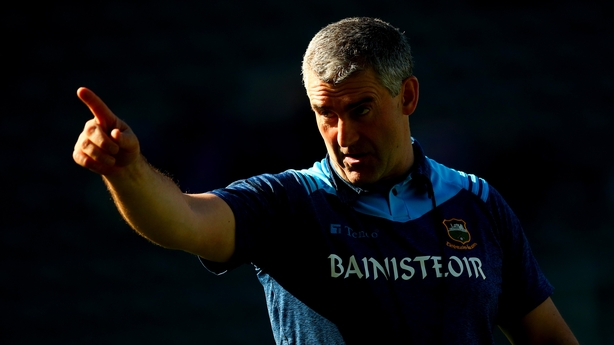 "I thought every line, the heroic defending we showed finishing up there was very much to like - these guys are able to play. The day someone tells me that someone at 29 years of age is too old to play in championship hurling; that's contrary to what I think.
"In fairness I have massive competition within my panel, some of these Under-21's are really good so it's competitive.
"There could be changes again for next Sunday and changes to the overall panel but it's competitive and that's what made me at ease with myself to know we had a really good chance of bringing a performance."
Another throw-back to 2010 is Eamon O'Shea, who is a recent re-addition to Sheedy's backroom team.
The NUI Galway economics professor was part of the successful set-up nine years ago and took over as boss when Sheedy's immediate successor Declan Ryan stepped down.
He was Maor Uisce in Páirc Uí Chaoimh and is reportedly helping in particular with the forwards.
John McGrath finishes off a sublime Tipperary attack as Liam Sheedy's press home their advantage against Cork

Watch match highlights of @OfficialCorkGAA and @TipperaryGAA on @rte2 tonight at 9.30pm pic.twitter.com/KSatqTQM2M

— The Sunday Game (@TheSundayGame) May 12, 2019
Sheedy said: "With Tommy (Dunne) and Eamon and Darragh (Egan) on the coaching side and they've got Carbs (Cairbre O Caireallan) on the strength and conditioning side, we know exactly what we need to do in terms of preparation for next Sunday.
"As I said I am very happy with everyone I have around the squad, everyone is really committed to the group and anything I ask any of the boys to do they do to the best of their ability so I am very comfortable.
"It's not about me, it's about a group of players and we are trying to facilitate a group of players to be their best for this championship. Everybody to a man in the backroom team is contributing handsomely."