Seven days to get their season back on track. It's not complicated, but it's not easy either.
Cork are against the ropes following their seven-point defeat to Tipperary at Páirc Uí Chaoimh and need a win next weekend. So far, so straightforward.
The problem is that that win has to come against All-Ireland champions Limerick at the Gaelic Grounds next Sunday.
"Seven days," said Rebels boss John Meyler baldly, not sugar-coating the facts.
"That's the beauty of the Munster championship. The match is over and we just need to reorganise and focus now on Limerick next week. Away to Limerick and we need to get a win - that's basically it."
Limerick appeared to be moving into a new gear as they cruised to the Allianz League title in the spring and they had a weekend off as they watched Munster's four other hurling counties take lumps out of each other.
A second defeat would leave Cork's hopes of three provincial crowns in-a-row in tatters and their chances of making it through to the All-Ireland series in serious doubt.
Apart from a spell in the middle of the first half, the Rebels were dominated by Tipp at the Páirc and Meyler wasn't making any excuses for their stuttering performance.
"Tipperary were more fluent, sharper, they had better support play than us, looked extremely hungry and got an extremely good start with the early goal," he said, speaking to RTÉ Sport.
"They got a good advantage on us in the first half, we brought it back to a point at half-time and I thought we'd get in at half-time, reorganise and get back to the basics again.
"Again, they came back in the second half and really drove on again. That second goal that they got really finished us off."
Cork saw a brief chink of light when captain Seamus Harnedy scored a goal five minutes from the end to bring the gap down to four points.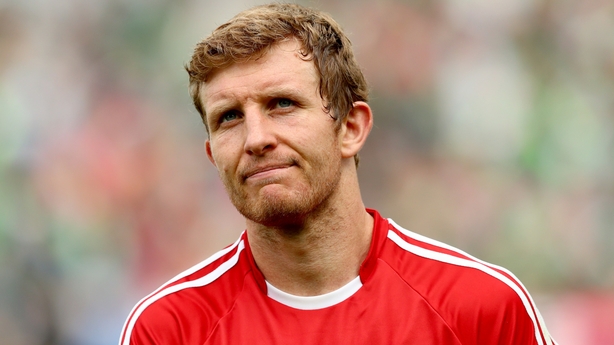 Tipp responded straight away with a point of their own and then referee Sean Cleere made a big call when he blew up Cork's Patrick Horgan with the home fans feeling it should have been a free the other way.
Meyler conceded it was a 50-50 call, but refused to put the blame on the man in the middle.
The Rebels had to make do without midfielder Bill Cooper, who suffered a back-spasm in the pre-match warm-up and had to be withdrawn. Again, Meyler was making no excuses.
"It meant reorganising," he said. "Bill is a fantastic player, a leader of the team as one of the senior members of the team so it was a massive loss to us, but we just had to reorganise.
"We put Luke (Meade) to midfield and we thought he did quite well, but we lost him at wing-forward and we lost Bill at midfield, but that's not an excuse. You have to be able to lose one or two players through injury or whatever."