Limerick's remarkable win over Tipperary and strong performances from Derry, Wexford and Waterford, not to mention London's battling performance against Galway a week ago, suggested that Division Four form from this year had to be respected.
Unfortunately for Leitrim supporters - who had to watch in anguish as Roscommon beat them by at least 13 points in the 2016, 2017 and 2018 Connacht championships - they failed to live up to that trend this afternoon at Dr. Hyde Park, falling to yet another heavy defeat thanks to the concession of three first-half goals.
From the first whistle, goal chances were the story of this game. Leitrim manager Terry Hyland said afterwards that he and his management team identified Shane Moran as a possible weapon who might have the ability to hurt Roscommon's full-back line and they tried to exploit the Ballinamore man's height and power early in the game.
But while it was easy to see why Hyland chose this approach, it didn't quite bear the fruit it might have deserved.
Darren O'Malley blocked a goal-bound shot from Moran off the first attack of the match, Raymond Mulvey fisted the ball wide from 12 metres out when Moran set him up off another high ball, and outside of that, Roscommon erred on the side of conceding the free rather than allowing Moran to develop the play.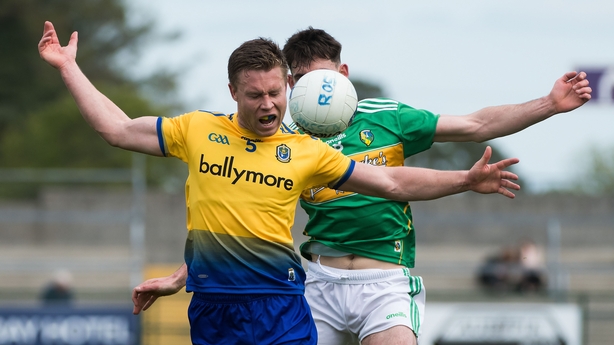 Roscommon, for their part, had no interest in the aerial approach and instead chose to use their greater power and speed to drive through the heart of the Leitrim defence, bursting through tackles and creating overlaps.
This resulted in seven first-half goal chances, three of which were finished to the net. Diarmuid Murtagh had one blocked, Cathal McCrann made one solid save to deny Shane Killoran and a world-class dive to touch away an Ultan Harney effort, but still Killoran – who won the man of the match award - found the net twice and Niall Kilroy coolly finished a third, side-stepping McCrann after Conor Cox sprinted 30 metres and opened up their defence.
Leitrim used four substitutes by the 45th minute in a bid to try and change their fortunes, and they played some of their best football in the early part of the second half, but they still failed to make it count on the scoreboard in any meaningful way.
Kilroy, who put in a tireless performance, blocked a Pearce Dolan shot that might have reduced the gap to five, and from there the superior conditioning and depth of Roscommon started to tell a tale.
A second yellow card for Shane Quinn reduced Leitrim to 14 men to make life even more difficult for them, and the gulf in depth was illustrated by the scoring contributions of Fintan Cregg, Andy Glennon, Colin Compton and Cathal Heneghan off the bench, who between them chipped in with seven points to guarantee a fourth landslide win for the Rossies over their neighbours in four seasons.
Roscommon: Darren O'Malley (0-01, '45); Conor Daly, Seán Mullooly, David Murray; Niall Daly, Conor Hussey, Ronan Daly; Shane Killoran (2-00), Tadhg O'Rourke; Hubert Darcy, Cathal Cregg, Niall Kilroy (1-01); Diarmuid Murtagh (0-03, 0-02 frees), Conor Cox (0-05, 0-02 frees), Ultan Harney.
Subs: Fintan Cregg (0-02, 0-01 free) for O'Rourke (37), Colin Compton (0-02, 0-01 free) for C Cregg (46), Conor Devaney for Darcy (48), Andrew Glennon (0-02, 0-01 free) for Murtagh (53, black card), Cathal Heneghan (0-01) for Cox (61), Brian Stack for R Daly (64), Caoileann Fitzmaurice for Killoran (69, temp).
Leitrim: Cathal McCrann; Michael McWeeney, Paddy Maguire, Conor Reynolds; Domhnaill Flynn (0-04, all frees), Seán McWeeney, Shane Quinn (0-01); Mark Plunkett, Fergal McTague; Raymond Mulvey (0-01), Ryan O'Rourke (0-05, all frees), Pearce Dolan (0-01); Evan Sweeney, Shane Moran, Gary Plunkett.
Subs: Dean McGovern for McTague (21), Jack Heslin for Sweeney (39), Aidan Flynn for Dolan 43), Emlyn Mulligan for G Plunkett (45), Nicholas McWeeney for Flynn (70), Oisín Madden for S McWeeney (70).
Referee: Sean Hurson (Tyrone)