TJ Reid said Kilkenny upped their workrate and energy levels in the second half of their five-point win over Dublin in their Leinster hurling championship opener in Nowlan Park yesterday. 
Kilkenny trailed Dublin by four points at half-time and might have been further behind had Sean Moran kept his second penalty lower two minutes before the break. 
However, as has often been the case, the Cats re-emerged a different animal, with former Hurler of the Year Reid to the fore, hitting two goals and a hail of points, the bulk from placed balls. 
"We knew it was going to be a war here," he told RTÉ Sport after the game. 
"Last year, in Parnell it was the exact same. Physical game, the rucks and the breaking ball needed to be won. 
"First half, we didn't go well enough as a team. We reflected on that at half-time. Bit more energy in the second half, and look, we got on top of Dublin. 
"It was a big game for us. A home game so it was vital for us to get two points on the board. It was just pure workrate and honesty.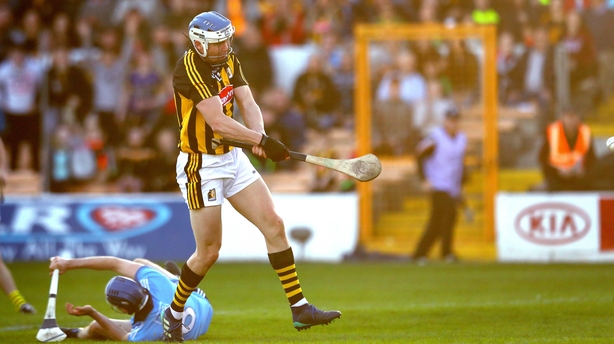 "We've Carlow next week in Dr Cullen Park and we can't take anything for granted. It's a big game, so happy days."
Reid was at the centre of a bizarre incident shortly before half-time, when he opted to take a short free in the direction of Billy Ryan 20 yards out from goal. 
Dublin selector Greg Kennedy - former All-Ireland finalist with Galway - was still on the pitch, having offered words of advice to a number of his players during a break in play. The selector moved in front of Ryan as Reid took the quick free and simply caught the ball, provoking a mixture of bemusement and anger among the crowd and the Kilkenny sideline.
There remains some confusion over whether Kennedy's intervention had a material effect on the game as the referee was still speaking to a Dublin player. 
In the wake of victory, Reid was inclined to take a lighthearted view of the incident. 
"It was a bit strange. I've never seen anything like that before. But, In fairness, it was a good catch out of the selector!"