Kilkenny started their Leinster Championship campaign with a comeback win against Dublin last night at Nowlan Park.
The Blues burst out of the blocks, and were ahead by four points at the break. In truth it could have been more, as Seán Moran put a penalty over the bar, after Paul Ryan had flashed a goal chance left of the Cats' goal.
But Brian Cody's team, which included five Championship debutants, kept the gap at a more manageable amount heading into half-time.
And they kept Dublin to just six scores in the second-half, as they went on to win by five.
"I think the second-half performance was upped, in every single way," said Cody afterwards.
"We played very well, and we had to because right up to the very end there was a couple of high balls that went in. A goal can come from these situations very, very easily.
"But we were strong, we defended well, and we saw out the game."
Much had been made in the build-up of Kilkenny injuries. They went into the game without Eoin Murphy, Joey Holden, Cillian Buckley, James Maher, and Conor Delaney, who were all on the treatment table.
But Cody says he had confidence in the depth of his squad.
"At all times leading up to the game... it was never a question for us about injuries. We're never short. We're guaranteed to start 15 Kilkenny senior hurling panelists who we would have absolute total confidence in, and I think they showed tonight why we have confidence in them.
"They're top players, and the reality is that nobody knows what team is going to be picked anyway.
One of the main talking points to come out of the game was the intervention of one of the Dublin backroom team in the first-half. As TJ Reid stood over a free, selector Greg Kennedy, on the pitch to deliver instruction to the Dublin players, moved to mark Colin Fennelly.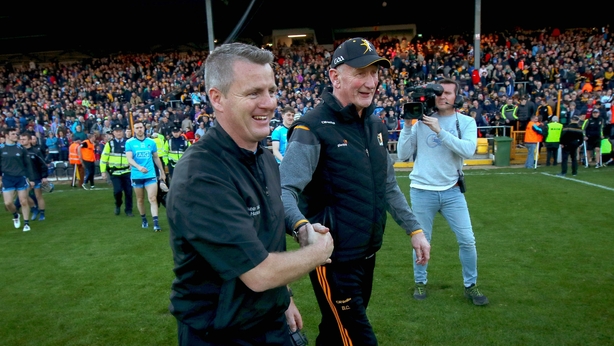 Incredibly, Reid tried to pick out his Ballyhale Shamrock clubmate, but Kennedy reached up and caught the ball.
Referee Cathal McAllister had his back turned to the play, as he spoke to one of the Dublin backs, and missed the incident. He appeared to order Kennedy off the pitch, but not with a red card.
If it was intended to disrupt Kilkenny, it had the opposite effect, acting to ignite the crowd in the Marble City and Cody, who remonstrated with Kennedy as he ran up the sideline.
"I'd say people who are longer involved in the game have never seen it, so I certainly haven't seen it before," was Cody's view of the incident. "I know Greg Kennedy played a fair bit at corner-back, but certainly tonight it was a bizarre thing to do.
"Of course I was unhappy about it. TJ could have tapped it over the bar, but he was thinking 'goal opportunity' because it was a goal opportunity. That happened, so I wasn't happy about it.
"I'm not even remotely interested in that (discussing an apology). If there was, that's between themselves and ourselves."