RTÉ football analyst Kevin McStay says the Tyrone-Derry rivalry is one of the most fractious in inter-county football ahead of the pair's Ulster championship meeting in Healy Park tomorrow afternoon.
The sides met at an early stage in 2016 and 2017 with Tyrone winning handily on both occasions and Mickey Harte's team have consistently operated at a different level to the Oak Leaf county in recent years.
Rather notoriously, Derry found themselves in the bottom tier of the league this spring though they at least made sure they escaped Division 4 at the first attempt.
Speaking on RTÉ Sunday Sport, McStay is confident that they've arrested their decline.
"Derry came through unbeaten from Division 4. Which tells you one thing. They're not a Division 4 team and never were really. They just lost the run of themselves and you drop very quickly, and you only have to look at the Cork experience to see that.
"Once you start falling, it can happen very quickly. But they've pulled the handbrake on that I'm sure and they're beginning to improve."
McStay won three Connacht titles with Mayo in the 1980s and managed Roscommon to a memorable provincial victory in 2017 and he's always been familiar with intra-Connacht rivalries.
However, he described encountering the Tyrone-Derry rivalry as a pundit in the early noughties as a revelation.
"Of all the rivalries that I've bumped into the the GAA... I don't want to insult anyone, but I'd nearly use the word 'feral' when I walked into Healy Park a few years ago.
"I remember RTÉ sending me to Ulster games in the early noughties as a co-commentator and I remember being at one of those Tyrone-Derry games. I was amazed I hadn't hooked into that level of rivalry.
"I always go back to '06, Derry had Tyrone - the All-Ireland champions - in the early rounds. And Derry had no hope, you couldn't back them. And they won by six points.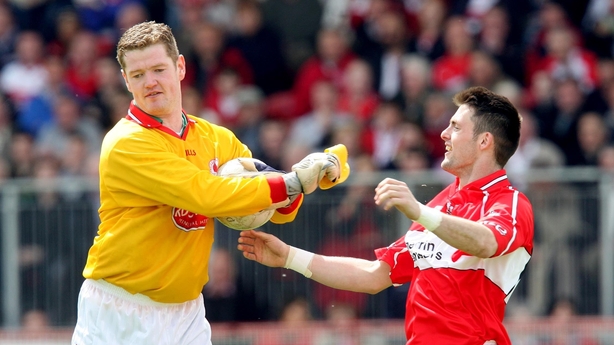 "I'm not suggesting that (will happen) for a second. In the modern game, there's too much scouting going on, too much psychology work, for major, major shocks to happen.
"But the Derry guys - if there's anything in them - will rev themselves up for this 70 minutes in an attempt to close the obvious gap that is there. Tyrone are operating at a different level.
"But for that 70 minutes in these local derbies, things tighten up a bit, you get a daft goal here or there and then the dynamic changes and people squeeze a little bit and it gets a bit tighter.
"But Tyrone are a team that will have a big say in this year's championship and will be there well into June and July."
Follow all the football action this weekend via our live blogs on RTÉ.ie/sport and the News Now app, listen to updates and commentary on RTÉ Radio 1 and watch highlights on The Sunday Game on RTÉ2 and the RTÉ Player.