Rank outsiders Limerick shocked fancied Tipperary in the Munster senior football championship quarter-final at Semple Stadium with a seven point with in front of 2,165 spectators.
Limerick put a dismal league campaign behind them to completely over-run off-colour opponents and will now meet Cork in the semi-final.
Though the sides were level at 0-8 each at half-time, Limerick were the happier.
Midfielders Darragh Treacy and Tommie Childs gave them an edge which benefited their lively attack with Adrian Enright and Jamie Lee each hitting two points from play.
Limerick used an extra defender to counter the twin threat of Michael Quinlivan and Conor Sweeney in the Tipperary full forward line but the quality of ball going through to the Tipperary target men was also a problem for the home side.
Limerick continued to have the better of things in the second half and two Limerick goals in ten minutes midway through the period decided the tie.
Man-of-the- match, Limerick captain Ian Corbett, got the first in the 46th minute and ten minutes later Cillian Fahey had a second to put them 2-9 to 0-8 ahead.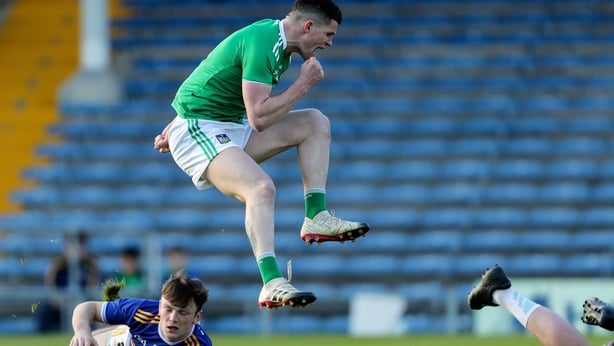 Tipperary had failed to score for twenty four minutes and looked a beaten side but Quinlivan's goal in the 63rd minute gave them a life line at 2-11 to 1-9.
It was a false dawn however. Limerick never lost their composure and five minutes later sub Peter Nash set the seal on their win with a third goal.
It was a fighting performance by the Limerick men who will fancy their chances in the semi-final against Cork.
In team captain and man-of-the match, Ian Corbett, they had a leader on the field who inspired such as Darragh Treacy, Tommie Childs, Jamie Lee, Adrian Enright and Sean O Dea.
Relegated to Division three in the league Tipperary look to have gone off the boil.
With Robbie Kiely, Josh Keane, Michael Quinlivan and Shane O Connell back after missing much of the league hopes were high for a good championship but on the night only Conor Sweeney, Michael Quinlivan, Steven O Brien and Alan Campbell reached championship pitch.
They now seek to revive their championship campaign via the qualifiers.
Limerick: D O Sullivan; B Fanning, S O Dea, P Maher; C McSweeney, I Corbett(1-2), G Brown; D Treacy, T Childs; A Enright(0-2), C Fahey(1-2), M Fitzgibbon; S McSweeney(0-1,f), S O Carroll, J Lee(0-4,1f); Subs – P Nash(1-0) for Lee(62 mins), S Keeley for Enright(70mins), P de Brun for Fitzgibbon(70 mins);
Tipperary: E Comerford; A Campbell, J Meagher, S O Connell; K Fahey, R Kiely, E Moloney; S O Brien(0-1), L Casey(0-1); J Keane, P Maher, B Fox; C Sweeney(0-4,3fs), M Quinlivan(1-2), L McGrath( 0-2, 2fs); Subs- L Boland for Maher, and B Maher for Kiely(h/t), J Kennedy for Keane(49mins), D Brennan for Fahey(57 mins), D O Meara for Fox(66 mins), J Feehan for Meagher(71mins)
Referee: J Molloy,Galway;