All we have now are memories. Thank God they are glorious.
This evening at 7pm Offaly hurlers will make an unwanted debut in the Joe McDonagh Cup against Laois.
And tomorrow afternoon, having just survived in Division 3 of the Allianz League, the Faithful footballers face Meath in the Leinster Championship and they are massive underdogs to produce a shock in Navan.
Glory days, these are not.
There is a tone adopted when people from outside the county talk about Offaly GAA now.
It's not patronising but there is an element of pity.
Pity that the hurlers are gone from the Leinster Championship. Pity that the footballers have won one Leinster Championship game in 11 years.
Pity that they are more likely to feature in dispatches about another manager walking away disheartened and confused, or players falling out with somebody, for some reason or for no reason.
Pity that it doesn't look like changing anytime soon.
Offaly are now excluded when people talk about contenders.
For those who remember the summer of 2000, this is an especially saddening state of affairs.
The footballers faced Meath in the quarter-finals on 4 June under a grey foreboding sky.
Written off in advance, with Tommy Lyons gone from the helm, they were a team in transition and Sean Boylan's All-Ireland champions were just supposed to turn up and win.
But Offaly, under Padraig Nolan, had other plans and duly recorded a 0-13 to 0-09 win in Croke Park.
That was part one of a double-strike that summer.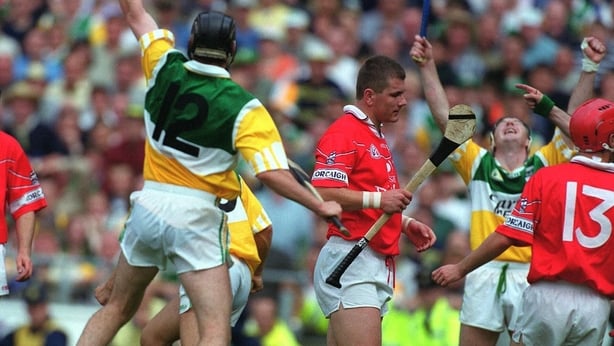 In the small ball code, Pat Fleury's men faced the other defending All-Ireland champions, Cork, the youthful upstarts who had claimed Liam MacCarthy the previous September, beating the Faithful in an all-time classic semi-final along the way.
Nobody gave Offaly, hammered by Kilkenny in the Leinster final, unconvincing against Derry in the quarters, a chance when they walked out at HQ on 6 August.
"I think Cork will do it on Sunday, by four or five points," said Johnny Pilkington in his Irish Daily Star column the week before the game.
Of course, Offaly produced a stunning performance and killed the king for the second time that summer, going on to lose the final to a Kilkenny side at the start of their other golden period.
Only four times in the history of All-Ireland Senior championships has the same county beaten both reigning champions.
Nineteen years ago, the footballers and hurlers of Offaly were still able to compete with the big boys, still contenders.
And only one man has the distinction of knocking out the two title holders in the same summer.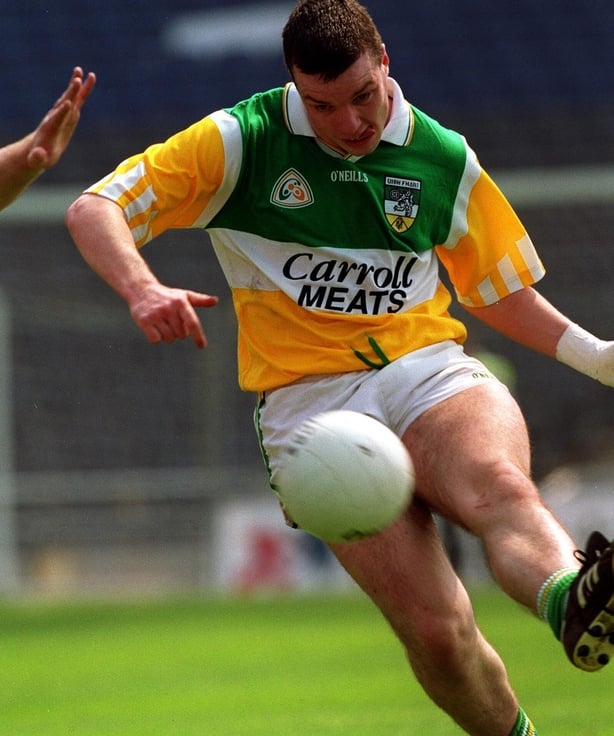 "Throughout that year I was crippled with injury so I was lucky to play at all," former dual player Cillian Farrell (above) tells RTE Sport.
"I broke my ankle in the National Hurling League against Dublin in April 1999.
"It was a miserable wet day down in Birr, the puck-out dropped under Daithí Regan and I went in to the middle of the melee, he got me with a swinging hurl. I think he saw three Dublin lads and one Offaly fellow but that was enough.
"I got back before breaking my wrist in the county football final for Edenderry against Rhode.
"I made it back for the Division 2 League Football final against Louth in 2000."
That year marked the end of an era for Offaly GAA. The small midlands county won seven All-Ireland titles between 1971 and 1998. That summer was the last hurrah of a golden age.
"Like an old boxer defending his title," says Farrell. "He may lose on points but he's certainly not going to be knocked down."
In a post-match interview following Offaly's win over Meath, Boylan was magnanimous and gracious but still in shock. The better team won, he said, his face white as a sheet. Outfoxed by Nolan, he had the summer off.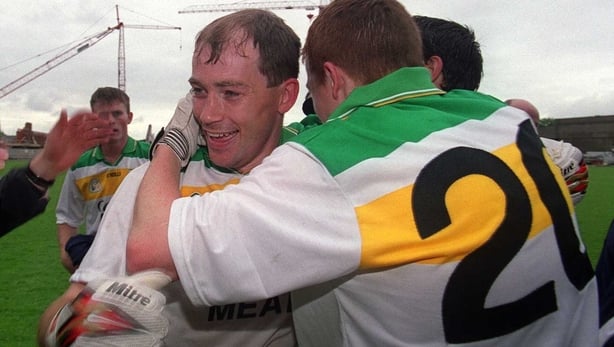 "Offaly's attitude was that, regardless of form coming into a championship match, we could win and we often performed better as underdogs," says Farrell, now 42, long since retired but indicating that he'll respond positively to a text message from the Junior C manager regarding a match against Clonbulloge this coming Monday.
"We didn't fear anyone. Outside the county people wouldn't have given us a hope. It was three years since we won Leinster, Tommy Lyons was gone, a few retirements including Peter Brady and we were in transition."
"We'd been beaten by Louth in the Division 2 final and Meath had been in the Division 1 final, they were the reigning All-Ireland champions, so obviously we were no-hopers going in.
"You'd hear people talking after a poor league campaign, 'ah, I don't know if we'll do anything', coming closer to championship, it would change to, 'lads, I think we'll do it', and come the Sunday it was, 'yeah, we'll beat them'. Didn't matter who it was."
Meath opened up a two-point lead in that game but couldn't shake Offaly. Vinny Claffey, on one leg almost, and Colm Quinn had Offaly, missing Ciaran McManus through injury, level at half-time.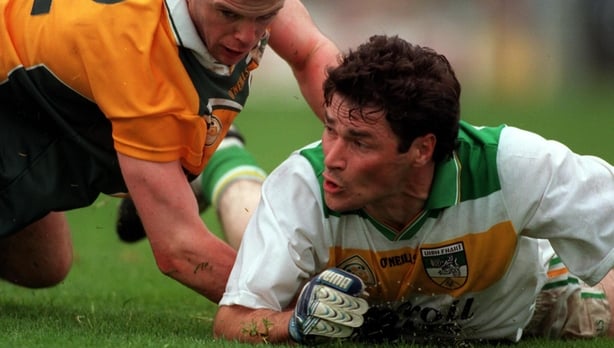 "It was a typical Offaly v Meath game, a war of attrition, a tough game, no-one backing down." The referee blew for 54 fouls and let another handful go.
"Padraig Nolan gave a masterclass that day," recalls the former forward. "Prior to that the only big tactic in Gaelic football was playing a third midfielder.
"He named the team conventionally on paper but he gave out completely different instructions.
"Finbarr Cullen started at wing-forward, I was named at corner-forward and started at centre-forward. Barry Mooney, who was making his championship debut that day, was named in the forwards but played wing-back. From the outside it must have looked crazy but it rattled Meath.
"From the outside it must have looked crazy but it rattled Meath."
"Finbarr, in particular, was a revelation, roaming around the forward line and it threw them completely."
With the underdogs leading 0-09 to 0-08 Farrell, his left wrist heavily stripped, struck the ball with his fist high over his head and hit the ground with a grimace.
He played through the pain for a few minutes but was eventually replaced.
"I ended up in the Mater that evening and had a another operation on it," he says.
Meath drew level but four unanswered points flew over the bar at the Hill 16 end and Meath were out. "That was the last year before the back door, and they were gone."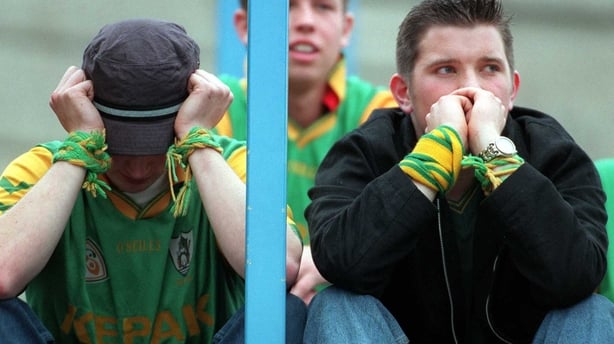 "What will we do now for the summer?" asked one of the Royals fan on the way out? "Go fishin!" came the reply.
Kildare did for Offaly in the next round but a blow had been struck, a nod to the glory days.
A standout talent as a teenager, Farrell played with Offaly from Under-16 to U-21 and was training with both senior panels by the winter of 1996.
However, Lyons wasn't keen on dual players at that point and Farrell decided to keep the hurl in his hand and was part of the squad that went on to win the 1998 All-Ireland, appearing in the last of the famous three-game semi-final saga against Clare in Thurles.
He had just regained fitness after his wrist injury in time for the semi-final clash with Cork in August of 2000, and found himself on the bench.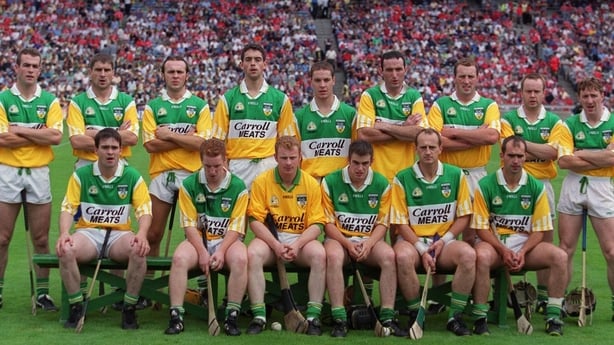 "This Offaly team had been around since 1994, people thought we were gone, even in '98 they thought that," says Farrell.
"This was two years later and Cork were the All-Ireland champions. They were heavy favourites.
"The general feeling was that Offaly's legs were gone.
"Some of them lads had won All-Ireland minor in 1986 so they were pushing on now. Cork had just won minor in '95, had beaten Offaly the previous year and you'd have been fearful for what they would do.
"They bossed the first half. The low ball coming into Joe Deane was working a treat, he was winning everything out in front, great first touch.
"In the second half we got to grips with them out the field, the tackling, hooking, blocking.
"So now they were forced to launch the ball upfield. That was high ball, made for Kevin Kinahan.
"He gave an exhibition. It was what he was all about. He was so quiet and unassuming but the first-half performance would have got to any player.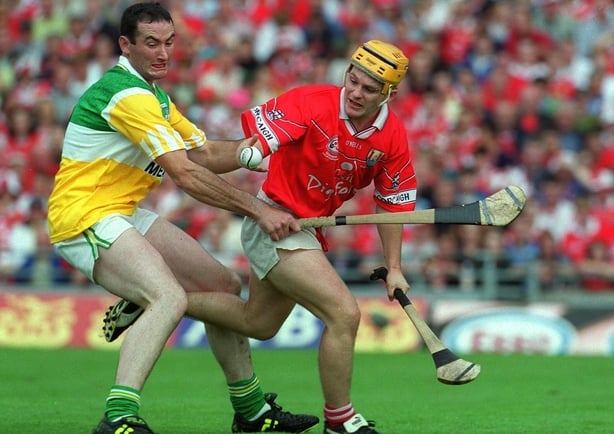 "But the management had confidence in him and he absolutely lorded it in the second half. That set the tone for the other battles around the field. It spurred everyone else on.
"At the other end, Diarmuid O'Sullivan and John Ryan were having a savage battle as well.
"Ryan was a big strong land; the Rock was the Rock, and he wore timber off John Ryan.
"Ryan put out his hand for a low ball and O'Sullivan broke his hurl off his hand, Ryan barely noticed but it was a contrast in dueling style from Deane and Kinahan.
"In the middle you had the magicians, the Dooleys, Pilkington, Whelahans; Michael Duignan, Ger Oakley, Gary Hanniffy all played great."
Jimmy Barry-Murphy's charges wasted an awful amount of chances that day but Offaly were good enough to make up the difference.
In 2000 @Offaly_GAA knocked out the defending All-Ireland champions in both football and hurling - tomorrow we'll publish the story of that summer of giant-killing from the man who played in both games #MEAOFF #OFFLAO #rtegaa #KeeptheFaith pic.twitter.com/N4BPCXgRIe

— RTÉ GAA (@RTEgaa) May 10, 2019
"No-one ever underestimated their skill, their artistry but because of what was written about them and their attitude, people often underestimated their spirit, how difficult they were to break," says Farrell, who now runs the FitSquadGym on the outskirts of Edenderry.
"And when Offaly would get on a run like that during a game they were quite difficult to break. It infected the whole team."
They had been Christened 'The Brazil of Hurling' in 1998 due to their style of play and the truth is that wonderful spirit infected the whole country back then.
As for Pilkington's prediction, it was Offaly who won by four, with the Birr man chipping in with four points.
"Johnny would be a good man for the reverse psychology," Farrell says with a smile.
Offaly ran out 0-19 to 0-15 winners with Farrell making a brief appearance late on. He wasn't on for long but when he handed the slip of paper to Willie Barrett, history was made.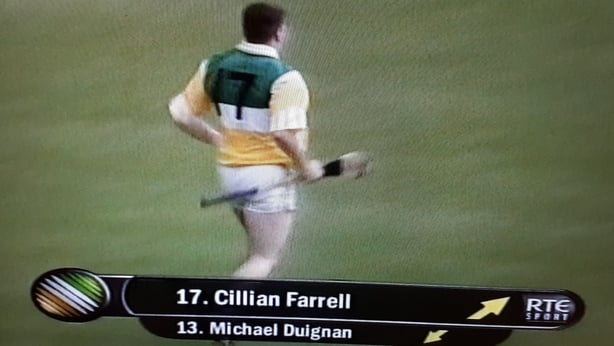 In 1919 Kildare won the SFC and Cork won the SHC. Both holders were knocked out by Dublin, in the next championship season.
Back in 1905, Kildare were also football kingpins, while Kilkenny were hurling champs. Both sides lost their titles to Dublin.
None of the Dublin players crossed codes in those games.
Back then club sides represented the county in Senior competitions but it was not unknown for players from other clubs to be called upon.
For example, in 1907 Dublin hurling champions Commercials called upon players from Faughs and Rapparees for their 1-14 to 0-05 Leinster final win over Kilkenny in Wexford.
The final team-sheets to be compared were the Cork sides who beat Limerick's footballers and Tipperary's hurlers, who were All-Ireland champions from 1896.
Doheny's from Dunmanway and Blackrock were the representatives but the team-sheets, when tracked down with great help from Pat Bracken in Tipperary, threw a spanner in the works.
Dan Coughlan lined out for the footballers, Daniel Coughlan's name appeared in the hurling list.
What were the chances that Dan and Daniel were the same man?
The Cork County census for 1901 records 69 Daniel Coughlans.
"Another guy completely," was the verdict from Blackrock when asked about the likelihood of a dual star.
Doheny's concurred, "not a hope" was this the same man, they said. They didn't even have a hurling team back then.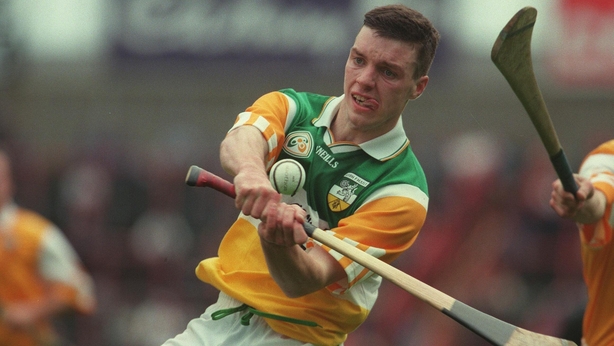 So Farrell's achievement is unique and unlikely to be repeated.
He'd been told about it before but it wouldn't be something he trades off. He associates that time of his life with the men he played with.
"It doesn't make much a difference to me at all," he says.
"It's not a big deal for me. It might get a mention in Byrne's Bar in Edenderry.
"For me it was great to be able to play in top-level games with those boys. I was lucky to come along at that time.
"Anyone who plays wants to run out in Croke Park, in front of full houses. We came in to an era when that was there. Sadly, I came at the end of it.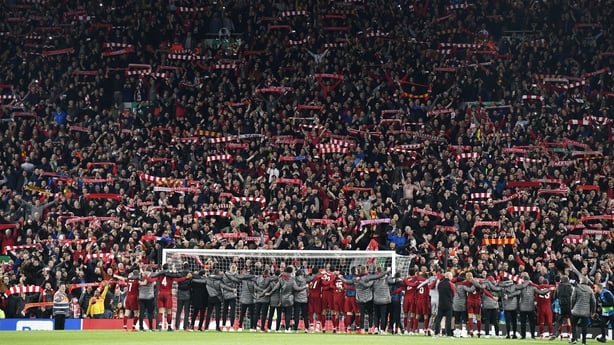 "This week we probably saw sport at its best. When you see how Liverpool came back from the dead against Barcelona, or what Tottenham Hotspur did and how those games brought out such emotion.
"Only sport throws up that, people and teams over-achieving and you saw the Anfield crowd getting behind Liverpool to drag them back.
"The Offaly supporters did that with that hurling team, in particular, time and time again. The sit-down protest against Clare, the crowds down in Thurles and then in those games in Croke Park.
"The supporters saw that the team was trying really hard and they gave it back. The team and the supporters had that bond. That's what I take away from those days."
Glory days, indeed.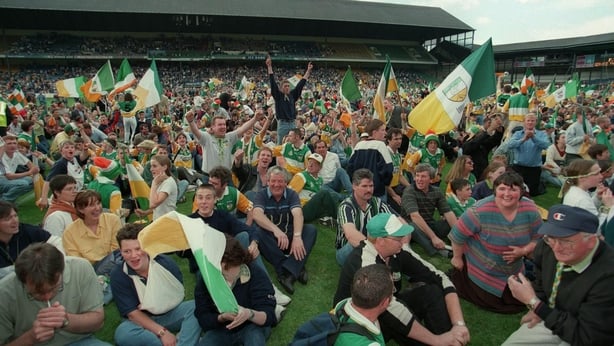 Farrell, who managed Meath for four years, was also part of the Offaly Hurling Review Committee and says he fears that the hurlers could fall even further down the pecking order.
"They are going to be targeted, they are a huge scalp for the opposition in the McDonagh Cup," he says, clearly frustrated that the committee met with such a poor uptake for their recommendations.
As for the footballers, now under John Maughan, Farrell admits there is a gulf in class between them and a Royals side that won promotion to Division 1.
"Meath look to have that old steel about them, well balanced, good structure.
"They are coming along the lines of the foundations that Sean Boylan built a team on, albeit they have a long way to catch up on Dublin.
"Back in 2000 we fully believed we could win it. That type of fearlessness has been lost in Offaly over the last 20 years.
"We've lost that and the way the game is gone, with fitness, strength and conditioning, it's hard to compete with that fearless attitude alone. You need more."