Waterford's Munster Hurling Championship clash with Clare at the newly redeveloped Walsh Park is on course to be a sellout, and the Déise are eager to make home advantage count.
Tickets sales for the clash on Sunday have passed the 10,000 mark, and with a capacity of just over 11,000 the full house signs will be in place come the weekend.
Sunday's game will be the first time the Waterford City venue has hosted a Munster Championship hurling tie since 2003, with the Déise forced to play their 'home' games last summer in the Gaelic Grounds and Semple Stadium.
For Waterford chairman Paddy Joe Ryan it's a long overdue return home and he's confident that it will provide a lift to the entire county.
"It's absolutely fantastic because the people of Waterford are craving a game in Waterford," he said.
"It is very important as it's good for the local economy, good for our supporters and it's bound to be good for the team because it's a huge advantage to play at home.
"The Championships are showing you need a home venue to get the maximum out of your homes. It's vital you win your home games as well."
While just over 11,000 tickets will be available for the clash with Clare, the long term plan is to increase the ground's capacity by a further 50%.
"11,046 is the official capacity now, it will be up to 15,500 to 16,000 in the not too distant future," Ryan revealed.
"We have all our plans and everything has been put through. 
"We had 9,000 at an Under-21 final a few years ago. There won't be any crowd controls problems this weekend. It'll be very easy to handle."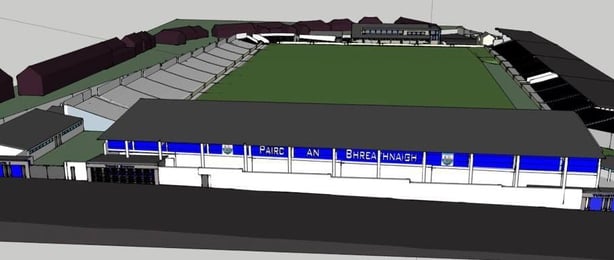 It's been a long road back to Walsh Park for Waterford, who, inspired by Kildare's 'Newbridge or nowhere' campaign of last year, stood their ground and made a real push to return to their home ground.
Ryan explained that the feeling has been prominent throughout the county: "A club delegate, a very well-respected man, asked at three different meetings would the games be played at Walsh Park. Our manager said he wanted a Waterford venue and he didn't mind where it was, as long as it was a Waterford venue.
"There was an appetite for the game to be played in Waterford considering all the misfortune and hard luck we had last year with away games, injuries and everything that went with it. This is my 25th and last year involved with Waterford and I'd love to see Walsh Park started before I finish.
"We are going to have a stadium in Waterford that we are going to be very proud of. We don't need a Killarney or a Páirc Uí Chaoimh or Semple Stadium; we need something we can have that's small, easy to maintain and fill up."
Everything is in place for a big homecoming for Waterford now and Ryan is hopeful that his side can get one over on old rivals Clare, before they welcome Limerick to the same venue two weeks later.
"I'm certainly looking forward to it, we have a great old rivalry with Clare," he said. "They are like ourselves, much the same size, and struggling for success.
"In recent times they have been much more successful than we have.
"We are going to give them a huge welcome, we got great welcomes in Ennis over the years. This will be my first time after 25 years welcoming Clare to play a senior Championship game in Waterford. We'll have Limerick here in a couple of week's time.
"It's going to be absolutely great to have the best hurlers in Ireland playing again at Walsh Park. We have the pitch in absolutely brilliant condition for them.
"We are looking forward to having everything right on the day. And naturally as a Waterford man we are looking forward to a Waterford victory."
Follow all the hurling action this weekend via our live blogs on RTÉ.ie/sport and the News Now app, listen to live national commentary on RTÉ Radio 1 and watch live and exclusive TV coverage of the Munster SHC on RTÉ2 and the RTÉ Player this Sunday.