Former Roscommon manager Kevin McStay has called for an end to the provincial championships in their current form.
Both Dublin and Kerry will be aiming for their ninth provincial crowns of the decade this summer, with only Meath (2010) and Cork (2012) managing to upset the apple cart.
Speaking at the launch of RTÉ's GAA Championship coverage, which includes 31 games on television and online, McStay said it's time to think about real change.
"The elephant in the room on the restructure is that you have to accept that the provincial structures as we have known them, and loved them for many years, have to go," McStay told RTÉ Sport.
"If they don't go, you're not restructuring."
McStay won Connacht titles as a player in 1985 and 1989, and he says that his provincial medals are some of his most prized possessions
But for McStay, the provincial championships have had their day, and the traditional structures will only act to stifle the growth of the game.
"I want to put this straight out there, I love the provincial series at final level. I love the Connacht finals. All my life I was rared on it. That's all I have are Connacht medals, and I treasure every one of them so much.
"The Ulster final is a massive day out. The Munster final, even still when Kerry are thumping Cork out of sight, is still a big event. To lose it, will be an awful wrench for people like me.
"But I'm realist. How can you have a future, when we're only watching one game before the finals."
Last summer, the re-formed provincial hurling championships proved to be a great success, with competitive games in the new Munster and Leinster competition formats.
The football equivalent for the same provinces fell flat however, as Kerry demolished Cork by 17 points, and Dublin overcame Laois by even more.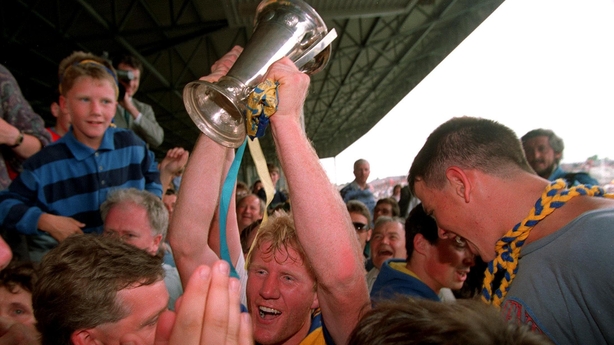 Just over 40,000 made the journey to Jones Road for the game, the second lowest attendance at a Leinster final in the last ten years, and McStay says this is the big issue for the GAA's top brass.
"All the arguments in the world by players, and GPAs, and journalists, and pundits don't matter a whole lot. What really matters is that the crowds are down," according to McStay.
"We have one pre-provincial final match this year, which we're all anticipating will be Donegal Tyrone. It may not be, but that's the one that RTÉ have committed to.
"If I was making it, that's the choice I would have made. But it's only one. Meanwhile the hurling is playing up a storm, side by side with it.
"Back in June over 15 years ago, when I was co-commentating, I'd have done six matches, or eight maybe, in June. But that's gone now, because spectators, and people watching TV say that's not worth watching.
"It's not nice to view, it's very defensive. That defensive paradigm, or blanket defence, or puke, whatever you want to call it, from 2010 onwards got a grip. People started voting with their feet, in particular last year."