Mayo got their 2019 championship campaign off to an ideal start with a 21-point drubbing of New York at Gaelic Park in the Connacht SFC quarter-finals.
An unseasonable deluge descended upon Gaelic Park, making for a slick playing surface and contributing to an inordinate number of handling errors.
It was five minutes before either side registered a score as both teams struggled to get to grips with the difficult conditions, but a routine Evan Reagan free finally got Mayo off the mark.
Half-backs James McCormack and Lee Keegan registered two quickfire points from play soon after - the latter a beauty from Keegan with the outside of his right boot – as Mayo began to assert real control on the contest.
New York simply couldn't win possession off their own kick outs, and Mayo began to turn the screw. Two more points from Evan Reagan were quickly followed by an excellent effort from Fergal Boland extended to lead to six, before New York managed to register their first shot on goal.
Indeed, it was 12 minutes before Mayo goalkeeper Rob Hennelly touched the ball for the first time when he collected a backpass from Lee Keegan.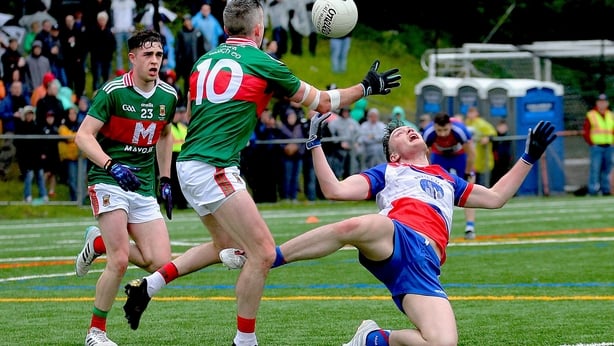 After just 20 minutes, the game was beginning to resemble an exhibition with Mayo slicing through the New York defence at their leisure. A further eight points without reply stretched to lead to 14 by the half hour mark, before New York centre-forward Luke Kelly raised the biggest cheer of the afternoon when he curled over a point to finally end the Exiles' long wait for a score.
However, within moments Mayo had raised their solitary green flag of the afternoon. With the New York restart continuing to malfunction, Mayo launched an attack and sent Evan Reagan through on goal. He was initially denied by Vinnie Cadden but collected the rebound and finished to the empty net to leave 16 points between them at the interval.
The second period was about as anti-climatic as a game could be. Mayo, clearly intent on reducing risk of injury, took their foot off the pedal and emptied the bench early on.
Points from Rob Hennelly, Evan Reagan and substitute Michael Plunkett allowed them to slowly extend their lead in a half full of wasted chances and slow build-up.
On one of their rare forays into Mayo territory, New York added their third point of the afternoon when Luke Kelly landed the score of the day from the tightest of angles on the left win. It mattered little though as Mayo strolled to the easiest of victories.
New York: Vinny Cadden; Michael Creegan, Gerard McCartan, Robert Gorman; Paddy Boyle, Michael Naughton, Matthe Queenan; Cathal Compton, Sean Hurley; Shane Hogan, Luke Kelly (0-02), Daniel McKenna (0-01); David Freedman, Niall Madine (capt), Peter Hatzer.
Subs used: Conor Connolly for Naughton, Kevin Finn (0-01) for Creegan, Ryan Kerley for McCartan, Dylan McDermott for McKenna, Shane Slattery for Hogan, Tiernan Mathers for Madine.
Mayo: Robert Hennelly (0-01); Colm Boyle, Brendan Harrison, Keith Higgins; Patrick Durcan (0-1) (capt) Lee Keegan (0-01), James McCormack (0-01); Matthew Ruane, Aidan O'Shea; Evan Regan (1-05, 0-04f), Jason Doherty (0-02), Fergal Boland (0-04); Kevin McLoughlin (0-02), Darren Coen (0-01), James Carr (0-01)
Subs used: Ciaran Treacy (0-1) for Doherty, David Drake for Higgins, Michael Plunkett for Keegan 41, Conor Diskin for D. Coen, Stephen Coen for Ruane, Andy Moran for Carr.
Referee: Conor Lane (Cork)