It is a cool, overcast Sunday at Gaelic Park, and the New York players are putting in some final preparations for Sunday's championship curtain raiser against Mayo.

Players arrive sporting a mix of county jerseys from back home in something more reminiscent of a club training session than that of an intercounty set-up.
Set against the backdrop of a subway depot, Gaelic Park plays host to almost every GAA match in New York. The artificial playing surface is a whirlwind of colourful lines due to New York GAA's allegiance with Manhattan College which sees Gaelic Park accommodate a number of different sports including lacrosse, soccer and baseball.
As New York proceed with their training, a junior B team begins its own preparations at the other end. When training grinds to a halt, players are fed in the changing rooms before they go their separate ways.
New York GAA is synonymous with the Irish community in America's biggest city, but how does working and living in a city that never sleeps impact on players differently to those in Ireland.
Life as an intercounty GAA player is never easy. Balancing a full-time job with what is fast becoming a professional sport in all but name is one of the more remarked upon issues of the GAA. However, that issue only intensifies across the Atlantic.
Shane Hogan, born and raised in New York, is one of six American born players on this year's panel. Having been a member of the panel since 2012, Hogan is well aware of the struggles of balancing a working life in New York with a GAA career.
"A lot of guys have different shifts; they're working in bars till all hours of the night on different days of the week; you've got guys coming from working on construction sites and everything.
"We're doing it [training] three times a week. It's not as much as the counties back home and of course our biggest problem is a lack of games that we have against other teams. It's tough. It's tough to balance, but it's something that if you enjoy you try to figure out the best you can."
Sligo native Vinny Cadden echoed his American born teammate by saying that the life of a GAA player takes a good deal more planning in the Big Apple. Cadden, New York's goalkeeper, is a bartender and so is more accustomed than most to the strain of working in New York.
"You're always working late nights as a bartender [in New York] and if you're going into shifts after training it's going to take more of a toll on your body," Cadden said. "Next day recovery is key. It's hard to get fully recovered over here because it's just such a hectic city, such a hectic lifestyle," he continued.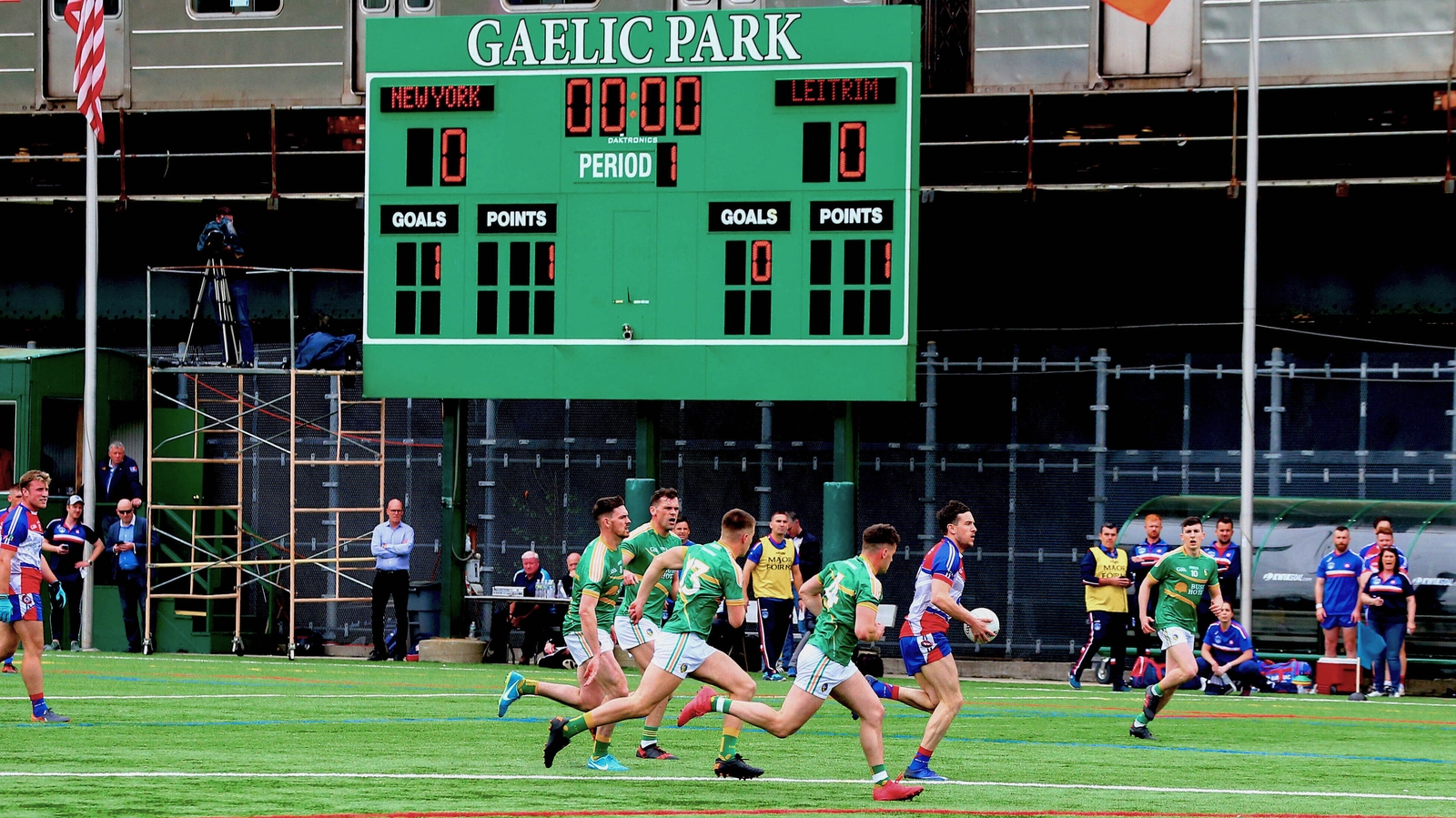 Manager Justin O'Halloran is of a similar frame of mind to Cadden and Hogan, claiming the lifestyle is "very hard" on his players.
"It's quite difficult over here with the hours people work. America's all about working and we've guys working from six or seven o'clock in the evening till six in the morning and then having to go training the next day," said O'Halloran.
As difficult as juxtaposing an intense, non-stop job with a full-time commitment to an amateur sport may be, it is not the only trial a New York player must endure. There is the small issue of rush-hour traffic in Manhattan as well, something that is not lost on Cadden, a resident of Queens.
"If you have stuff to do in the city throughout the day you have to get that done early. I live in Queens and travelling up to the Bronx, especially with work as well, you have to take everything into consideration. It's obviously a bigger city to try and get around with public transport and everything else."
Again, O'Halloran echoed his players and bemoaned the difficulties involved in making training sessions. Involved as a player in 1999 when New York first entered the Connacht championship, O'Halloran is a stalwart of New York GAA and understands the sacrifices players must undertake.
A lot of people will come out to America now and they won't know a single soul, but they'll come into Gaelic Park and they'll see somebody playing that they know from home and right there you've got an instant connection
"We've got some players coming from Queens and Manhattan, and I think we have one player coming from Brooklyn and they're dealing with subways and rush hour traffic, so it's not easy."
Situated off the 242nd street subway station at the very extreme of the 1 line, Gaelic Park is as farremoved from the hustle and bustle of Manhattan as anywhere in New York. It takes over an hour, and 32 subway stops, to get from Queens to Gaelic Park at off-peak times, and even longer from Brooklyn.
While O'Halloran is able to oversee training with his squad three times a week, the lack of a county gym prevents him from doing weight sessions with his troops, something that has become a staple of any intercounty training regime in Ireland.
To circumvent this, New York must improvise, and players are expected to do gym work on their own time.
"It's tough," according to Hogan. "Everyone's kind of expected to put in their own work. Most county teams will do maybe four nights on the pitch and they might have a night or two in the gym. We're expected to do our own sort of weights. Physios and trainers will send us the programmes we're expected to do.
"It's a lot to ask, especially when you factor in guys with their jobs. Jobs come first, that's why a lot of guys came over from Ireland, you know to work."
What then, drives players if they have to go through all of that effort for what is essentially one game a year, barring a cataclysmic shock against Mayo next week? Well, Hogan believes that the GAA is an integral part of life for the Irish community in New York.
"I think it's vastly important. A lot of people will come out to America now and they won't know a single soul, but they'll come into Gaelic Park and they'll see somebody playing that they know from home and right there you've got an instant connection."
While a Championship win still eludes New York, recent years have seen significant progress. Roscommon and Leitrim both escaped by the skin of their teeth in 2016 and 2018 respectively.
Having said that, Mayo represent a different prospect altogether, coming to Gaelic Park as league champions. Chances of a scare similar to those inflicted on Roscommon and Leitrim are slim, but Hogan is hoping that the Exiles can put in a performance that reflects the enormous sacrifices made by his teammates.
"We just expect to make this as an uncomfortable experience as we can for them. I know a lot of people don't really have the backing for us, but we're just going to try and stick together and hopefully get a result that shows the effort that we put in."
Follow London v Galway and New York v Mayo via our live blogs on RTÉ.ie/sport and the News Now app or listen to updates and commentary on RTÉ Radio 1's Sunday Sport.