Paul Flynn's decision to call time on his inter-county career was a difficult one, yet the Dublin star believes it was the right call for both himself and the squad.
The Fingalians forward (32) has announced his retirement following a remarkable 12-year career with the Sky Blues, securing six All-Ireland medals in the process, and while he pondered retirement at the end of the 2018 campaign, it was the league games in 2019 that cemented his decision.
"It is not something that I took lightly, but going into last year, I was pretty sure that it was going to be my final year," said Flynn, talking to 2fm's Game On.
"Jim [Gavin] had said that if I got a good pre-season and league under my belt then maybe I could contribute.
"And I did the pre-season but I couldn't get my body and my fitness and my game up to the levels that I hoped and the standards that I set for myself.
"So ultimately, I felt that I couldn't contribute to the overall team as much as I would have liked and that ultimately was the main broker in the decision."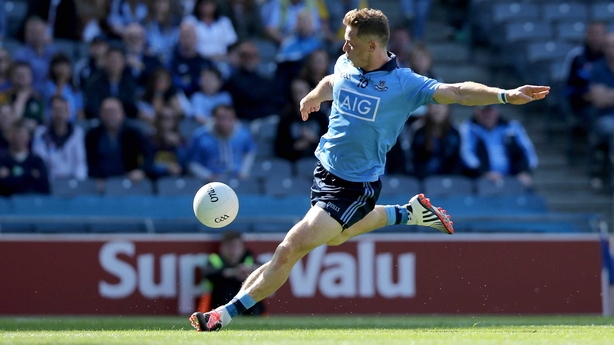 Despite playing five games in Dublin's league campaign, where Gavin's side only managed eight points from seven matches, finishing fourth behind Tyrone, Mayo and Kerry, Flynn felt that his own form was not up to the standards that he had set for himself.
And as the Championship approaches, he explained that a club game last weekend had his body creaking, while he also picked up a hamstring injury, all of which led to his ultimate decision to call time on his phenomenal Dublin career, which included winning four All Stars in a row.
"If you look at those [league] games, I wasn't playing well and I didn't feel like I was making an impact," explained Flynn.
"The facts are, my game has been built on conditioning and the [half-forward] position requires you to be so well conditioned.
"So when you can't back your body it makes it harder to back your game and find your form, so that's really it.
"I played club championship last week and my back started creaking again and I pulled my hamstring so while it was not an easy decision, I feel it was the right one for me and for the squad."
An emotional few days for the departing Dub, and the reality of the situation really hit home as Flynn bade farewell to the panel – or left the WhatsApp group, as is the case these days.
"I waited until I knew that training was over last night and I fired across a text to the overall squad and then I just left the group," said Flynn.
"And it was probably the most emotional I was over the course of the 48 hours when I did that because it was a feeling of leaving, and it is funny in the modern era that's when it feels like you are leaving, when you leave the WhatsApp group.
"But it was quite emotional because they are your brothers, your friends, the guys you go to war with and respect so much, so it was a difficult thing to do."