Joe Canning knows that he may not play again for Galway this year.
The former Hurler of the Year suffered a groin injury playing for the Tribesmen in theirAllianz Hurling League Division 1 semi-final defeat to Waterford in March.
The prognosis from medics is that a full recovery will take 14-to-16 weeks after surgery. Canning is now four weeks post-op which could leave his return to play somewhere in mid-to-late July - in time for the latter stages of the All-Ireland Championship.
But he knows not to look that far ahead, aware that Galway have a fight on their hands just to get out of a competitive Leinster Championship with three places up for grabs between themselves, Kilkenny, Dublin, Wexford and Carlow.
"How do we know if we're going to get out of Leinster?" he asked, speaking to RTÉ Sport. "I'm not even thinking about that.
"Carlow is the first game and we have to take it step-by-step. It's stupid talk to be thinking of the business end of the Championship when we have to win matches before that. That's not a thing that we do. As any sportsman will tell you, if you look beyond the next game you'll get caught.
"It's my groin - I won't get into specifics because there could be kids listening!" he joked. "It's 14-to-16 weeks as the lads said a few weeks ago, so it's no different to that.
"I'm just taking it week-by-week really and that's all I can do, because if I set something for myself I might be disappointed if I get a setback. I'm just going with the physio, week-to-week, it's four weeks now and I'm doing the rehab as best I can."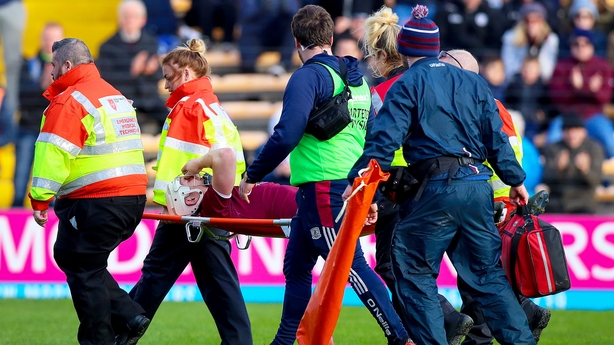 Canning was injured after taking a heavy, but entirely fair shoulder from Waterford's Kevin Moran as he went to take a shot.
After the game it was highlighted that such a challenge, where the player in possession only has one foot planted on the ground, is legal in hurling, but not football.
The Galway man has no problems with the rules around tackling in hurling, which he says are fine, and he also revealed that Moran texted him after the match to sympathise with him.
"It is different, but there's loads of different rules in football to hurling," said Canning, who was appearing at the launch of Bord Gáis Energy's #HurlingToTheCore campaign.
"I'd have no issue, it was a fair challenge, he hit me shoulder-to-shoulder and I was just unlucky that the ground broke me.
"If I hop back up off the ground and I was fine, there was nothing about it. It doesn't really bother me to be honest."
Speaking about the text from Moran, the 30-year-old said: "To be straight up, I didn't expect it. It was a fair shoulder so he had no reason to text me.
"But Kevin texted me. I know him. He's a sound fella and I appreciated that. It was nice to get it, but there was no need for it as it was a fair challenge. It was sound alright."