Dublin star Sinéad Aherne once carried the nickname 'Sin-nerd' around with her before her team-mates eventually settled on just 'nerd.'
It was a friendly nod to her study habits on away trips to matches, in which the Sylvester's forward would be seen with her eyes fixed on some notes or a textbook in preparation for her accountancy exams.
Of course, passing exams are an important step in most professions but the life of an accountant consists of more trips to the exam hall than most would want to endure.
"I'm working as an accountant so when I was doing professional exams, I probably would have had the books on the bus a couple of times for the away matches," Aherne recalls when explaining the origin of her nickname.
"It started out as Sin-nerd which gradually shortened down to Nerd," she laughs.
"I used to arrive with the rucksack that was probably bigger than me onto the bus. That would have been back 10 years ago. I joined KPMG the week after we won the All-Ireland in 2010 and I was doing my exams for two or three years after that."
The exam days are behind Aherne, which allows her to split her time more evenly between work and football.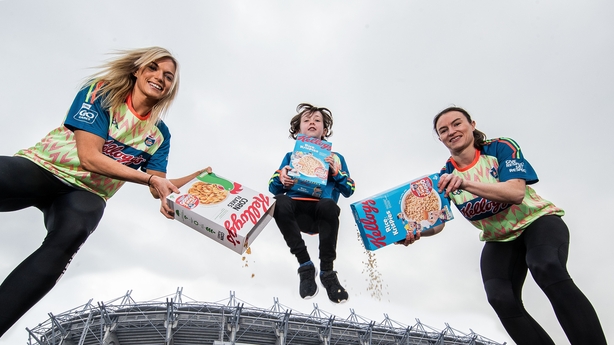 And as the reigning senior Players' Player of the Year who captained Dublin to back-to-back All-Ireland titles last year, it appears that she's balancing her commitments with ease.
"I'm not the youngest anymore so every year you assess where's the body is at and the mind as well," says Aherne, who continues to thrive in the Dublin attack after recently celebrating her 33rd birthday.
"I was very humbled to win it [Senior Players' Player of the Year]. Lyndsey Davey and Ciara O'Sullivan who were in the running as well had great seasons, and Noelle Healy [won it] the year before.
"It's a really nice honour but I think I'm really fortunate to be playing with a team who have been successful and I'm very reliant on what everyone around me is doing in the full-forward line."
Retaining their All-Ireland honours is certainly a priority for Dublin in 2019, but that goal will have to be put on ice for the moment while their National League campaign is still underway.
They have a title to put on the line there too.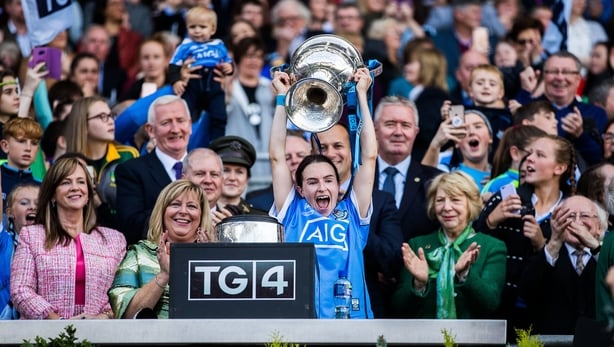 While the football, hurling and camogie competitions are already wrapped up for the season, the Ladies football league is only approaching the semi-final stage. And the defending champions will be coming up against familiar opposition in their final-four tie at Nowlan Park on Sunday afternoon.
11-time All-Ireland champions Cork got the better of Mick Bohan's side in their Division 1 meeting earlier this month. The sides previously collided in last year's All-Ireland decider and Dublin will be keen to return to winning ways as their rivalry rumbles on again.
"The semi-final pairings were probably looking likely we would be playing each other again. We were second-best at the weekend so we've a bit of work to do in the next few weeks to try and turn it around.
"Looking to the league final last year, while it was a comprehensive result on the day, that maybe colours how the league was viewed for what we did."
Along with that loss to Cork, Dublin also lost out to Donegal at the beginning of the Lidl National League.
Two black marks might be an unusual sight to see beside their name, but having collected their maiden Division 1 crown last year, Dublin still have recent memories of defeat in this competition.
"We were quite patchy in the league last year and came through a couple of tough scrapes. Probably not too dissimilar to this year, players have got a lot more time across the breath of the squad which is a positive in building the squad for the championship ahead."
Dublin Ladies captain Sinéad Aherne was speaking at the 2019 Kellogg's GAA Cul Camps Campaign Launch in Croke Park.