Broadcaster Seán Bán Breathnach, or SBB as he's better known, celebrates 50 years on air today and RTÉ Raidió na Gaeltachta will broadcast a special programme to mark the occasion.
Seán Bán was born in An Chathair in Conamara, and started his broadcasting career at 19 years of age with Popseó na Máirte on Radio Éireann on 1 April, 1969. 
It was the first Irish-language pop music show and the first live radio show to be broadcast without a script. SBB became the first Gaeilgeoir pinup, with fans writing to him looking for a lock of his golden blonde hair! 
In the years since then, he has worked across almost all of RTÉ's services including 2FM, where he presented the breakfast show for two years, RTÉ Raidió na Gaeltachta, where he continues to broadcast, and RTÉ TV, as well as TG4.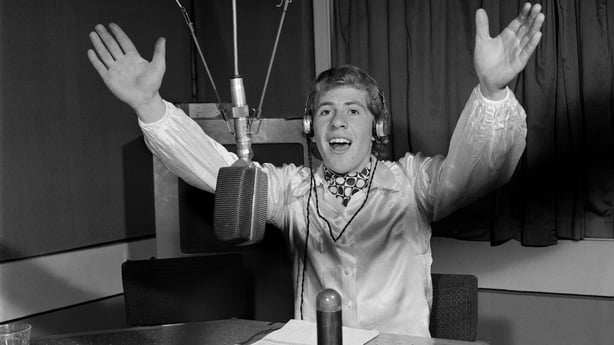 Some of Seán's best known TV programmes include SBB ina Shuí with Gráinne Gleoite, or Gráinne Uí Mhaitiú, from 1976 to 1982, and Scaoil amach an Bobailín with Cynthia Ní Mhurchú, which had viewing figures up at 600,000. On TG4 he was a regular guest on Seó Spóirt, and presented the dating programme Cleamhnas.
Seán Bán started with Raidió na Gaeltachta back in 1972 shortly after it opened. He has worked on almost every kind of programme on the station since then, except for news, but his heart has always been in sport, particularly boxing, horse racing and hurling. He has been presenting the Saturday sports programme Spórt an tSathairn for more than twenty years now. Seán went viral in 2012 with his passionate commentary on Katie Taylor's Olympics win.
Breathnach was inducted into the PPI Hall of Fame in 2012.
A special edition of Tús Áite will be broadcast today on Raidió na Gaeltachta to celebrate Seán's 50 years on air. The programme will be broadcast from 4.30 pm – 5.55 pm, and guests in studio will include Mícheál Ó Muircheartaigh, Cynthia Ní Mhurchú, Galway hurler Joe Connolly, Jim Lockhart, as well as Seán's family.