Finals weekend in football offered up lots of indicators for the summer ahead – not the least of which was a commentary on the health and quality of the game itself – but what was most apparent from the manner in which the showpiece transpired was how Mayo's warrior heart is still beating strongly.
Having grown steadily into the league, Mayo have continued to build their squad options, belief and playing style with each passing game. This victory over Kerry was nothing more than a milestone on their journey but the gains are tangible and winning silverware in Croke Park will have no downside in the Summer.
Coaching Comforts
While there were no shortage of "never go back" prophecies out west, there are significant advantages to James Horan returning to the Mayo job. The players still enjoy the bounce of a fresh approach, but management will have lost no time in understanding the habits and best use of key personnel.
It's easy to form an opinion on how to get impact from a player looking on from the outside but it is only when you know them personally and under pressure that you can understand their mentality and nature well enough to weave it into the team fabric.
Attaining that level of closeness is vital to building a full picture of what players are capable of. Horan had that as starting point with his lieutenants and generals, which is a sound foundation to build any team on. In stark contrast, Peter Keane and other "new" management teams are only now becoming acquainted with player character traits that they'll value deeply for the championship.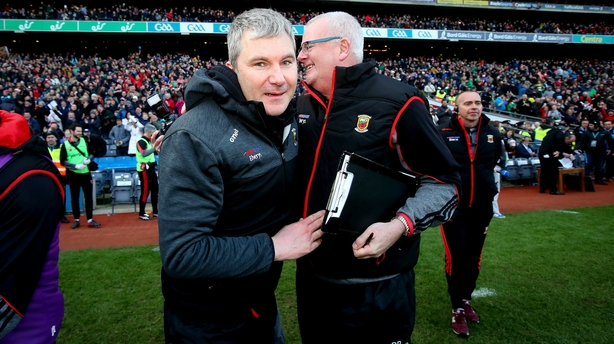 Horan will have taken the reigns largely knowing the strengths and weaknesses of the players at his disposal and consequently knowing broadly how he will set the team up for championship football to maximise performance.
The league has therefore had two priorities: 1) mould the playing style towards a finished product with leaders in key positions to underpin the approach, and 2) rotate into roles around the leaders 'possible' championship players, to give them an opportunity to function in the team environment with the best opportunity to do themselves justice.
Attacking Variety
Mayo are Allianz League champions and should be viewed as being the best team in the country this springtime. No one will know better than themselves that that accolade will have little bearing on what happens when the serious business of Championship football comes into focus.
What Mayo have achieved during their eight top-tier fixtures - as well as reinforcing their self-confidence – is that they have successfully found a blend of attacking options that utilises all of their strengths.
They are already recognised as brilliant runners out of defence which can generate tsunamis in the final third and there was no shortage of that during crucial periods against Kerry. Keith Higgins, Lee Keegan, Aidan O'Shea, Paddy Durcan, Donal Vaughan and Colm Boyle constantly drove the team out and into territory where they could then measure the best approach to creating scoring opportunities.
What's different in this regard is that through the league they have consistently opted to kick out of defence when it was on. The renaissance of Kevin McLoughlin has been largely on the back of that kicking as he has been the main outlet now that he's pushed further on.
This kicking dimension opens up space in the forward line early – particularly when opponents expect and are scrambling to deal with the primary approach of running the ball hard.
Whether it is a reaction to the offensive mark or a natural evolution, Mayo have this year demonstrated an unusual willingness to kick long over the top or on top of the opposition square. For the majority of this team's life-cycle, hitting a target man meant popping a ball in front of Andy Moran or Cillian O'Connor racing away from goal - an attacking approach which achieves little more than territory and a focal point to work off.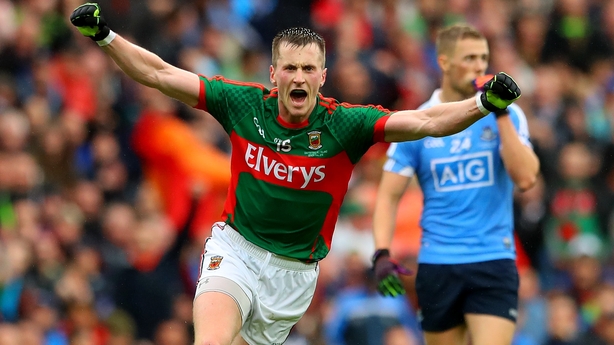 The more direct approach is riskier in terms of possession but can create goal opportunities from nothing - Diarmuid O'Connor's on Sunday being the obvious example. Adding quality kicking as viable weapons in attack means that opponents can't set up definitively to defend them in anticipation of the inevitable running.
The key man in all of this has been Aidan O'Shea. O'Shea's endeavour in defence and ball winning has been widely acknowledged through the league but the range and quality of his kicking has set him apart as the playmaker in almost every Mayo attack.
Working deep as he is now accustomed to, he has led by example in kicking out of defence quickly to initiate counter attacks and from the middle third his delivery of ammunition to the inside line has been consistently of the highest quality.
Defensive Gamble
Without the ball, Mayo are more of a mystery. In the league final they matched up very carefully against key Kerry individuals and went toe to toe with them without cover or protection from early ball. Their defensive approach relies on a massive effort from their middle third to pressurise opponents to reduce the quality of their supply lines and therefore give the man markers an opportunity to compete and interfere.
That is a high-risk approach against a forward division as potent as Kerry's. Leaking two goals and almost a third that would have probably cost the cup in a game where they dominated for long periods explains how the Kingdom were able to hang onto their coat tails.
The approach screams serious confidence in their ability to defend individually against all comers but the risk of malfunction against even one quality forward is extremely high. A question facing James Horan ahead of the championship is whether the balance is right without taking away significantly from their potency in attack and whether the risk of exposure needs addressing.
We need your consent to load this rte-player contentWe use rte-player to manage extra content that can set cookies on your device and collect data about your activity. Please review their details and accept them to load the content.Manage Preferences

Old Achilles Heel
There is an opinion prevailing about this Mayo team that their ability to manage games in the final, crucial moments has always been lacking against the best opponents. How many finals and semi-finals have been lost at the wire with missed opportunities and hard luck stories – inevitably when the environment is hottest.
Even though they won the game, their old failing was evident in abundance on Sunday. On an ample diet of possession and still chasing the game early in the final quarter, Mayo constantly took panicked shots from pressurised distances and angles.
It continued after the goal that put them in front when one or two scores would have pulled the rug from under Kerry's desperate attempts to claw their way back into the game in the closing moments, but great attacking positions were wasted consistently with poor decision-making.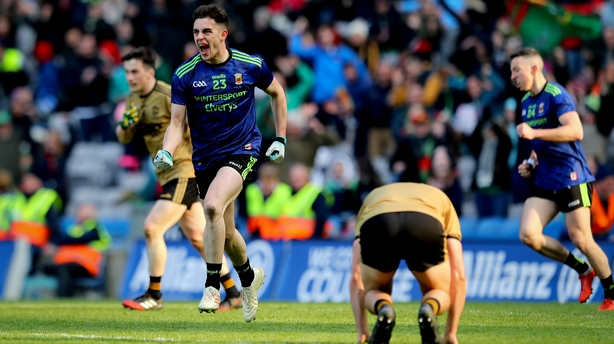 It may seem ridiculous to say but even the clinching goal from Ciaran Tracey demonstrates that lack of game management. All's well that ends well but given the game circumstances and that Shane Ryan was closing Tracey down fast, a point would have killed Kerry's comeback momentum and sealed the game.
The nightmare scenario, one point up, is a shot against the keeper's shins that starts a counter with Kerry needing only a point to tie the game. Not a scenario beyond Mayo in big games in recent years.
Sometimes just getting over the line once – however it's achieved – brings a sense of calm the next time. Mayo will not miss the offensive game management in their analysis review.
Mayo Reborn
Mayo are reborn with the same core, the same appetite for a scrap but with a game-plan that is much more refined than most teams around them with one obvious exception. There have also been significant lessons for a developing Kerry team across both encounters with the 2019 league champions – lessons that can underpin their array of attacking talent in the summer if factored into revisions.
With Tyrone and Galway frustrated that their campaigns didn't clinch league final places, the field for an assault on Dublin has strengthened considerably.
It will be an interesting summer…